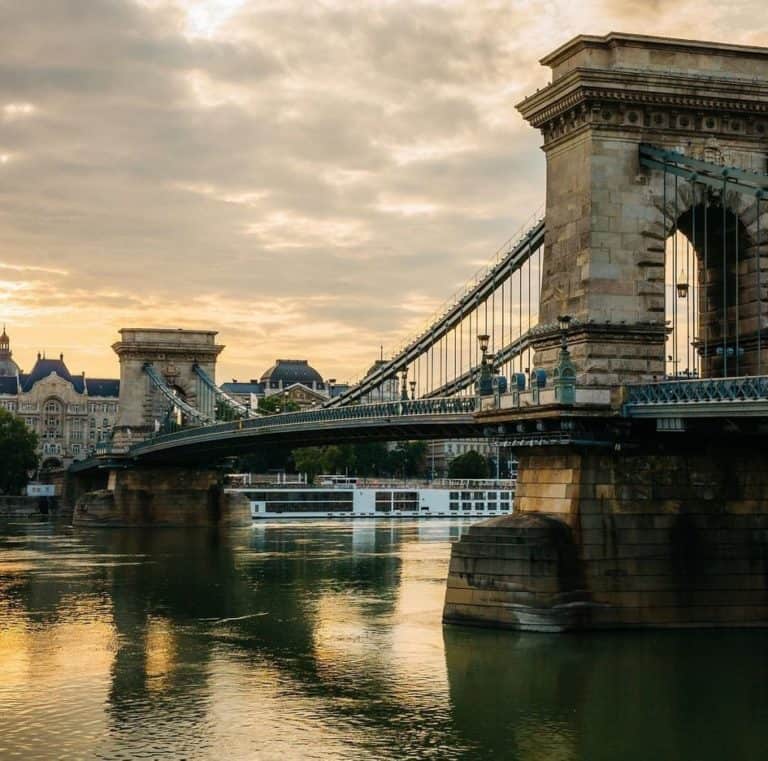 Budapest or the Pearl of the Danube, a city of many baths and the capital of Hungary. This city can be visited at any time of year and it will always be equally beautiful. Wintertime brings a certain charm and romance among the snow-covered architecture while mulled wine calls from street stands and cafes, Spring brings blossom of many trees, Summer brings vivid street parties, and Autumn colors the city in millions of colors. Budapest always ranks high among the prettiest European cities.
Buda and Pest were two cities that merged into one. One was on a hilltop while the other was situated in a valley. To reach the Buda side, the easiest would be to take a funicular (Budavara Siklo), that will take you to Varhegy, part of town that is UNESCO protected and also where the Buda castle is located.  From there you can enjoy a stunning view of the rest of the city and the Danube river with its magnificent bridges including the most beautiful Széchenyi or Chain Bridge.
Close to Buda Castle, you don't want to miss the Matthias Church also known as the Church of the Assumption of the Buda Castle, and the Fisherman's Bastion – a gorgeous complex of seven white towers symbolizing the seven tribes that founded Hungary. From there you will get the best panoramic view of the city and the parliament building. 
Cobbled streets around the city centre are so typical for central European architecture, and they are amazing to wander around and explore cosy cafes, amazing restaurants or traditional craft shops. Stopping for a meal at one of these restaurants is a must if you want to try genuine Hungarian cuisine. 
The best way to explore the "left side" of the Danube is by taking one of the tour buses or by taking a subway and exiting at Lajos Kossuth square. Once you get out on the surface you will gaze upon the parliament building – and it truly is one of the greatest wonders of architecture in Europe. It is the third-largest parliament building in the world and Budapest's most prominent feature. Unlike other European parliaments, the Hungarian one is open for visitors, but be quick because tickets sell fast. Make sure to reserve some time to explore the hidden gems of Budapest as well. Often times these tell real treasure stories of the destination but are somewhat overlooked. 
Another feature of Budapest is its yellow trams. They remind of Lisbon's iconic yellow tram, but Hungarian ones are more modern. If you take line number two, it will lead you all the way from Parliament to the centre of Pest along the banks of the Danube and its bridges. You will enjoy some stunning viewvs and admire the gorgeous architecture of Budim and also the Gellert hills, home to the famous Gellert baths. 
Pest is home to many religious monuments, churches, but also cultural institutions like museums and opera houses. Famous St. Stephan Basilica is also located here, and if you visit it, you will discover the mummified hand of the first Hungarian king who converted them to Christianity. A couple of streets away, don't miss the chance to visit the largest European synagogue – Dohány, and the hero square dedicated to 1000 years existence of the Hungarian State.
After all the sightseeing you might want to relieve your wallet a bit. For the best shopping visit Vaci street, if you want a more unique experience, then try having dinner at one of the boats on the Danube.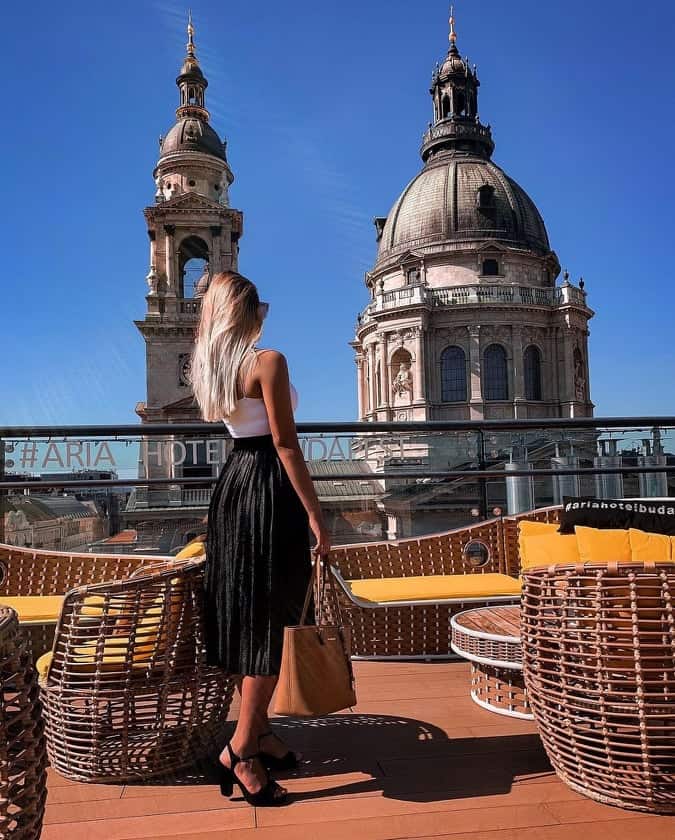 Nightlife
Budapest has a very vibrant and lively nightlife scene. Surprisingly, jazz and blues lovers will find many bars/clubs with live music, one of the most popular is Fat Mo's.
Danube river is the central point of this city for almost everything and nightlife is no exception. There are many boat clubs, and one of the most famous is the A38. However, there is an entire island dedicated to nightlife on the Danube, the so-called shipbuilding island (Hajogyari Sziget). The most famous clubs here are the Dokk, Studio, Bed Beach, and Mokka Cukka.
Oktogon area is also very lively, with the famous Ferenc Liszt music academy, or the Negro – bar with excellent cocktails, and a gorgeous view of the St. Stephen Basilica. Not far from the Petofi bridge you'll find Cafe del Rio, which often hosts some of the best DJ-s in the world. Most of these places will charge the entrance from 500 to 2000 HUF, or more if someone famous is on.
Food
If you want to sample some good old traditional Hungarian food, you want to look for a charda. It is a traditional type of restaurant that is the best for enjoying the local gastronomy. Some of them actually have a long history, being in business for several centuries. Among the specialties, you will find goulash, goose foie gras, pepper stew, or freshwater fish. After a hardy meal you need some sugar in your veins, so don't miss "Somlói Galuska" – trifle cake made of several layers of sponge and custard cream, studded with raisins soaked either in rum or the sweet Tokaji Aszú wine, then topped with whipped cream. The best to try it is at the iconic New York Cafe. The best way to wash it all down is with a glass of "Tokaji", a dry (sweet) vine from northeastern Hungary. If you want to enjoy some traditional Roma music while having dinner don't miss Nador restaurant. The most famous pastry shop in Hungary is probably the Gerbeaud, and in there a piece of Dobosh cake is a must.
Public transport 
Public transport in Budapest is operated by BKV (a public company). You can choose between tram, bus, metro, or trolleybus. There are specialized vending machines for a ticket purchase, and these can be found at metro stations, kiosks, or post offices, or with the driver.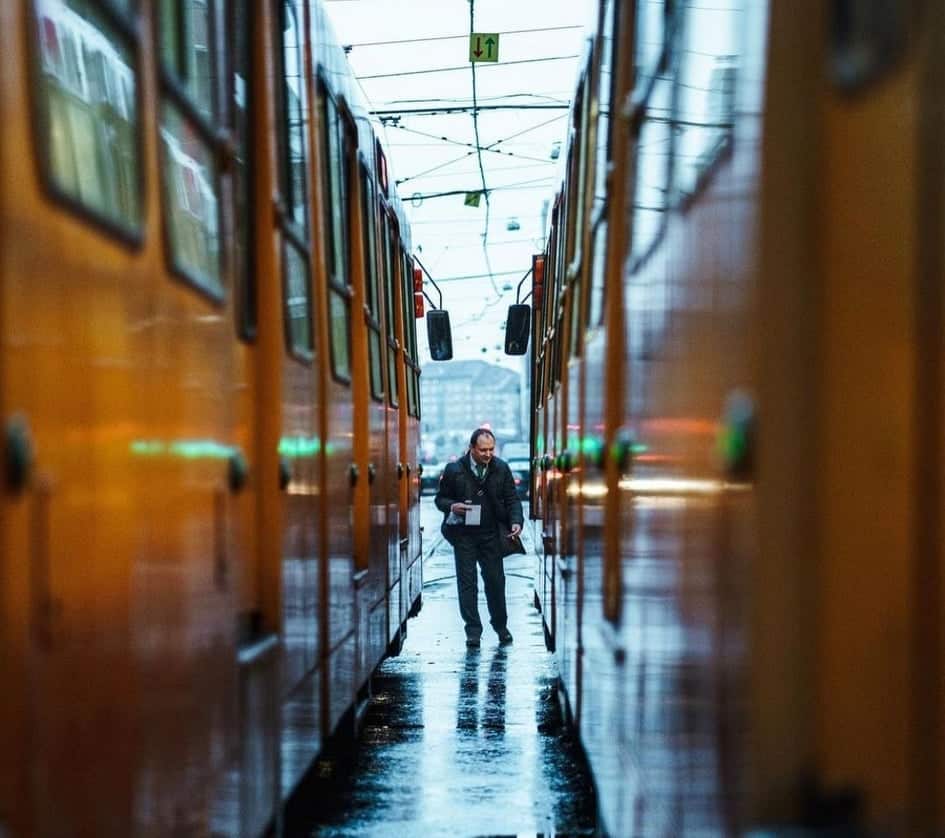 Climate
Generally, the temperature in Budapest can vary significantly. Winters can be rough with the temperature dropping to -10 C. In recent years snow became more of a rarity, unlike in the past. There might be a couple of snowy days in January, rarely in December. Summertime can be quite hot, with an average temperature of 26 C, and occasional heatwaves can reach up to 35 C. Generally Budapest doesn't get a lot of rainfall, the "wettest" periods are the middle of Winter and the beginning of Summer.
Inside tips
Pay toll – if you rent a car in Hungary and drive along the country you need to buy a vignette (available online as well). A 10 day vignette will coust arrounf 8.5 Euro.
Smoking – since 2012, smoking is prohibited in all public spaces in Hungary.
Shopping – in the past decade Budapest has seen a tromendous increase in Shopping malls. Some of the largest are Arena Plaza, WestEnd City Center, Mammuti, etc.
Accommodation – touristically, Budapest is one the most visited European capitals, and accommodation can be found at quite affordable rates. Surprisingly, you can find luxury hotels for less than 100€ per night, unlike in many other European capitals. If you are looking for a more peaceful area then Budim part is a better option, but if you want to stay closer to the main attraction then try the Pest side.