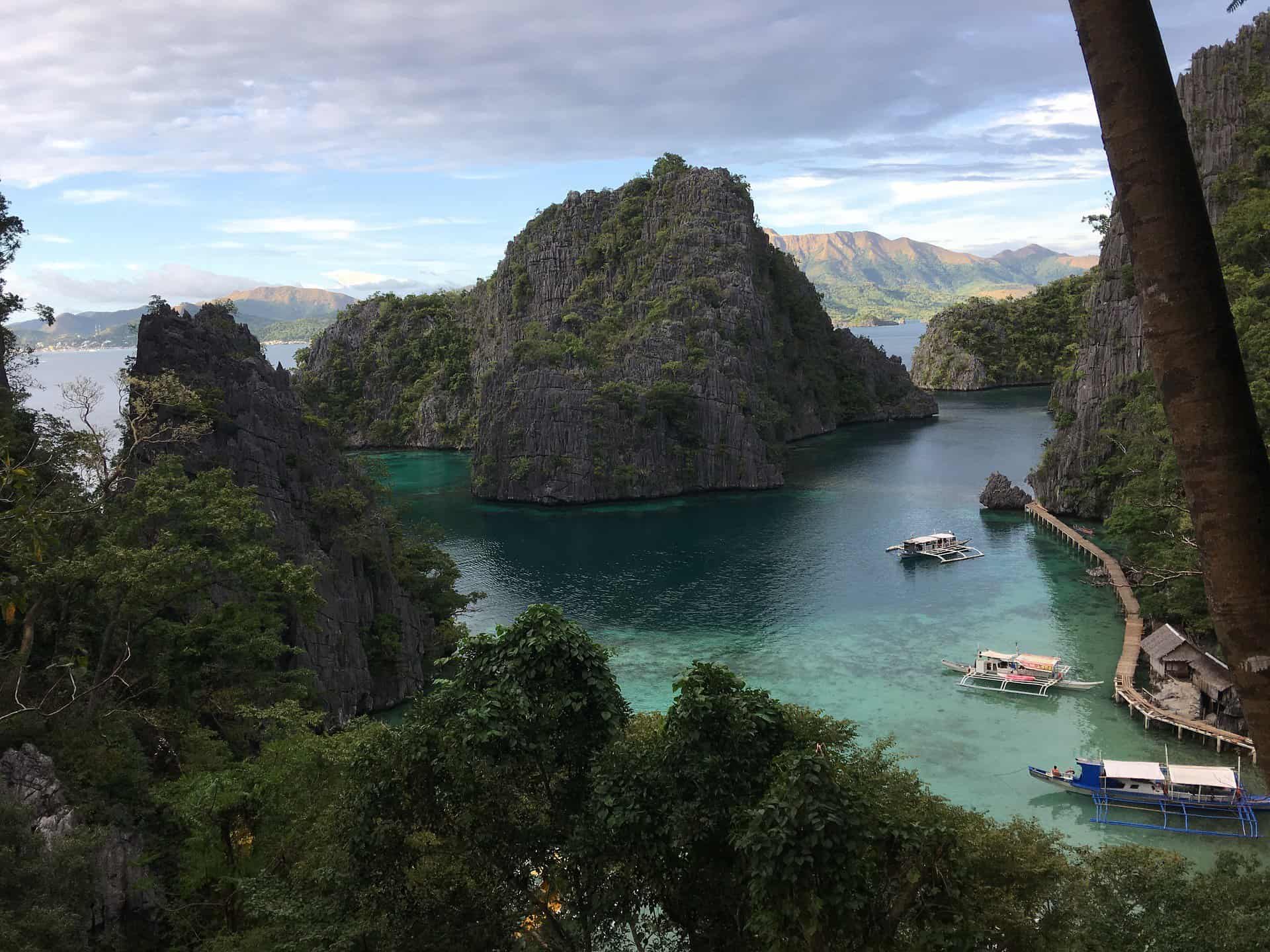 Still, there are several hidden gems for the adventurous who want to steer clear of the biggest tourist traps. If you're one of them, head north. Here you'll find the area of El Nido, which is quite unique and still completely undiscovered as a tourist destination. For as long as it lasts.
El Nido is filled with palm trees, stunning sugar-white beaches and dramatic scenery.
It was here that author Alex Garland found inspiration for the book 'The Beach' (who doesn't remember the film starring Leonardo DiCaprio?), and National Geographic Travel decided a few years ago that this isolated beauty deserved a place on the top-20 list of the world's most attractive travel destinations.
It's not without reason; the scenery is absolutely spectacular both above and below water.
You can go boating, climbing, kayaking and visit underground caves undisturbed. Diving in the Philippines is also a popular activity, El Nido has over 30 dive sites to suit everyone, whether you're learning to dive for the first time or perfecting your skills. Because everything here is all about the islands and the sea.
Many Philippines adventures start from Manila, so make sure to check this local Manila guide to better prepare yourself for the journey.
On a wild adventure
Traveling to El Nido is exciting in itself. It's definitely not easy to get there, but it's definitely worth the effort. The closer you get, the more beautiful the landscape becomes. And the last few kilometers before you arrive, the scenery is so stunning you almost lose your breath.
You can choose to take a small propeller plane from Manila, take a ferry from one of the neighboring islands or drive from Palawan's capital, Puerto Princesa. It's a bit of a tough drive at first, taking around five hours, but it's a much better alternative than sitting on a public bus, although it does have its own local charms.
Most hotels offer airport pick-up. El Nido town itself is a small, sleepy village with bad roads where small propeller planes land. The town has an abundance of hotels and cheap eateries, and you can easily get a room for 10 Eur a night. But the vast majority of people don't go to El Nido to hang out in El Nido town.
It's the many surrounding islands that are the big attraction, and don't cheat yourself out of a spot of island hopping. There are plenty of different tours to suit families, couples or a group of friends.
Away from the world
It's a good idea to team up with one of the many local guides, who can help organize excursions and find good places to eat if you choose to stay on one of the islands. There are rarely very many dining options other than the hotel you're staying at. But if you arrange it with a guide, they'll be happy to drive you to another hotel, or into town.
If you want the local charm, you can opt to stay in a bungalow. They are typically located on the beach and come in different sizes. Lunch is served idyllically on the beach, with fresh coconut milk from the palm trees that grow right next door.
El Nido Resorts are more modern than several of the other resorts but are also very charming. The hotel offers a whole host of activities for both children and adults. Not to mention the internet for those who want a little contact with the rest of the world.
Another very popular destination in the Philippines is Cebu. Make sure to check all the best tourist spots in Cebu before your travel. 
Adventures on El Nido
Miniloc island 
Each of the islands around El Nido holds a secret and has its own special beach. Dive in places teeming with fish, be impressed by how the forces of nature have shaped amazing caves and be charmed by the small shops. Visit Miniloc Island, a super-popular spot for travelers. Start with Small Lagoon, where you'll have to snorkel to a "secret" opening because you can't sail all the way there. Among the lava rocks is a small hole just big enough to get your head through, but underwater you can easily get your whole body through.
On the other side is a Small Lagoon with its crystal clear waters and rugged limestone formations. If the feeling of being in paradise isn't enough, you can swim 10 minutes into the bottom of the lagoon and climb up into the caves above. Here the sunlight meets the lava rocks and creates pure magic. Don't forget your underwater camera!
Big Lagoon – a secret lagoon
Big Lagoon is also a kind of secret lagoon, but here there is a small channel through which boats can pass and a beach at the bottom of the lagoon. Just like the one you see in the movie 'The Beach'. Big Lagoon is one of the more popular snorkeling spots in El Nido. The deep emerald waters are visited by sea turtles and teeming with colorful fish. You can easily spend the whole day here – or more.
Dibuluan Beach Club
At Dibuluan Beach Club, a range of adventures await, such as rock climbing for example. This small island with relatively low altitudes can be easily conquered. The paths are dotted with coconut palms, bamboo thickets and banana bushes. Enjoy the view of the bay and finish with a dive. At least two of the reefs here can be dived by advanced divers.
Entalula – romance on the beach
One of El Nido's most romantic spots is Entalula. The pristine beach surrounded by arching coconut palms and colourful marine life in the coral reefs make this place absolutely magical.
Where to eat in El Nido
Lonesome Carabao lounge – coziness and delicious food
Bar, lounge and restaurant in one. A small, cosy place serving fresh grilled fish and delicious crepes with chocolate and banana.
Altrove – a little piece of Italy
A piece of Italia in the Philippines. The restaurant serves both lunch and dinner dishes. Pasta and pizza are recommended! Hama St., Barangay Massagana Abdulla Street
The alternative – dive with sea view
The restaurant is located in a building that looks like it was made from an old tree. It is surrounded by tropical greenery and overlooks the sea. The menu varies between Asian, European and vegetarian. Try their signature dish, Banana Heart Curry. Serena Road, Bgy. Buena Suerte
Shopping at El Nido
El Nido Boutique & Artcafé – A delightful rummage shop
El Nido is not a place you go shopping, but head to El Nido Boutique & Artcafé anyway. They sell fun, handmade souvenirs, T-shirts designed by local artists, summer clothes, swimwear and wine – a delightful mix.
Hotels in EL Nido
Dolarog Beach Resort
The nicest hotels are located on the islands around El Nido Town. There are several fantastic resorts here, which maintain a high standard even for the westerners. We chose to stay at the Italian-owned Dolarog Beach Resort, located in the Bacuit Archipelago area. Here the Philippine government has established a marine reserve to conserve tropical fish, corals and endangered sea turtles. Included in the price you will have a boat available eight hours each day with two guides who will take care of you during your stay.
All inclusive El Nido Resorts
Prices start at roughly €300 per person for the simplest room. It includes all meals as well as activities and airport pick-up.
How to get there
From Manila head over to to Palawan's capital, Puerto Princesa. From Puerto Princesa it's a five to six hour bus ride, or you can rent a car at the airport and drive yourself. You can also fly direct to El Nido from Manila with Island Transvoyager. Most hotels offer airport pick-up. There is also an option to travel between Coron and El Nido, which are the 2 most popular destinations in the Philippines. 
Remember: There are no ATMs in El Nido, and many places don't take credit cards, so be sure to bring plenty of cash.
When to travel
The rainy season in El Nido runs from June to November. April and May are the driest and hottest months, and it rains most in August.
Temperatures remain steady at 30 degrees all year round, while the water is never colder than 26 degrees. The weather is most stable and there are fewer tourists from December to March.