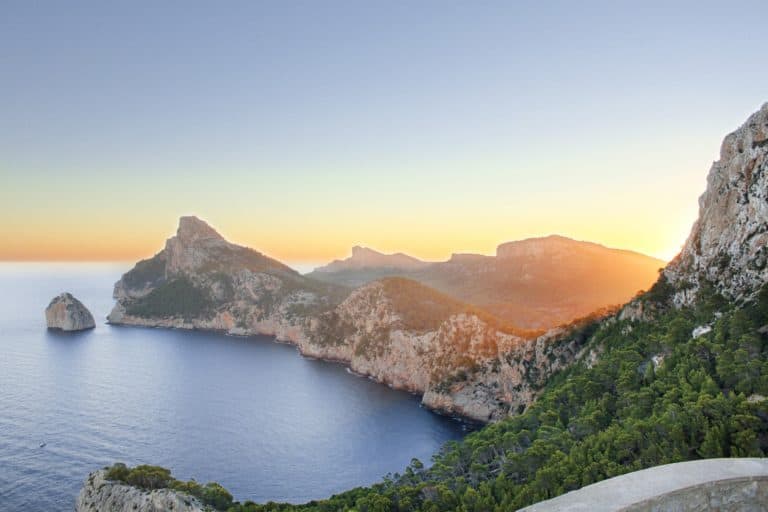 Mallorca is a small island with huge potential if you're looking for a diverse and exciting holiday – here you can relax on beautiful sandy beaches, hike in the mountains or take a cultural stroll through the city of Palma.
Mallorca is the place to go if you need sun and a beach, especially in early spring, autumn or summer when prices are lower than the high season. In fact, you can visit the island all year round and be fairly sure of a good weather experience.
Summertime
Summer is hot in Mallorca and you can easily experience a long series of days where temperatures climb well above 30 degrees. It's hot and many have to seek shade, but luckily there's easy access to both sea and pools in Mallorca, so a quick dip is always within reach. And keep in mind that Mallorca has some of the best beaches in Spain.
Spring and Autumn
If you like active holidays, spring and autumn are great times to visit Mallorca. Mid-summer is too hot, but April, May and October are perfect for hiking in the mountains or cycling and running on the island.
If you choose to go to Mallorca in September, you'll find that the worst of the heat has steamed off, but the bathing water is still good and the sun so fine that you can relax on the beach by the sea. This is also a perfect time if you want to avoid the crowds, you can enjoy the islands, explore the towns eat in cosy restaurants, without the stress of booking in advance, losing your nerves over crowded streets etc.
Winter
You can easily travel to Mallorca in winter and have a nice and warm experience. You might get a little snow in the mountains, but generally, temperatures don't drop below 15 degrees during the day when you're on flat land.
So if you need to get away from the cold winter and soak up some sun, Mallorca is the place to go. You might actually be lucky to have days in winter that are as warm and sunny as if it were June. So even in winter, you can colour your cheeks, open up your shirt and recharge. Prices are really low, and you can find good accommodation really cheap, also restaurant have lower prices so if you are a digital nomad you can really score a good deal.
Discover nature in Mallorca
On your holiday to Mallorca, you can experience both sandy beaches and the more rugged nature that is a natural extension of the many mountains that are on the island.
There is a very rich plant life on the island, which is expressed in beautiful flowers, green bushes and trees. In fact, the island has more than 1500 species and is particularly famous for its almond flowers.
In contrast, Mallorca has less abundant wildlife and the only wild mammals on the island are goats. However, there are many different bird species to enjoy during your holiday.
If you want to explore nature, you can visit the l'Arxipèlag de Cabrera National Nature Park, or venture out of the most touristy areas on your own. The best way to do this is to hire a car and go for a drive.
Other things to experience in Mallorca
Exploring nature is a big part of Mallorca's offer to travellers. You can visit the National Park, the Botanical Garden of Cactus Plants near Ses Salines, stalactite caves and much more.
But you can also explore cultural and historical offerings. You can visit Es Baluard, the Museum of Modern Art in Palma. You can visit La Seu, Palma's cathedral, or Son Marroig, an old castle from the 16th century.
And that's just a small selection of all the places and things you can experience on the Spanish island.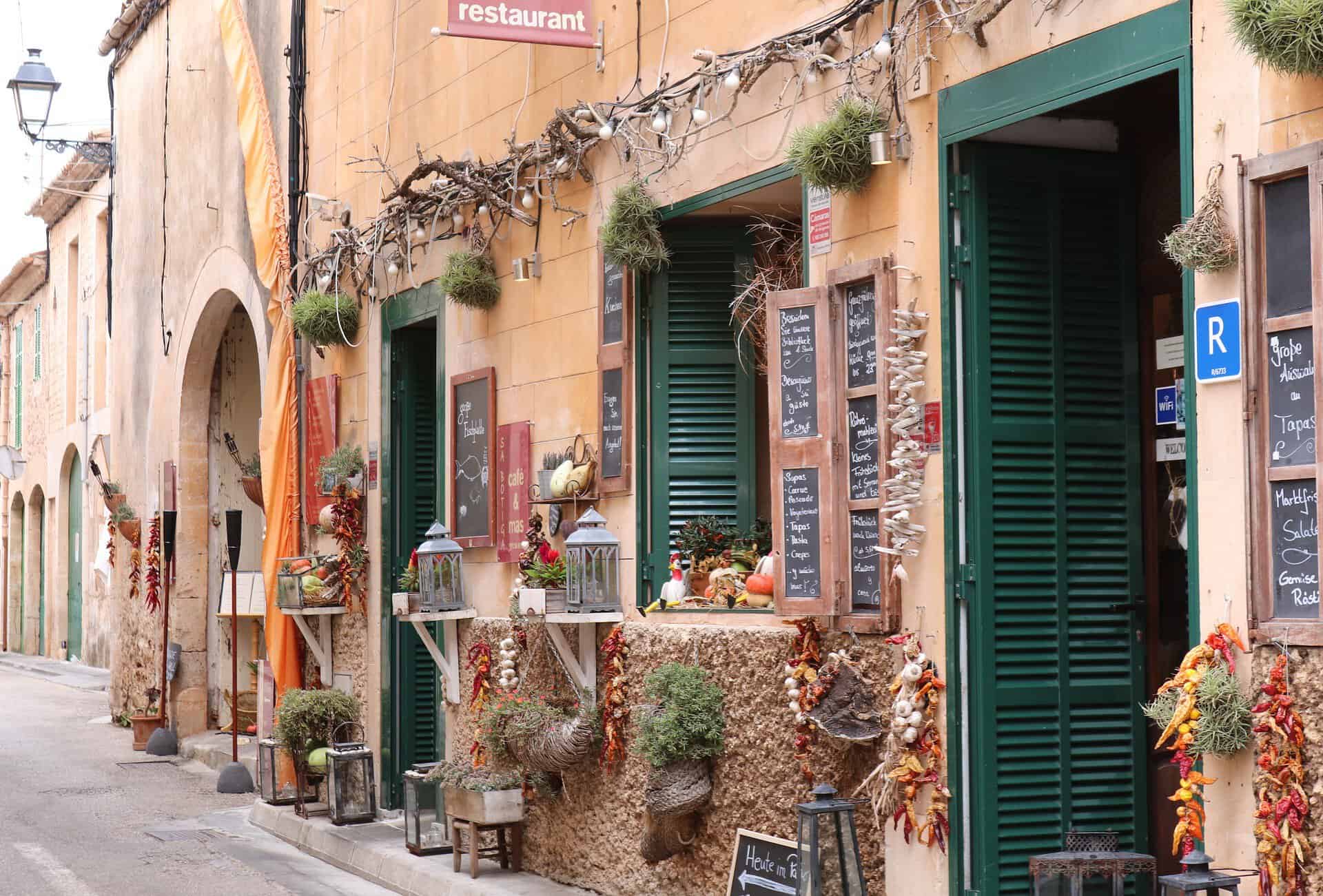 Discover amazing food
In Mallorca you can get food from all cultures. But clearly the most dominant will be the Spanish and the Catalan cuisine.
Since Mallorca is located in the middle of the sea, it is ideal to eat seafood and fish for meals. Pork is also used extensively, as are fresh vegetables. And as the island is part of Spain, there are of course many echoes of Spanish cuisine such as paella, gazpacho or a good helping of tapas.
But Mallorca also has its own specialities. There's a special sausage, Sobrasada, that you shouldn't miss during your visit.
Wine is produced in Mallorca in the areas of Binissalem and Pla I Llevant and can be bought in both shops and restaurants.
Accommodation
If you are going to Mallorca, you need to decide whether you want a package holiday or whether you want to buy your flight ticket and hotel, apartment or house separately. There are pros and cons to both, and it depends a lot on temperament.
A package holiday is easy, you are usually picked up and taken to the airport, you stay in decent conditions, you usually get breakfast or even all inclusive and there will often be a pool if you are not near the beach.
If you choose to organize your own trip, you can have experiences that go beyond the usual charter trips. You can travel as it best suits your schedule and you can find accommodation that is located differently or decorated differently from traditional hotels. You can stay in areas away from the tourist hotspots since the island has a long tourist tradition there is a lot of choices. Opt for accommodation that is more in the interior, since the beachfront ones are very pricy.
Shopping
Palma de Mallorca is the city to go to if you want a nice shopping trip, especially if you're looking for something other than the tourist trappings and market items you'll find all over the island.
There are several good shopping streets in Palma and you can shop for designer goods as well as cheaper clothing brands such as Zara and H&M.
And of course, a visit to Mallorca also opens up the opportunity to treat yourself to local delights such as fresh oranges and fruit, ceramics, leather, local wine and much more.
Facts about Mallorca
Location: Mallorca is located in the Mediterranean Sea 170 kilometers off the Spanish coast. It is the largest island in the Balearic archipelago.
Geography: the island covers almost 3604 km2 and is divided into six landscape areas, each of which consists of magical scenery. Two mountain ranges frame the island, which is otherwise known for its lovely sandy beaches.
The journey: you can actually sail out to Mallorca from inside mainland Spain, but most visitors take a plane to the island.
Capital city: Palma
Language: Catalan and Spanish
Source of income: much of the income of the permanent population comes from tourism. Others earn their living from farming, construction or the clay industry, mining, or fishing.
Climate in Mallorca
Mallorca has a subtropical climate with an average of 7.9 hours of sunshine per day and rainfall that varies a lot from south to north. In the north, there is an average of 1400 mm of rain and in the south only 400 mm.
Winter is short, mild, and damp. Summer is long and dry. From the end of August, the rains come and there is most rainfall in October.
It is during the first months of the year that the famous almond blossoms come into bloom, smelling fresh and sweet. Then come spring, summer, autumn, and then spring again….this is to say that in September and October there can be heavy rain showers, which cause the plants to spring up again.
This phenomenon is called winter-spring. And in January, when the almond blossoms are in bloom, it is called little summer, because everything is so different lush than in summer when everything is dry and burnt.