Stand Up Paddling became a second term for summer fun in recent years. No matter where you choose to go on your summer holiday this year, you are guaranteed to see someone paddleboarding. SUP-ing is a great way to engage all the muscles in your body, it relaxes the mind, and is a great way to spend time outdoors, but on water instead of land.
Stand Up Paddling has taken over the world on very short notice. With the right equipment choice, suited to your body stats, you will enjoy this sport dearly. Finding the right board can be challenging since there are many products and brands available out there. So many times we tend to buy something which seems like a good choice at a first glance, only to realize in the end that it was a waste of money.
When buying an inflatable paddle you should check if the shop has a "test and buy" option. This is a great way to test your product before you buy it. The other option is to look for shops that offer a warranty on their products.
In any case, before buying your paddle here are several rules you should pay attention to before you make the purchase.
Paddleboarding on the sea
Beginners will need calm deep water without big waves and at a safe distance from the coast. Falling from your SUP is common, and it takes a lot of falls until you learn to paddle. Practicing your fall is essential, so it is advisable not to do it in shallow waters or near the coast. Calm coves are the best option to practice stand-up paddleboarding. Be mindful of the current as well, even with no wind, a calm sea can be tricky, as the current can pull you out in the open in no time.
Looking for some additional adventure for the kids? Have a look at these awesome kid's stand-up paddle boards.
Paddleboarding on a lake
Generally much safer than paddling on the sea. Lakes are more tranquil, there are no big waves or currents that could drag you, and there are no tides either. Lake is the best option for beginners trying to learn how to SUP. For recreational purposes, it is best to opt for all-around inflatable SUP. These boards are more U-shaped and wider in volume. You can easily practice yoga on it or even bring a pet on board.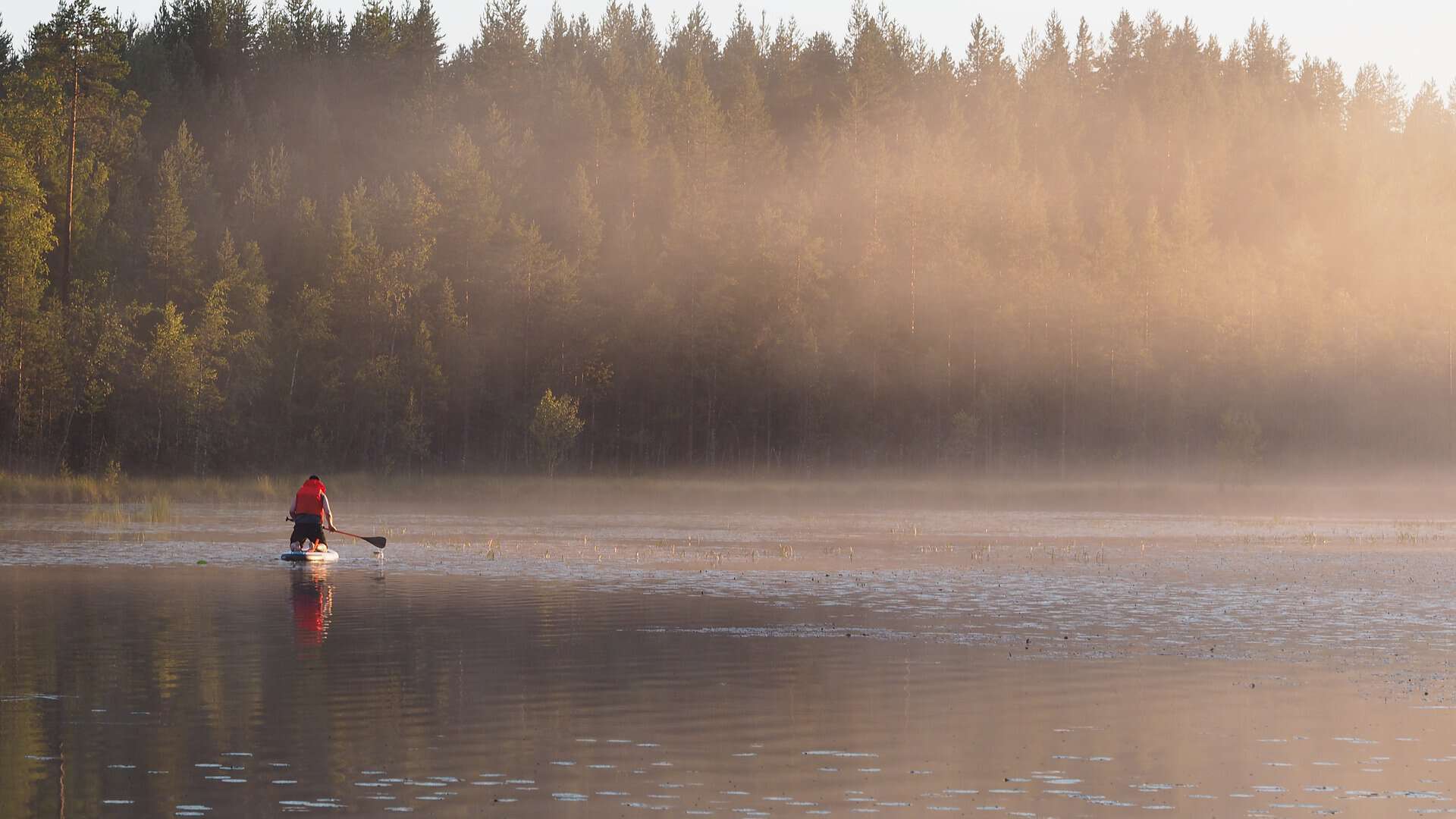 Paddleboarding on a river
More experienced paddlers opt for river SUP. Rivers are more challenging, they offer more adrenaline and fun. However it is very important to be on your guard the whole time because rivers are curvy, their flow can change, there are obstacles and rocks that you might not notice. When you fall off your paddleboard in a river it is much harder to get back your paddleboard because the river moves all the time.
Choose the right paddleboard according to your body stats
It is very important to choose the right volume of your paddleboard because otherwise it will be hard for you to paddle and you might end up thinking this is not the sport for you.
With inflatable paddleboards, to get the load capacity you need to divide the total volume of the board by 3 and then add (depending on the construction) anything between 0 and 15 kg. For example, a 285-liter paddleboard can carry a 95 to 110 kg load.
Adding the exact kg after the volume division greatly depends on the board construction, the material used, the shape of the board, length and width, etc.
If the board bends under your weight, you're not too fat, you just bought the wrong board type.
Quality material – durable paddleboard
There's no much surprise here, this rule applies to almost any product in the world. If you want to buy the best inflatable paddleboard, always look for the ones made with welding technology. It will cost a bit more, but you will definitely get a higher quality product.
What's the difference? Welding PVC is a technology in which 2 materials are fused into one. With welding, there are no production errors or flaws that might surprise you in the middle of your vacation. Unlike welding, paddleboards that were glued are extremely sensitive to temperature changes, which can lead to breaking and damaging.
The best welding paddleboard manufacturers are Starboard and JP – Australia. These are renowned brands in the windsurfing and SUP world, way ahead of their competition in terms of quality and they invested heavily in the development of welding technology.
Whenever you buy an inflatable paddleboard, always opt for the ones that offer at least a 2-year warranty.
How to recognize the quality product
Manufacturers that pride themself in quality use welding technology, but most brands still make glued paddleboards. In time glue loosens and the paddleboard starts to crack and break.
There are certain brands that offer 3-month warranty. You will easily recognize the paddleboards they offer because they start to lose color already after few days in the sun. Also, try not to choose paddleboards that are painted black, or generally dark color, because they will absorb more heat from the sun which creates more pressure on the paddleboard and in the end shortens its life span.
Recommendation for best paddleboards
SurfStar Flight 10'6 – Best Budget SUP, Lightweight SUP with Premium Ankle Leash, Floating Paddle, Dual Action Pump, Backpack, Waterproof Bag
Bluefin Cruise Carbon 12' – Best Overall Performance, very stable and versatile
Tower Xplorer 14' – Best for Touring, Universal SUP Wide Stance, This inflatable is designed for speed and distance. Great for racing or touring.
South Bay Hippocamp 11'6" – Best for Fishing, beginner-friendly design, pulled in nose and rounded tail for efficient paddle glide
Thurso Surf Waterwalker – Great for beginners, Its integration of a touring shape gives extra paddling speed while maintaining the stability of an all-around board.