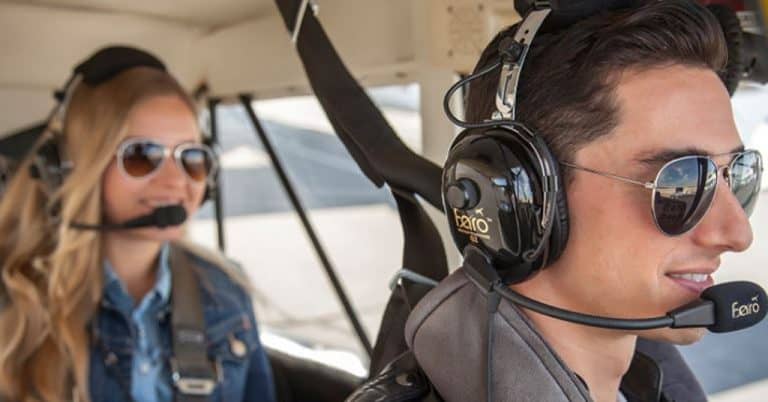 Pilot headsets are considered as important equipment of every pilot - whether he/she is a student pilot, a professional pilot or a pilot instructor – they need the best pilot headsets. These headsets play a vital role in the life of every pilot and can greatly contribute to the safety of the flight, as well as, to the health of pilots, like me.
For me, being a professional pilot, who loves my job and enjoys every flight I make, having and investing in the best pilot headset with the best features is a must. Since I started my career as a pilot, I always prefer the most functional and practical pilot headsets that can deliver the best features and still be durable and dependable. This is a crucial factor for me to always consider to make sure that I can be more focused on driving the aircraft so that the flight crew, my passengers and I can depart and land safely.
Below are the 8 Best Pilot Headsets that you can choose from:
Pilot headsets are not just your ordinary headsets. They are specially designed for use by pilots for flying or aircraft operation purposes. This is not just used for hearing protection, but for clearer communication, as well. If there is no hearing protection used during the flight, pilots will certainly suffer from irreversible hearing loss. Aside from its effective noise-canceling features, one of the best features that I love with pilot headsets is that they allow both radio and intra-cabin communication.
1. Bose A20 Aviation Headset with Standard Dual Plug Cable
Among other pilot headsets, Bose A20 model guarantees active noise reduction of up to 30% more as compared to conventional ones. Bose A20 aviation headset with standard dual plug cable also offers as much as 30% less clamping force than other traditional pilot headsets providing comfort even for longer flights.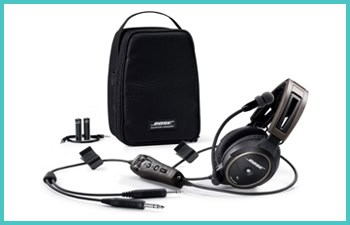 Dimensions: 10.8" x 7.2" x 6.2"
Weight: 12 ounces
Bluetooth: Yes
Noise Reduction: Yes
Warranty: 5 Years
Based on the feedback I got from my co-pilots, Bose A20 pilot headset gives them clear audio that has an active equalization, where it can automatically shape and equalize incoming signals for enhanced sound clarity. It also allows the user to mute a signal when a communication has been received and this depends on the operator's selected audio prioritization.
Also, this model is an efficient electret microphone with a standard control module plus a customizable audio prioritization with a built-in plug and fly operation. Other pilots I know who are using Bose A20, said that they are able to choose where to connect the mic - either on the left or the right ear cup. Moreover, the A20 aviation headset has met the FAA TSO C139 standards.
Pros
Meets FAA standards
Battery-operated, which can last up to 45 hours of continued use
Comes with the standard control model
Light-weight & High-performance electret microphone
30% more noise-cancellation feature
Allows audio prioritization control for either "mute" and/or "mix" settings of audio inputs
Cons
Wired
Uses cables for connectivity
The bag is a bit smaller which requires patience to properly place the headsets and wires before zipping it up
Expensive
Final Verdict: Since I have mentioned about comfort as one of the main factors to consider when selecting aviation headsets, Bose A20 offers an ergonomic design to provide comfort even with long hours of flying. Most of my pilot friends prefer Bose A20 aviation headset because of the exceptional features and benefits it offers. Also, because it is considered as one of the most efficient pilot headsets with its light-weight features that can still provide effective noise-canceling features.
Check Price on Amazon ➤
2. Kore Aviation KA-1 Premium Gel Ear Seal PNR Pilot Headset
The Kore pilot headset model claims to be the best pilot headset for student pilots, as well as for instructors. The ergonomic design features of these Kore pilot headset can really provide comfort to the user because of its gel ear seal.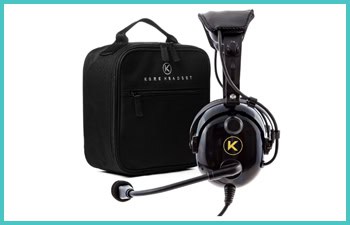 Dimensions: 9.8" x 9" x 5.1"
Weight: 33 Ounces
Bluetooth: No
Noise Reduction: Yes, Up to 24dB
Warranty: 5 Years
This pilot headset has a dual control for its volume adjustments equipped with a 3.5mm plug. This 3.5mm plug allows the user to conveniently connect their smartphones to the headset for an amazing sound experience.  In addition, the incorporated microphone has a noise-reduction capacity that is able to provide a better and clearer in and out communication. In this pilot headset, corrosion is not a problem due to its gold coating.
Pros
They are remarkably comfortable as the headsets do not tend to squeeze the head too much
The headband pad is very comfortable
Gold coating avoids corrosion, therefore, it is expected to last
Cons
 Difficulty in adjusting the volume control
Final Verdict: Kore Aviation's KA-1 pilot headsets are designed and manufactured by pilots, in collaboration with the experts on headset manufacturing. Armed with more than 30 years of experience, these aviation headsets are sure to be dependable when it comes to providing comfort, noise-reduction, and value-for-money headsets. Kore pilot headsets guarantee a 5-year  manufacturer's warranty.
Check Price on Amazon ➤
3. Rugged Air RA200 General Aviation Headset
The Rugged Air RA2000 aviation headsets boast their high noise reduction feature as it is capable of dampening the sound intensity of up to 24dB.  Although this brand is cheaper when compared to the previous brands listed above, manufacturers vouch for its high-quality pilot headset and that no important features have been compromised because of its lower price.
Dimensions: 9.7" x 7.2" x 5"
Weight: 19.2 Ounces
Bluetooth: No
Noise Reduction: Yes, Up to 24dB
Warranty: 7 Years
A 3.5mm music port is likewise made available with this pilot headset for easy and instant connectivity with the most common headsets; also added is a 50mm audio speaker that offers a clearer and enhance the audio experience. This is also equipped with an EM56 noise-reflective electret microphone. As for the headband, it is made of adjustable stainless steel to ensure the stability and durability of the headset.
Pros
Provides a clear communication among the pilots, the flight crew and the passengers, as well
Easy volume adjustments to have better audio of the radio as compared to music
Provides better noise-canceling abilities
Cons
Snugly fits, but for those with big heads, it may be a problem adjusting it
Sound quality may not be readily clear at times until some adjustments are made
Final Verdict: The Rugged Air RA200 general aviation pilot headset has an adjustable stainless steel body incorporated with high-quality tensile copper wirings. For the needed comfort, foam ear seals are used with the headset's deep pocket ear canals. Another best feature of Rugged Air RA2000 pilot headset is the added 50mm audio speakers for clearer and dependable communication.
Check Price on Amazon ➤
4. Lightspeed Sierra ANR Aviation Headset
The pilots I know who had tested the Lightspeed Sierra ANR aviation pilot headsets said that these are comfortable to use because of the soft ear seals. They also added that the Active Noise Reduction (ANR) features of this model, as well as, the Bluetooth connectivity, are two of the best features that these pilot headsets models have.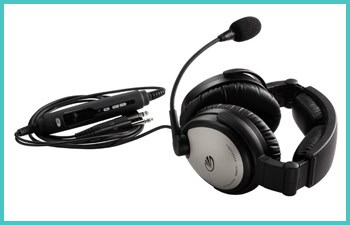 Dimensions: 13" x 11" x 5"
Weight: 16 Ounces
Bluetooth: Yes
Noise Reduction: Yes
Warranty: 5 Years
A student pilot I encountered also mentioned that he really liked the Lightspeed Sierra ANR aviation pilot headset. After his previous pilot headset was stolen, he wanted to buy a new one, but because he didn't want to break the bank, he settled for Lightspeed Sierra. He was expecting it to be a mediocre aviation headset because it was not as expensive as his previous headsets. To his surprise, Lightspeed Sierra exceeded his expectations and delivered a quality pilot headset. He recalled that one hot day, he and his CFI decided to fly with the windows open. He was amazed by the noise reduction capability of the Lightspeed Sierra that he can still hear his CFI and the ATC!
Pros
It has a reversible headband
The microphone can be placed either on the left or the right side
ANR headset
Bluetooth connectivity
Compatible with FlightLink
Offers wireless alerts on mobile devices
Value for money
Auto Shut-Off
Has a battery status indicator
Uses two (2) AA Batteries that are proven to last for about 40 hours of operation
Provides a switchable stereo/mono function
Cons
Rapid deep thumping noise can be heard when suddenly turning head
Not suitable for users with big heads
Final Verdict: The output of the sound quality clarity is great, while the Active Noise Reduction (ANR) feature is remarkably good in terms of reducing the engine noise, while still allowing the pilot to hear the engine as it operates. With its price, value for money is important. Although it is not as superior as the other high-end pilot headsets, still it delivers what it promises
Check Price on Amazon ➤
5. David Clark H10-13.4 Pilot Headset
H10-13.4 pilot headset is one of David Clark's lightest headsets. These pilot headset models are user-friendly that it can even be used as aviation headsets for student pilots.  This pilot headset offers a noise-canceling rating of up to 23dB. The volume controls are functional and deliver its purpose with an added stereo audio for a great acoustic experience.
Dimensions: 9.5" x 9" x 5"
Weight: 48 Ounces
Bluetooth: No
Noise Reduction: Yes, Up to 23dB
Warranty: 5 Years
A professional flight instructor I know has been using this type of aviation headset for almost a year now. He claims that he can wear this all day without having to worry about the clamping pressure and that he can still be comfortable with it at the end of the day. He also added that it is dependable at any time of the day and can provide audio clarity - the reason he has been using it for more than 8500 hours.
Pros
Light-weight at only 16.5 oz
Comfortable to wear because of the double-foam head pad
Gel ear seals
Flexible exclusive M-7A microphone electret microphone
Very durable and reliable
No Batteries needed
Cons
Not compatible to use in F-16 aircraft
No Active Noise Reduction (ANR) feature
No audio inputs
Final Verdict: This aviation pilot headset is well-built and can withstand constant use and abuse that others have claimed it to be almost "indestructible". Despite the lack of ANR feature, it can still minimize engine noise that can help minimize hearing problems. The added point is the inclusion of complete construction and electrical diagrams in the package, which makes it easy for minor modification and repair.
Check Price on Amazon ➤
Interested in Helicopters? 
Learn more here
How far can a helicopter fly?
What is the fastest helicopter?
How fast does a helicopter go?
How much is a helicopter?
How high can a helicopter fly?
6. Lightspeed Zulu 3 Pilot Headset - GA Plugs
A lot of pilots, like me, prefer the Zulu brand for the pilot headset. Zulu offers both aviation headsets for pilots and aviation headsets for student pilots. This specific Zulu 3 aviation pilot headset model has more added features as compared to the previous Zulu models.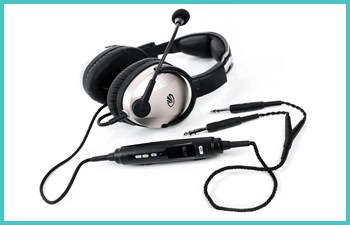 Dimensions: 9" × 8.5" × 4"
Weight: 54 Ounces
Bluetooth: Yes
Noise Reduction: Yes
Warranty: 7 Years
According to the pilots, I asked, what they love about Zulu 3 pilot headset is its ear seals, which perfectly fits the curve of their jaws regardless of the natural shape of the facial features. Very light and highly flexible and durable cables are incorporated in Zulu 3 aside from being equipped with Bluetooth connectivity and high-quality ANR Lightspeed technology. With its adjustable microphone, it can easily pick up the user's voice regardless of the surrounding ambient noise. Another feature is that it is compatible with Flightlink, which can enable the pilot to retrieve both outgoing and incoming communication by utilizing the free mobile application in iTunes and iPads.
Pros
Big ear cups to accommodate all types of users
Sound-dampening features are remarkable
Bluetooth connectivity provides entertainment especially for long flight hours
An option to use auxiliary cables instead of Bluetooth
Cons
The sound may sometimes be inaudible when using the Bluetooth
Final Verdict: Lightspeed Zulu 3 aviation headset offers some of the best features that an aircraft pilot requires. Some of these best features are the ability to automatically shut-off after the pre-set period; since it has big ear cups made of magnesium, it can provide an additional 30-50% ear space while still being sturdy; it is equipped with tall head pads for that added comfort, as well as, a stainless headband for additional durability.
Check Price on Amazon ➤
7. Kore Aviation P1 Series PNR Pilot Headset
What is noteworthy with the Kore Aviation P1 series PNR Pilot headsets is that, aside from the gold-plated plugs that can reduce the possibility of corrosion, it is also made of stainless steel finish for that sturdy headset. Based on the comments of other pilots, its 'on-ear' volume control makes it easy for them to equalize the audio.
Dimensions: 11.5" x 9.8" x 4.9"
Weight: 27 Ounces
Bluetooth: No
Noise Reduction: Yes, Up to 24dB
Warranty: 1 Year
The 3.5mm port is also a plus because it can allow the user to connect it to their smart devices such as Android phones, iPhone, MP3, as well as, iPad. According to them, the ear-cups feel comfortable because of the acoustic foam used. Another thing mentioned is its ability to reduce noise by about 24dB.
Pros
Pilot's voice can be easily and clearly picked up by the microphone
Ear seals offer maximum comfort
The sleek color is subtle in nature
Cons
When turning the head, the metal microphone adjuster can be troublesome
Final Verdict: Kore Aviation P1 Series PNR Pilot aviation pilot headset offers an outstanding noise-canceling feature that can range up to 24 decibels. With its very lightweight, weighing at only 1.75 pounds, this is sure to bring comfort to every pilot. Also included in the package is a cord with two standard prongs that are attached to the a/c system, for both microphone and listening use.
Check Price on Amazon ➤
8. David Clark DC PRO-X2 Aviation Headset
Another quality product from David Clark is the DC PRO-X2 Hybrid Electronic Noise-Cancelling aviation headset. Aside from the notable features of the previous DC pilot headsets, this new series has innovative improvements and better-added features.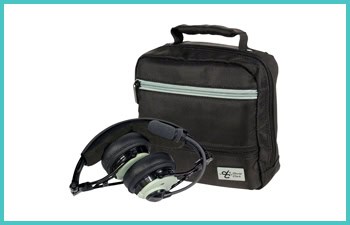 Dimensions: 8" x 4" x 8"
Weight: 30 Ounces
Bluetooth: Yes
Noise Reduction: Yes
Warranty: 5 Years
A pilot friend told me that he has been using this New David Clark Pro X2 for several months now. He emphasized that the automatic gain control feature of this aviation headset is ideal in improving active noise reduction capability, especially when he is in a high-noise environment. Additional features according to him, which makes him love the product, is its enhanced automatic shut-off that practically eliminates accidental power drain. He also loves the slightly modified oblong-shaped dome that gives it amazing stability.
The weight is similar to the previous aviation headset models, still at 7.5 oz. Ear seals are made of leatherette material that can be perfectly worn even during long flights. DC Pro X-2 offers an efficient active noise reduction feature with its "feed-forward", "feed-back" and the used digital signal processing technology. With this technology, the external microphone will initially detect the unwanted outside noise before it can even reach the pilot's ears; through this, hearing damage caused by the ambient noise can be avoided.
Pros
Bluetooth Technology with 5 years manufacturer's warranty
Redesigned oblong-shaped dome for better stability
Equipped with Automatic Gain Control function to optimize active noise reduction (ANR) in a high-noise environment
Fully adjustable for that perfect fit
Use of leatherette head pad for comfort
Use of Swivel Hinge Stirrups to reduce clamping pressure
Cons
Expensive
The noise-canceling is not that efficient
Earpads feel uncomfortably warm on ears
Not ideal to be used in jet planes
Final verdict: This pilot headset is sure to provide style, comfort, functionality, and durability to every pilot. With its advanced hybrid features, an increasing number of users have pledged for its high quality. It sports a Dual Voice Coil Drivers to provide a fail-safe operation to guarantee a steady and full communication in case of a system failure or a loss of battery power.  The Digital Signal Processing (DSP) technology used safeguards high-fidelity audio for best communications and music experience. Its collapsible design is also an added feature that makes it ideal for easy storage.
Check Price on Amazon ➤
Choosing the Right Pilot Headsets:
It is an important decision to make as this greatly affects my performance while I am in control of the plane. Communication should also be considered, thus efficient pilot headsets must be used in order to avoid hearing problems due to disturbing noises caused by the plane's engine, the blades and the airflow, among others. Through this, better and clearer communication with my co-pilots, the cabin crew, and ATC can be obtained.
To choose the best pilot headsets for airplane pilots, it is very important that we, as pilots, be able to identify the main differences between various aviation pilot headsets - the noise reduction technology used and the overall look of these headsets.
In-ear vs on-ear aviation headsets: Aviation pilot headsets are either in-ear or on-ear. On-ear headsets are the most commonly used and have a wide array of brands available in the market. The in-ear aviation pilot headsets have a small speaker plug placed inside the ear and are less common because the fit of each plug varies from one to pilot to another.
Aviation pilot headsets are either in-ear or on-ear. On-ear headsets are the most commonly used and have a wide array of brands available in the market. The in-ear aviation pilot headsets have a small speaker plug placed inside the ear and are less common because the fit of each plug varies from one to pilot to another.
PNR vs ANR and DNR: Another thing to know about aviation pilot headsets is their noise cancellation capacity. Passive noise reduction (PNR) is the cheapest type of aviation pilot headsets. It blocks ambient noise mechanically through the use of a noise-suppressing foam that should snugly fit the pilot's ears. Active noise reduction (ANR) aviation pilot headsets have an electronic noise-canceling feature and are commonly battery-operated. They use filters that are capable of distinguishing between wanted and unwanted signals. They have small built-in microphones used to determine incoming noise and has the capacity to produce an anti-noise signal to cancel unwanted ones. These aviation pilot headsets are more expensive than PNR. Dynamic noise reduction (DNR) aviation pilot headsets have the same electronic noise-canceling feature but are more efficient than ANR; making it the most expensive among the three types.
Microphones: The type of microphones used in pilot headsets is also an important factor to be familiar with. As pilots, we are not just concern about incoming noise but also with the outgoing sound. This is to make sure that aircraft communication is strong. Microphones must have the ability to suppress and filter noise for clearer communication. Now that we are familiar with the features of various aviation pilot headsets, let us consider the characteristics of the best pilot headsets.
Comfort: No matter how sophisticated or how expensive my pilot headset is, if I am not comfortable with it, I will not use it definitely! I have to make sure that I will be comfortable wearing it for hours. So before buying it, I usually try it on for about 10 minutes and if it still feels comfortable, then that's the perfect one for me!
Bluetooth: This is one of the aviation headset's features that I likewise consider important. If the aviation headsets have Bluetooth features, this eliminates the need for unnecessary cables.
Noise Reduction: From the noise reduction features that I have discussed above, it is obvious that as a pilot, I would prefer ANR with DNR. When looking for the best aviation headsets, I and my pilot friends prefer the ANR systems as these aviation headsets are capable of reducing ambient cabin noise up to 30dB.  Being exposed to plane engine noise, which is about 120-130dB, increases the risk of ear damage, the most common problem suffered by my pilot friends. You know, normal conversation is only about 50dB, thus, greater than this sound intensity can lead to a serious hearing problem. This is the reason why choosing the best aviation headsets are crucial, not just for safety and communication, but as well as, for personal ear protection. Since hearing loss can be irreversible, it is better to be safe than sorry.
Cable and Plugs: Cable and plugs must be also be taken into consideration. Bear in mind, which aircraft you are going to operate. As some aircraft require specific headset plugs. For instance, Helicopters require the use of other connectors than fixed-wing GA (general aviation) airplanes; manufacturer Airbus also uses another type of connector - the XLR, which is likewise used in professional audio recording. Remember, make sure that you will only buy the right cable and plugs so you don't have to waste your money getting the unnecessary connectors.
Weight: Obviously, no one wants to wear a bulky headset for a long period especially during long flight hours. Aside from the back and neck pain, you can also become conscious that you cannot focus on flying anymore. So you also need to consider the weight of your pilot headset before deciding to buy.  Take, for instance, the passive noise reduction (PNR) aviation pilot headsets, they may be cheap but they are usually heavier than the active noise reduction (ANR) headsets because PNR earcups have a noise-reducing foam. Once again, make sure to test a few aviation pilot headsets to feel which of these you feel most comfortable wearing. Another thing I would like to point out is that heavier headsets do not necessarily mean that they are not comfortable.
Price: Of course, price should always be on the list and must be given ample considerations, especially when selecting the best pilot headsets for pilots or student pilots. We all know that the better the features are, the more expensive the headsets are. So, if you are on a tight budget, start by setting a reasonable budget. As for me, since I am already in the field for years, I need to invest with nothing by the best.
Anyway, if you are planning to get the best aviation headsets for student pilots just stick with your budget. Eventually, when you have earned enough, you will be able to buy the best pilot headset.
To give you an idea, here are some of the buying tips you should consider when you plan to purchase a pilot headset:

You get what you pay for. Don't expect too much for cheaper units. If you want superior quality aviation headsets, you have to be prepared to spend more.
Ask for a return policy before purchasing. Usually, you will know if it is right for you or not after the actual in-flight testing. If no return policy is available, just try to wear it for about 10 minutes inside the store.
If you are tight on a budget but desperately want one that has advanced features, consider buying a second hand. You will notice big savings plus a good quality aviation headset. Most of the pilots take good care of their headsets.
Consider purchasing second-hand brand-name headsets. You can often find thousand-dollar headsets for a quarter of the price and pilots usually take very good care of their possessions.
If you are planning to buy either an ANR or a PNR headset, take time to consider its bulky battery pack because it can be a problem when it hangs over your neck for a long period.
Check which type of microphone best works with your existing radio. As microphones are not one-size-fits-all.
Carefully consider price vs comfortability. It may be cheaper in price but think of the price you to pay when you suffer from hearing problems and the headset-related problems.
Again, I would like to emphasize, with aviation headsets, you will get what you pay for. So, if you can afford, I recommend that you invest in high quality aviation headsets. Ask other student or professional pilots for advice and their personal opinions. These can greatly help you decide on which brand of aviation headset to purchase. Cheap headsets may look enticing, so remember quality over "fashion". Take note, that at the end of the day, you will be the one wearing the headsets, so this review, opinions of others and suggestions are just guides. You will still be the one to make the decision.
____________________________

Related Readings
10 Best Action Camera Protectors for Traveling
10 Best Hand Grip Camera Straps
10 Best Action Camera Microphone Attachments
8 Best Pilot Headsets
David Clark DC Pro X2 Aviation Headset - Review
Garmin eTrex 30x GPS - Review
____________________________