Traveling is already stressful enough without having to worry about where to put your essentials. Simplicity and quick access can be a huge pain relief which is why lots of people opt for a handy backpack. 
The best travel backpacks for men can be a huge travel helper that will make a trip easier with all the stuff you need right at hand reach. 
In this post, I will review some of the best travel backpacks for men, list different types of backpacks, compare them, and offer advice. I will try to address some commonly asked questions you should before you buy a backpack.
Prior to buying – things you should consider when buying a travel backpack
Make sure it fits
Although we might say that a travel backpack is as good as it is fit, there is more to it than that. Of course, the backpack needs to fit you and be comfortable, keep in mind you will carry it on your back, and possibly walk long miles with it. A comfortable travel backpack has several features to keep a mind on:
straps – shoulder pads should fit the shape of your shoulders and extended a few inches more, under your armpits.
length – a fitted travel backpack means adjusting it to your core size for maximal comfort.
rear padding – it can be very tempting to buy a backpack with an extra padded backside, but keep in mind it will cause additional sweating. If you opt for it anyway, make sure it has good air circulation, so that it doesn't stick to your back like glue.
hips – backpacks, including the travel backpacks, have a belt suspension for the hips that helps you switch weight away from the shoulders
Size
Travel backpacks come in different sizes and there a few things you should keep a mind on such as making sure they are within the limits of the airline baggage allowance, and bigger doesn't necessarily mean better.
You can make a trip much easier by packing less, not more, so might not need the largest backpack available. Generally speaking fifty to seventy-liter backpack should be more than enough for a multiday trip. Rember to check youtube for packing tricks, you'd be surprised what travel veterans might reveal for you!
Storage
Key component of every travel backpack is its main compartment. Most travel backpacks have front compartments and generally speaking they are much better for traveling. Keep an eye on zipped pockets as well, some travel backpacks have more of them while some not nearly enough, it really depends on how much stuff and which gadgets you carry with you on your travels. Some travel backpacks even have locks for extra safety. Another handy tip, try to find a travel backpack that has compartments to store straps and hip belts, this prevents the backpack to get stuck for example on moving luggage tracks at airports.
Water-resistant
You can never trust the weather, especially in the Northern Hemisphere so make sure to check if your travel backpack is water resistant. Many travelers carry valuable gadgets inside their backpacks such as travel laptops, and you wouldn't want that to get wet.
Brand
Often we find ourselves surrounded by trusted products of reputable manufacturers that are famous for their quality. And yes, you should stick to them! Reputable brands are made reputable for reason and you don't want your shoulder band to break while you are on your trip on the other side of the planet.
If you're looking for good hiking backpack that's not too expensive then check the best hiking backpacks under $100.
Shape
The shape of your travel backpack should fit your size and build. Your friend's backpack, as good as it might seem, might not fit you. Try to wear your travel backpack while in the store and see if the shape fits you. Square and rectangular travel backpacks help to distribute weight more evenly on your back and hips.
Ventilation
Best travel backpacks have their backside made of breathable coating, that allows air circulation between the backpack and your back.
Frame design
Travel backpacks come with an internal or external frame design. Internal frame design generally has a larger main compartment and fewer eternal compartments, usually not more than one or two. Vice versa, travel backpacks with an external frame have several eternal compartments for better arrangement. Travel backpacks with internal frames are usually lighter and better adapted for the back, which makes them a better option for long travels. However, an external frame travel backpack can fit more stuff.
In the following article check my suggestion for some of the best travel backpacks for men, based on the best ratio of price and quality
SwissGear 1900 Scansmart
Features
lots of space
water resistant
great compartment design
When it comes to SwissGear, you can rest assured you are buying a trusted, quality brand. This travel backpack has many features that make it one of the favorite travel backpacks for long-distance travelers. Its smart scan technology features a tech compartment that protects your laptop from holding during the TSA scanning. It also has a Tablet Safe pocket that ensures the safety of your laptop and many other compartments, like the small harmonica pocket, or the large zip pocket at the front for quick access to your basic travel necessities. Scansmart also has a media plug where you can plug in your headphones.
This travel backpack is also very comfortable to wear, thanks to its net-like shoulder straps, adjustable side straps for better compression, and quality backside padding with the Airflow technology.
Sacansmart 1900 travel backpack is made of ballistic polyester 1200D which is very strong, water-resistant, and can support a large weight. The only downsize are its zippers that are easily breakable.
All in all SwissGear 1900 Smartscan is a great travel backpack with over 8000 reviews on Amazon, out of which there are many with 5 starr rating. It is a great and reliable men travel backpack for both long and short trips.
Deuter Transit 50
Features
detachable
durable
accesible
A good quality travel backpack has to be able to withstand kicks and being thrown around. Deuter's Transit 50 is very resilient to kicks, thanks to its 600d Polytex, which gives it extra protection from weather conditions as well as damage. It is also very spacious and convenient for airplanes as well.
The main compartment has a large U-shaped front side with a zipper, that is very accessible. It has a detachable smaller backpack that can be used for short trips, it is very light and comes with a padded, removable carrying strap, two grip handles, and a breathable shoulder strap for extra stability. Shoulder straps are very comfortable, so it's easy to wear it even if its full and heavy. A very cool feature is the lower compartment that is separated and can be used for storing dirty clothes for example.
Deuter Transit 50 is a very convenient accessory made with the purpose of making your travels easier, regardles if you are in an aeroplane, train, strolling arround the city, or climning the mountain.
Hynes Eagle Travel Backpack
Features
multifuctional
light
waterproof
If you are looking for an extremely light backpack, look no more. Hynes Eagle travel backpack will give you lots of storage space without burdening your back too much. This product has a lot of inside space and outside pockets where you can quickly store your valuables like mobile phone, wallet or passport. Inside of this travel backpack, you'll find a compartment to safely store a laptop or tablet, while on the outside four compression straps hold everything in place when you are on the move.
Shoulder straps have air net padding that makes them very light and comfortable to wear. Additionally, Hynes Eagle travel backpack comes with a chest belt for extra stability and to easily shift load from one shoulder to another.
Hynes Eagle is a renowned brand that became famous for producing high quallity products. Material used is water resistant polyester that is very durable.
Bobby XL Anti-Theft Backpack
Features
Anti-Theft technology
USB port
Perfect for work and travel
This fabulous travel backpack is excellent for people who carry valuables such as laptops and want to have extra safety. It was designed by XL Design back in 2016, with a Kickstarter campaign to raise the funds, and now it is being sold in over 50 countries worldwide.
The anti-theft design comes with a compartment to store a 17-inch laptop and 9,7-inch tablet, while the integrated USB port makes it possible to charge the device while you are on the move. Anti-theft features include RFID protection, hidden zippers, and compartments, and extra protection layers. The entire backpack is waterproof, so you can rest assured that your tech valuables will remain dry.
Bobby XL Anti Theft Backpack is very resilient to damages such as ripping or cutting, making it extremely durable. Zippers are cleverly hidden in the overall design, making it very hard for potential thieves to pickpocket. Although it is somewhat heavier than a regular travel backpack its very unique design and provided safety make it a top choice for many travelers.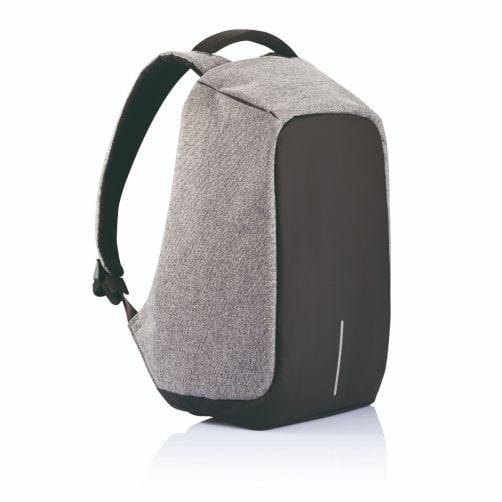 Choosing a travel backpack can be challenging, there are many, many products available and a consumer can be confused with everything that is out there. Hopefully, this post has answered some questions and pointed out some things to consider when it comes to buying a travel backpack. Listed here were just a few suggestions of well-tested and popular products, and keep in mind that a well-organized backpack can make the journey far less stressful.