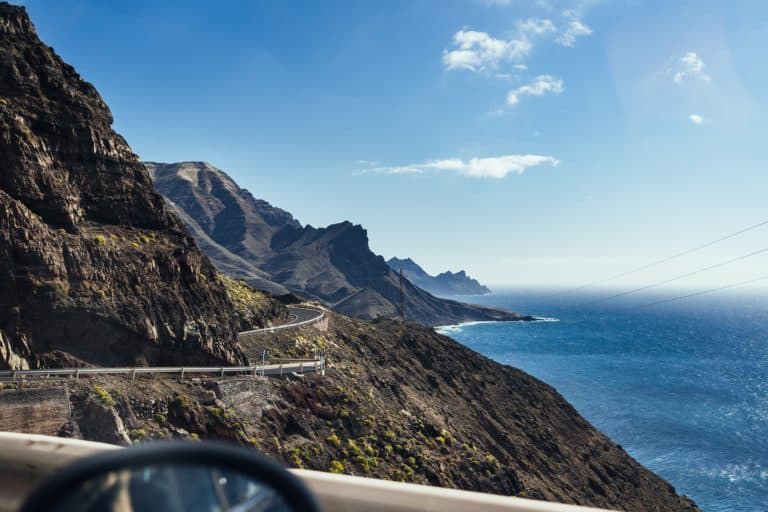 Canary Islands are a Spanish territory off the western coast of Africa about 100 kilometers south of Morocco in the Atlantic ocean. They are a very popular tourist destination all year round thanks to the warm and pleasant climate, much warmer than in Spain. 
The Canary's consist of seven islands which are all volcanic, they are Tenerife, Gran Canaria, Lanzarote, La Gomera, El Hierro, Fuerteventura and La Palma. Each of them is unique, with its own distinctive charm.
What makes the Canary Islands especially attractive are its amazing national parks, there are an astonishing 13 of them on the islands and they include a volcano – Teide. That is also the highest mountain point in all of Spain. Beaches of the Canary Islands are topped with surfers, strong winds from the Atlantic make them a perfect surfing spot!
Over 12 million tourists visit the Canary Islands annually which makes the tourism sector very important for the economy. As already mentioned, Canary Islands are a very popular destination for Europeans, especially for the retired, so much that 15% of the population are foreigners.
Another important factor for the Canary's is low prices. Although the islands are formally in the EU, and the official currency is Euro, they are outside of the EU customs zone. In short, that makes them extremely competitive with prices.
Beaches are sandy but the color varies from white to black because the islands are volcanic.
Tenerife
Tenerife is the largest of the Canaries and also the sunniest. Annually over 5 million tourists visit it. The island is full of beautiful resorts, but also charming coastal towns with unique colonial-like architecture. Playa de las Americas and Costa Adeje are extremely popular destinations. Summer temperature averages around 26 Celsius while in Winter it rarely drops below 19. The climate of Tenerife makes this destination perfect for tourism all year round.
Tenerife is a very diverse island, ranging from small rural villages, historic town centers, laid back beaches, to the highest mountain in Spain – Teide, which is actually a volcano. In terms of amusement parks, there are two in Tenerife. Loro Park has been awarded the best ZOO in the world multiple times, while Siam park won the best water park award. The largest slide is whooping 28 meters.
Party people will definitely want to check the area around Playa de las Americas and its Veronica strip, also known as the best party place to party in Tenerife. Lots of famous DJ's work here, and you can see lots of British and Irish people partying.
To experience a more local way of life, head towards La Laguna. Normally you wouldn't associate this place with any amusement, but where there are students, there is entertainment as well. It's not located in any tourist zone, in fact, mostly locals live here, but narrow streets are topped with cozy cafes full of students.
Santa Cruz de Tenerife is the main town of the island and Puerto de la Cruz offers the best entertainment. Its black beaches are very unique, and the whole area has a strong Latino vibe. Sometimes it gets more crowded here at 3 am, rather than 3 pm.
Black sand beaches in Tenerife are one of the island's most unique natural features, formed by volcanic activity a long time ago.
Gran Canaria
A very famous destination on the world tourism map, best known for its jaw-dropping beaches and the calm sea around it. Its capital is Las Palmas, and it is full of historical sites and preserved colonial architecture. If you are on a tight schedule check what you can do in Las Palmas in one day. Town beach at Las Canteras is truly remarkable and it offers a lively music scene.
Carnival at Las Palmas very much resembles the one in Rio, with all the glitter and costumes and the party goes on late in the night. Las Palmas is the largest and the most popular town on the island and Playa de las Canteras is 4 kilometers long with a beautiful boardwalk. For a good shopping, head to Calle Trianon, you can find lots of local stores as well as some famous brands like Zara or H&M.
Playa de Maspalomas is a unique site. Yellow sand dunes tumbling down to meet the ocean, and close by a lighthouse. You can find lots of hotels and restaurants here, and if you want to admire nature's work a bit more, don't miss the Roque Nublo, a peculiar rock formation standing 67 meters vertically.
This is also considered one of the best Spanish islands for families.
Sunset chasers will want to visit Puerto de las Nieves to catch some breathtaking images.
Lanzarote
This island has managed to keep its unique flora and fauna spared from over tourism thanks to local activist Cesar Manrique, who managed to stop the local authorities from selling everything to hotel resorts. The island is scarcely populated mostly due to its desert-like terrain that doesn't really support agriculture. Even though Lanzarote is not as green as the other islands, it is very attractive to hikers, mountain climbers, and bikers, while its golden beaches lure people for a nice cool-off.
Puerto del Carmen is a nice resort with popular beaches of Playa Grande and Matagorda. Avenida de las Playas is 7 kilometers long walk with lots of retail stores restaurants, cafes, and clubs.
Fuerteventura
The windiest of the 7 islands attracts of course hoards of windsurfers and kitesurfers. There is constant wind on Fuerteventura which comes really nicely during hot summer days. The island has over 150 beautiful gold sandy beaches with turquoise sea and islands most unique feature are the Corralejo dunes which appear as an extension of the nearby Sahara desert
La Palma
Often tributed as the most beautiful of the Canary Islands, because of its nature that is far lusher than in other islands. Santa Cruz de la Palma was a famous shipbuilding port in the past from where expeditions went on to explore the new world. A large volcanic crater Caldera de Taburiente that is also a national park, and the water canals of Marcos y Cordero are beautiful natural phenomenon that attracts visitors.
La Palma is a very steep island so you won't find here long miles of soft sandy beaches, but instead, you get to discover amazing volcanic nature.
La Palma also has one of the largest optical telescopes in the world used for sky observation.
La Gomera
Small volcanic island only 22 kilometers long but with over 600 kilometers of trails, it is a mecca for hikers. Vegetation is concentrated on small terraces of green land. Tourist zones have resorts like Playa Santiago and Valle Gran Rey which offer a much more laid back and relaxed atmosphere than what one might find on other islands. The capital – San Sebastian has only 8500 inhabitants and it is a calm little port town.
El Hierro
Once considered to be the end of the world. It is the smallest of the Canaries and almost entirely under UNESCO protection. Garajonay National Park holds Europe's oldest forest, and it is truly a remarkable site with its moss-covered trees and roots entangled all over. The island is also a popular diving destination thanks to its colorful reefs and rich marine life.
Latino influence
Strange as it might sound the South American influence is huge in the Canaries, from food to music. Since the islands are located on the coast of Africa it is very curious as to why that is?
The fact of the matter is that a lot of the residents made fortunes in the new world, came back, and invested their money in the Canaries. Many locals still have relatives across South America, in former Spanish colonies, the latest wave was during the Franco dictatorship when many Spanish fled west. A very vivid and colorful carnival in Las Palmas is often compared to the one in Rio.