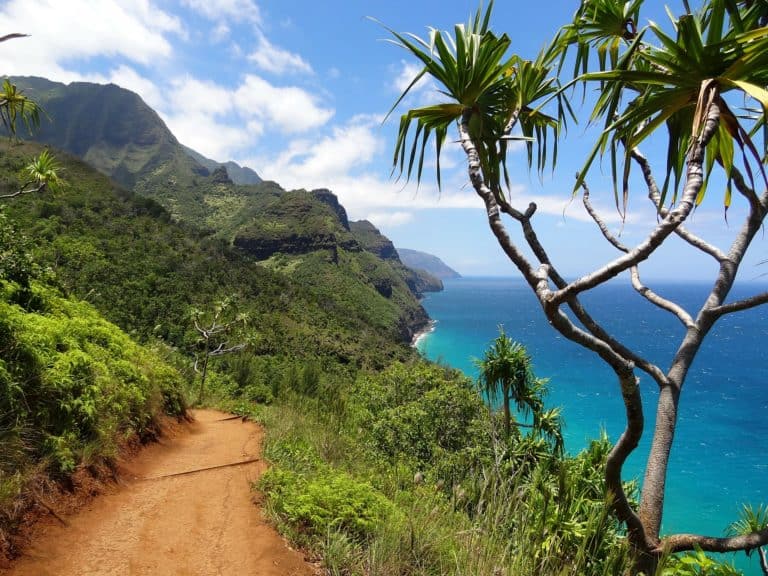 The main island in Hawaii is geologically still under construction, with lava still claiming land from the sea it's the only part of the US that is still growing! Surrounded by mountains of dormant volcanoes and the Pacific Ocean lapping at pristine white beaches, the island of Hawaii is a perfect holiday destination. With such an abundance of natural beauty and the attractions of a vibrant and multicultural capital city, Hawaii is a real crowd-pleaser. From sun worshippers to surfers, shoppers and adventurers, Hawaii's got a little something for everyone.
Weather & Climate
In Hawaii there are really only 2 seasons in the year: summer (called Kau in Hawaiian) runs from May to October and winter (Hooilo) from November to April. The average daytime summer temperature is 29°C, while the average daytime winter temperature is 26°C. Temperatures at night are approximately 12°C lower than the daytime so no matter when you visit you're going to be able to spend plenty of time on the beach. The wettest months are from November to March but even if it's raining where you are staying there is sure to be a sunny spot just up the coast.
History & Culture
The Hawaiian Islands were first settled around 1,500 years ago and 500 years later settlers from Tahiti arrived, bringing with them their own unique culture. In the 20th century, sugar and pineapple plantations fuelled Hawaii's economy bringing an influx of immigrant workers. Under the leadership of James Dole, the island of Lanai became known as the "Pineapple Island," after becoming the world's leading exporter of pineapple. In 1959, Hawaii became the 50th State of the United States and today is one of the top tourist destinations in the world, renowned for its tropical beauty and luxurious resorts.
Off the beaten track
If you've been to Hawaii and feel like there is nothing else to discover, think again. Kihei, on the western coast of Maui, is still largely unexplored, you can feel the presence of the tourists but just barely. It is interesting enough to pay the visit, especially if you are a fan of water activities such as diving or snorkeling. One of the best things you can also do here is whale watching, as this is where the national center for humpback whales is located. You can also do eco-tours, or rafting, or rent a car and explore the nearby volcanos Heleakale and Puu Kukuija. This might just be the perfect start of your Maui itinerary.
Interesting Facts
Hawaii is the only state that is not geographically located in North America, is completely surrounded by water, and does not have a straight line in its state boundary.
The eight horizontal stripes on Hawaii's flag represent each of the state's main islands. In the upper-left corner of the flag is a small version of Britain's flag that honors British captain George Vancouver, who gave Hawaii its first flag in 1794.
Everyone is a minority in Hawaii, meaning there are no racial majorities. Caucasians constitute about 33% of the population, Japanese about 33%, Filipino-Americans about 16%, and Chinese-Americans about 5%. Most of the population has mixed ethnicities.
Hawaii is a good choice for people with special needs, the tourist offer and infrastructure is (more or less) good so there is a good choice of things to do on the Big Island of Hawaii
Insider Tip
If you want a break from sunning yourself on the beach why not take a hike around a volcano? The Kīlauea Iki Trail starts in the rain forest on the crater's rim, descending 400 feet through the rain forest to the crater floor. You can cross the still-steaming crater floor and then past the vent that built Pu'u Pua'i cinder cone. If this all sounds too much you could always indulge your inner shopaholic with a trip to Honolulu. One of the best districts for shopping is Chinatown, or you take a trip to Waikiki to find some of the finest high-end fashion boutiques. While you're at it, make sure to check other things to do in Waikiki as well.