The South of France is many things and varies enormously depending on where you are – in one place you'll find tranquillity, coziness, beautiful colors and nature, while in another you'll find luxury, expensive shops, and long beaches.
There's a lot of variety here, and you'll find it if you take the whole trip around the South of France. If you're only into one of these things, you can also choose your destination more specifically and stick to your favorite area.
It's teeming with tourists and you won't be disappointed, because whichever area you choose, you'll be greeted by beauty, good food and delicious drinks because after all, it is what France is famous for!
Best time to travel to the South of France
Southern France is not a fixed term, but in most places, the areas of Provence, the French Riviera, Languedoc-Roussillon, Aquitaine and Midi-Pyrenees are considered to be part of it.
In general, the weather is great in summer, hot yet often bearable, and rainfall is scarce. The climate is mild, which means you can travel to the south of France if you want to extend your summer or enjoy spring.
Enjoy the French food
The South of France is famous for its food, especially because they make really good dishes with few ingredients, but also because several of the world's best restaurants are based here.
Each region of France has its own specialties and in the South of France, the main ingredients are olive oil, tomatoes and herbs. In addition, wine and cheese are two natural parts of all cooking and as accompaniments to food.
In France, they are known for not eating much for breakfast. Here they eat some light bread and fruit, and then they drink coffee. Lunch is eaten between noon and two, and often dinner is eaten late.
Famous French dishes:
Baguette and Croissant, Soufflé, Coq au vin, frogs legs, snails, Crêpes, Creme Brûlée, mousse and wonderful cheeses.
Provance
Provence is a region in south-eastern France. The province is a big magnet for tourists, and it is because it has great wine, great food, beautiful scenery, but it's perhaps the most famous for its beauty products. When you see postcard pictures of lavander fields, its a great chance it was taken here. There are many hours of sunshine and many historical sights to see.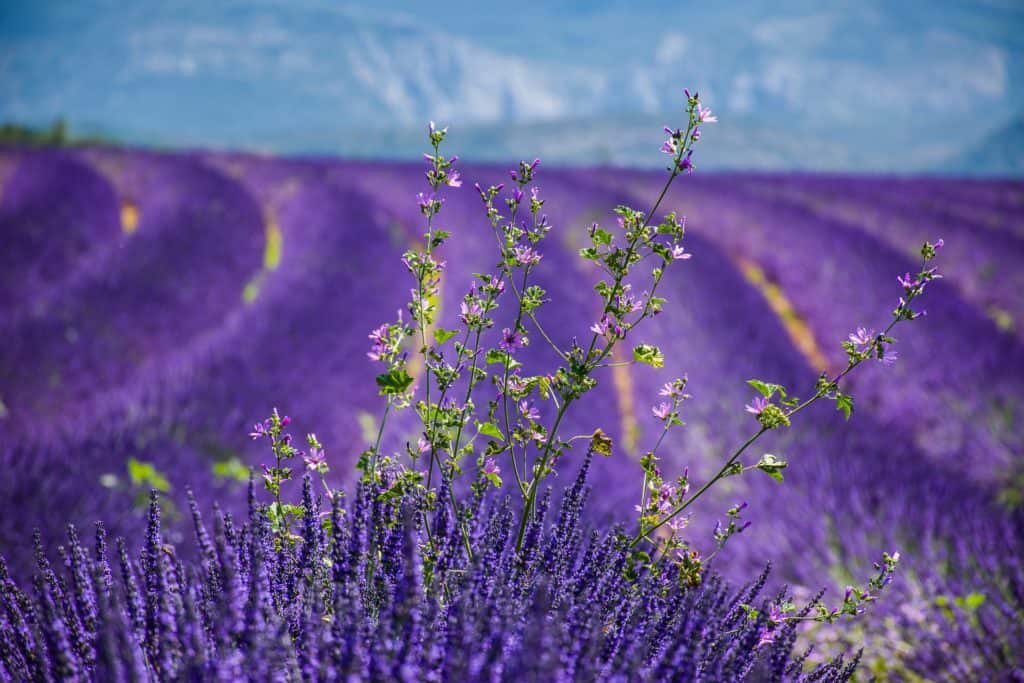 Food in Provance
Many food lovers and artists travel to Provence, all because of the sun. Artists come here because the sunlight is perfect and the landscape unique. The cuisine of Provence is known as the "Kitchen of the Sun" and prepares both – everyday food as well as finer gourmet food. The food is characterized by spicy flavors: garlic and fresh herbs as well as tomatoes, olives, aubergine, and lemon.
You should try: Bouillabaisse (fish soup) and aïoli, vegetable gratin, guinea fowl, ratatouille, snails and olive tapenade with a good local wine like Côtes du Rhône, Chateauneuf-du-Pape or Gigonoles.
What to experience in Provance
On your visit to Provence, you should visit France's version of the Grand Canyon – the Verdon Gorges. Here, the beautiful river flows down a deep gorge and through cliffs and bends, and you can raft on it.
You can visit the town of Arles, home to Vincent van Gogh. A beautiful town that not only has exhibitions of the artist, but also historic buildings. You can also visit the papal city of Avignon, on the banks of the Rhone River and filled with history, great cafes and the Papal Palace, where popes relaxed many years ago.
There are plenty of small, pleasant towns in the area, so you can just wander.
In the foothills of Mont Ventoux, you'll find the famous lavender fields, which you should visit in July if you want to see them at their most colorful. If you want to go to the spa, visit Dignes-les-Bains, which has hot springs.
The French Riviera – Nice and Cannes
It's got a splendid sea life, beaches, cocktails and plenty of sunshine, and it attracts masses of tourists of all ages and classes every year. There's something here for those with a lot of money and those with a little less.
Along the Riviera are a number of lovely seaside resorts dominated by Nice, Saint Tropez and Cannes, but smaller and more obscure towns such as Eze, Mandelieu, Agay and St Raphâel are also well visited and delightful little gems.
Nice is known as the most colorful town on the Riviera. Here you'll find everything you could want from restaurants, shops, markets, and boutiques. The streets are cozy and the beaches are crowded. There are historic buildings and impressive homes for wealthy people. There are many things to do in Nice, and no, they don't necessarily cost a fortune, it really depends on what you are looking for and how much are you willing to pay for it. 
Cannes is known for its annual film festival, but the city is also a symbol of wealth and luxury: Here you can shop for the world's most expensive luxury goods. The promenade is beautiful and you can take a free walk. You can also head to the party paradise of Saint Tropez, where expensive goods and wealth are not to be missed. Here, luxury boats sit side by side and everything gleams with money.
If you want to go beyond cities and beaches on your French Riviera holiday, visit Europe's largest Marine Land with dolphins, sea lions and killer whales in the town of Antibes-les-Pins, or stop by La Malmaison museum in Cannes, which has works by Matisse, Ozenfant and Picasso. Also, those of you who look for a more relaxed and "free body" beach time, you might want to check the top 10 best nudist beaches in France!
Accommodation in South France
You can go camping, and you can rent apartments and homes in the South of France – depending on what you prefer. But because the area is so popular, it's a good idea to book accommodation from home well in advance. Make no mistake French Riviera is expensive, that's just the fact! Unlike Greece, Italy, or Croatia, where you can always find a good deal even during the main season, this rule can hardly be applied to France.
It's not really a surprise since the region has a long tradition of tourism, in fact Cote Azure is the birthplace of tourism, and many classy hotels offer even clasier accommodation options.