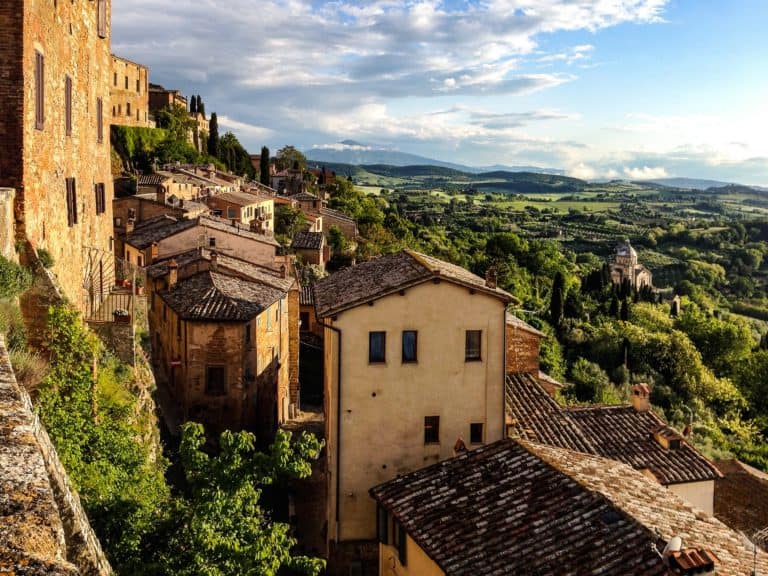 Tuscany is one of the most popular destinations of Italy that offers a rustic atmosphere, good food, wine, and a hilly landscape.
It's great all year round and the special atmosphere of the area is infectious for anyone who likes authentic Italy.
Tuscany is a region of Italy – located at the northern end of central Italy and the weather here is ideal for summer holidays and travel in spring and early autumn.
The landscape of Tuscany is mountainous and one of the most fertile in Italy, growing fruit, cereals, and wine. This makes the destination a particularly good place to visit if you want to enjoy both the weather and the lifestyle.
If you travel to Tuscany in summer, you can expect a lot of heat – preferably around 30 degrees – and relatively dry weather.
Autumn is harvest time when you can have a lot of exciting experiences while enjoying the warm weather, and even participate in harvest or fruit picking as part of your stay experience.
Spring can easily be both warm and pleasant but is characterized by more volatility, and you may well encounter a number of days of rain and cold.
Cuisine of Tuscany
Tuscany has a world-famous cuisine, filled with delicacies and all kinds of dishes.
There is a lot of meat in the form of hams, fish or steaks. And vegetables are used too, especially fennel, aubergines, courgettes, peas and beans are widely used as well as truffles and mushrooms. Of course, all this is flavored with a host of herbs such as rosemary, sage, basil, onion, and garlic. All this lovely food needs to be washed down as well so don't miss a cup of fine vine, but how to choose good one? Well, vine tasting in Italy is always a good option, you'll get a chance to learn something about the country's vines and take home a bottle or two.
Specialties
If you're in Tuscany, don't miss their salt-free bread, which the locals claim tastes so good because their local produce is so good. You should also try their soup Pappa al Pomodoro, which is a soup with dry bread.
The cheeses that originate from Tuscany are Casciotta made from cow's and sheep's milk, or Marzolino and Pienza made from sheep's milk.
Sweets are also plentiful, and if you travel to Tuscany you should try the Ricciarelli pastries, made with flour, sugar and almonds, or the panforte, traditionally prepared with almonds, wheat flour, honey and fruits, coriander, nutmeg and cinnamon.
Of course, you can also finish your meal in a classic way with a dessert wine and an almond cake, cantuccini, which are crunchy and therefore often dipped in the wine.
Sightseeing in Tuscany
There are a myriad of possible experiences when you travel to Tuscany – and the area itself is so beautiful that a walk or drive in the countryside is an experience in itself. Here you'll discover beautiful hills, olive groves, rustic houses, small quaint towns, sunshine and vines, markets of colorful fruit, all wrapped in a wealth of sunshine.
If you want to go on a tour, visit one of the legendary towns in the area or visit the fine island of Elba. Elba is off the coast, has gorgeous scenery, and is so popular that you should book both accommodation and ferry well in advance.
Mountain funicular
You can also take a ride on the Funicolare Montecatini, located between Pistoia and Lucca. Old in appearance, the funicular climbs a steep incline for a good kilometer and offers great views. A fun ride for adults and children alike.
Thermal baths
There are several thermal baths in the south of Tuscany – and they're great if you need to warm up and just enjoy a day of relaxation and tranquillity.
If you are looking to spend more money on your accommodation make sure to check the 5 best luxury Boutique hotels in Italy.
Beach trip
Go to Viareggio if you want to go for a walk on the beach and swim for a whole day. Viareggio is a well-known Italian seaside resort with its 3 kilometers long beach called La Passeggiata and delicious gelato calling from every step. It is a great place to have a coffee by the sea, or have an amazing meal in one of the local restaurants. Besides the summertime joys, Viareggio is also very famous for its carnival. Colorful groups parade through the city and show their best, shiny ideas. Viareggio is about an hour and a half driving from Florence, so it makes a nice day trip to have some refreshments in the sea. While we are on the topic of the Italian coast, Just a bit to the North starts the world-famous Italian Riviera, which stretches from La Spezia all the way to the border with France.
Wine in Tuscany
An obvious place to go if you want to look at wine in Tuscany is the area between Florence and Sienna called Chianti. It's not just wine production, but also green forests, ancient castles, and scenery worth a walk.
Leonardo da Vinci
The famous painter was born in the town of Anchiano in Tuscany in 1452, and you can of course learn more about both his art and life on your holiday in the area. You can visit a museum in Vinci that focuses on the painter's work, and you can get to know him better at the exhibition in his old birthplace.
Cities and towns of Tuscany
There are many popular and beautiful towns in Tuscany. Florence is the main city in Tuscany, but the cities of Pisa, Siena, Pistoia, Livorno, and Lucca are among the must-see towns of Tuscany
Florence
The city is many things in one – it's old and modern, it's chaotic and laid back, it's beautiful and worn and… well, it's a historic city with many contrasts that most visitors love.
Florence is a centre for a lot of art, so you can't avoid visiting museums if you're in town. If you don't, you'll still see art everywhere in the streets, where the most beautiful buildings insist on being seen.
If you get hungry or thirsty along the way, the city has a myriad of irresistible restaurants, cafés, wine bars and coffee shops.
Cities in Tuscany are very well connected and you can easily do a one day trip from Florence to Pisa for example or some other nearby city like Bologna.
Pisa
Pisa is known for its leaning tower, but the city itself has much more to offer. It's both charming and cozy.
The city contains many historical relics from Roman times and much still remains authentic and unspoiled. This provides plenty of opportunities to study the city's buildings, and as there is rich student life in the city, it is also festive and has a good "going-out" environment. Although Pisa is not directly on the coast, its not far either, if you have time make sure to check the best beaches near Pisa.
Lucca
Lucca is known as one of Tuscany's most beautiful cities. It is romantic and picturesque, well maintained and incredibly idyllic.
Lucca is distinctive because it still has its defensive walls intact, and that in itself is impressive. The streets themselves are small and winding, so there aren't many cars in town, and many people walk, run and cycle on the ramparts.
If you want expensive shopping and luxury, Lucca is a great city to visit. There's a lot of elegance here and plenty of opportunities to splash the cash. If you are in the mood for romance, Lucca also has the perfect restaurants and cafés, which cultivate a beautiful style and provide the finest setting for people who want to enjoy life.
There are many wonderful and historic towns in Tuscany that can't possibly all be listed here. But explore the area and drive into the towns you pass on your way. Most of them have their own unique atmosphere, and you'll rarely be disappointed in Tuscany.