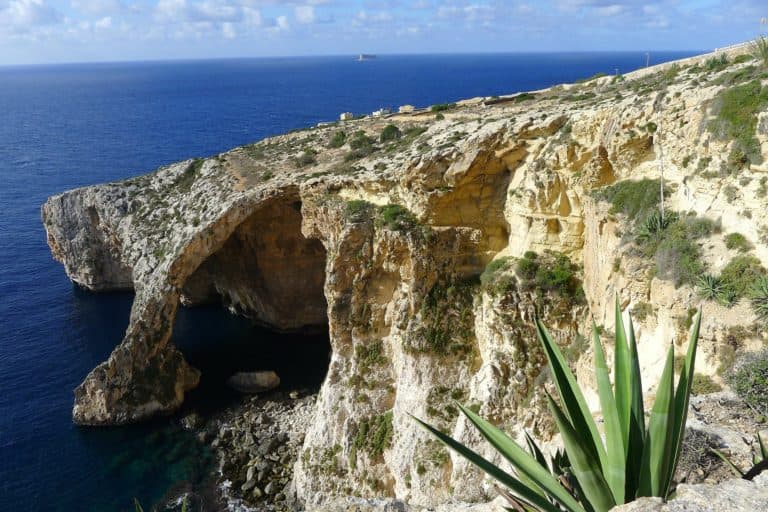 Malta is a popular archipelago to travel to – especially for charter tourists. The islands are characterized by the fact that they have been under siege many times and therefore have belonged to many different countries. This means that Malta today is diverse and full of imprints from countries all over the world, both culturally and historically. So the perfect destination for those who want both a beach holiday and culture in one package.
Best time to travel to Malta
It is sunny here in the summer and very mild in the winter, so you can travel to Malta all year round.
Climate is subtropical, which provides a sunny and warm summer and a pleasant winter with a spring and autumn suitable for those who do not want to roast in the sun.
If you want to experience the main island of Malta when it is most beautiful, then you should go here in the spring, when everything is in full bloom.
If you want a beach holiday, you can go to Malta already from the month of May, where it is wonderfully warm and sunny – in fact, the summer in Malta extends from April to November, and the bathing water is also plesant during that period. However, for the perfect Malta itinerary it is best to visit from early June to late October, where it is between 20 and 25 degrees.
Food in Malta
Malta has been an English colony for 150 years, and that doesn't change on the food front. They serve fries with most things, and you're sure to find fish and chips in every town. But there's also an original Maltese cuisine you can't afford to miss.
The food is traditional country cuisine inspired by the Mediterranean regions, which here is a good mix between Greek, Italian plus a little African and Middle Eastern.
There's delicious fish and lots of locally produced products in the form of fruit and vegetables. In Malta, they have also started to grow wine and olives, and all in all, they serve simple dishes of fried fish or meat with vegetables and bread. You can also order a classic dish like rabbit stew with garlic and wine or the Lampuki Pie, a traditional fish pie. Since they are an island nation seafood is often on the menu, and Octopus stew is also one of Malta's favorite dishes.
People with the sweet tooth will not be disappointed either, Maltese cuisine has some amazing sweets to offer such as date cakes, bread pudding, or the Maltese Lenten cookies.
For those who like to experiment and try new food, spaghetti with sea urchin, also known as Spaghetti Rizzi will definitely shock your taste buds.
Malta is known as the Thyme Islands because it grows wild and beautiful on the islands, and it doesn't look like the plants we have standing in pots in the kitchen. No, they are beautiful and extremely fragrant and give flavour to a very famous thyme honey which is made and sold on the island.
There are plenty of traditional vegetarian options in Maltese cuisine as well.
If you're in Malta, try the local beer Cisk and the national drink Kinnie, which is an orange soda.
Popular attractions in Malta
In Malta you get it all – beautiful bathing waters, historic towns, ancient buildings and phenomenal scenery.
Sea around Malta
The water is crystal clear, the blue lagoons are attractive and the water and weather are warm in Malta, which in itself attracts many tourists. If you get tired of the beach, you can easily explore other things on the island.
Diving in Malta is known to be some of the best in Europe, so if you're into that sort of thing, you should definitely give it a go on your holiday. If you're in Malta, you should also visit the world-famous Blue Lagoon on the island of Camino, which is the most beautiful spot with clear water, rocks and perfect for a day in the water. If you're lucky, you might also get a chnace to swim with dolphins in Malta.
History of Malta
If history is your thing, you can't go wrong with Malta either.
One of the architectural attractions is St John's Co-Cathedral in Valletta. Or the church in Mosta, which is Europe's third largest domed church. You can also visit the Malta Experience, a show that guides you through Malta's interesting history.
And then there's the theme park, Popeye Village, where many families head to visit the sets that formed the basis of Disney's 1979 Skipper Horror film.
Towns in Malta
There are two towns in Malta that are particularly attractive to tourists. These are the medieval city of Mdina and the fortress city of Valletta.
Valletta is the capital of Malta and is full of history and charm. It has a blend of modernity and tradition, which makes it unique. The city is small and was created as a fortress town by the Knights of St John in 1566. Today you will find both the official part, such as ministries and administrations, and a cozy part with shops and restaurants.
A UNESCO World Heritage Site, the capital is also quite special, with its Baroque style mixed with other 400-year-old buildings and rare houses. Head here if you're interested in experiencing a piece of history up close, while enjoying a coffee and some city life.
Visit the city of the past. Mdina sits atop a mountain and overlooks the island. It was once the center of the island and filled with beautiful buildings and palaces. They are still standing and today if you walk through the small and narrow streets, you will find that each door is colorful and has its own door hammer, telling which noble family lived there.
Mdina is one of the best preserved medieval towns in Europe, where little has changed since then, despite the huge numbers of tourists who visit every year.
If you're coming here, visit St Paul's Cathedral and Palazzo Falson, a beautifully preserved palace.
Here is a quick guide on best areas to stay in Malta, to help you better decide on your accommodation options.
Shopping in Malta
Many companies have packages to Malta, which is an obvious charter destination, and here you can choose between the wishes and needs you have. You can also plan your own trip by searching for separate accommodation and tickets.
If you want to go shopping, head to the town of Sliema, which is a modern town with both shops and shopping malls. Here you will find Marks & Spencer and Monsoon, for example. The best areas are around The Strand and Tower Road, unless you go to Malta's biggest shopping centre, The Point, which is also in Sliema.
If you want to buy something traditional from Malta, look for lace, ceramics, silver filigree and glass, which you'll find in almost every town. And if you want to treat yourself to something delicious, buy the local olive oil, thyme honey or a bottle of Maltese wine.
Facts
Area: 316 km2
Currency: Euro
Inhabitants: 502 653 (2019)
Geography: an island in the Mediterranean south of Sicily between Africa and Europe. The Republic of Malta consists of several islands, but the main island of Malta is the most visited.