Thailand is an adventure – exotic food, long beaches, bathing waters and sunshine – it's a favourite destination for many, and that speaks for itself. It's easy to get to, safe from the sun, good food and a great place to be.
Thailand has many islands, all of which are popular with tourists, and it's easy to find small, beautiful holiday paradises that can be a great base for a relaxing family holiday, for those traveling alone or for couples.
Thailand has all kinds of tourists. There are families with children who want pools and peace and quiet. Here are couples who want cocktails and romance. There are young people who want to swim and party, and sadly there are also some who travel to the country to take advantage of the sex tourism that is also a big part of the country.
But don't let that put you off – anything goes in Thailand and you can find your own little paradise here.
Best time to go to Thailand
You can travel to Thailand all year round – it's in the tropics, so it's always warm, and the humidity is also quite high.
The north and central
Rain usually falls in the north during the summer monsoon from May to October, during which months it can easily exceed 40 degrees and is coolest in December and January. You can visit during the rainy season, but avoid October and the winter months, as it can get cold, especially in the highlands.
The south
In the south, rainfall is more evenly distributed throughout the year and winters are warmer here too. This is also where many travellers go – especially around Phuket and Krabi. The average temperature is 25-26 degrees all year round.
The high season in Thailand is from November to late March when it generally rains the least. In the north, it's best to travel from March to May or June and July.
Things to know about Thailand
There are so many great experiences in Thailand and many cultural differences that make a visit interesting. For example, they don't eat with a knife and fork, but with a knife and spoon.
Bangkok
Bangkok is a world apart, and if you have the chance, you should visit this impressive metropolis – modern, old, luxurious and scruffy all rolled into one, and it's a mix that's wonderfully alluring.
The King
The King of Thailand is very sacred, so don't speak badly or derogatorily about him. For example, if you drop a banknote and the wind picks it up, don't step on it to catch it because the King's face is printed on the paper, you must pick it up reverently by hand. The national anthem is often and always played in cinemas before the start of the film.
There are many pictures of the King hanging around on walls and houses. And remember again, don't make fun of him, draw big eyebrows on the picture or anything insulting. If you behave stupidly, you could get into trouble with the police, and you don't want that.
Elephants
There were once many elephants in Thailand, which were used as work animals for practical work. Today, it's harder to find anything to do with them, so the population is much smaller than it used to be.
Many of the elephants in the country are tame, and as a tourist, you can easily visit and ride them. Many tourists do, but many don't because they think it's morally wrong – it's up to you to decide! In any case, do your research, there are ethical elephant sanctuaries that really take care of those animals, and there those that only pretend to be.
Snorkeling
In Thailand, there are plenty of beautiful snorkeling opportunities. In most places, you can go on organized snorkeling trips, and in many places, you can go snorkeling off the coast.
Snorkeling is one of the reasons why many people travel to Thailand. You can also dive and take a certificate in the country.
Practical information
Travel around Thailand
Traveling around Thailand is easy and cheap – you can find cheap domestic flights, travel by train or bus in both luxury and more budget versions. And if you're going by boat, that's straightforward too.
When you want to use one of the means of transport, feel free to ask around at hotels, companies or others, as people are usually very helpful and friendly. However, don't be surprised by crowds in many of Thailand's destinations, the country is somewhat considered a symbol of mass tourism.
Visa for Thailand
For a holiday in Thailand, you will need a tourist visa unless you come from one of the exempt countries. Thailand offers several visa types depending on the purpose of your stay, and a very popular one is the digital nomad visa as the country is trying hard to promote itself to digital nomads.
Vaccine for Thailand
Certain precautions are necessary when traveling to Thailand, and some of them are that you need to think about your vaccinations.
It is recommended that you get vaccinated against Diphtheria, Hepatitis A, Yellow Fever, Tetanus, at the same time be aware of Malaria and Diarrhoea
Accommodation in Thailand
Prices and standards vary in Thailand, and you can either book from home, buy a package holiday or go to the country and find something down there. One thing's for sure, you'll always find somewhere to stay, and bargaining is a common thing.
Food in Thailand
Food is cheap, good and spicy in Thailand. It tastes heavenly and don't be put off by the appearance of the eateries. They may not always look as hygienic as you'd like, but don't deprive yourself of great food experiences – and you rarely get them at fast food chains you choose for fear of germs. If you see locals eating at a certain eatery, you can presume it's safe.
In Thai cuisine, they put four to five flavors together in one dish, and it gives a good balance. They work with flavors that are spicy, sour, sweet, salty, and bitter.
Meals often consist of several different dishes that are shared between people. Traditional foods include fish, seafood, papaya salad, rice and noodle dishes, chicken and fish sauce dishes, which are used in a lot of food.
Popular tourist destinations in Thailand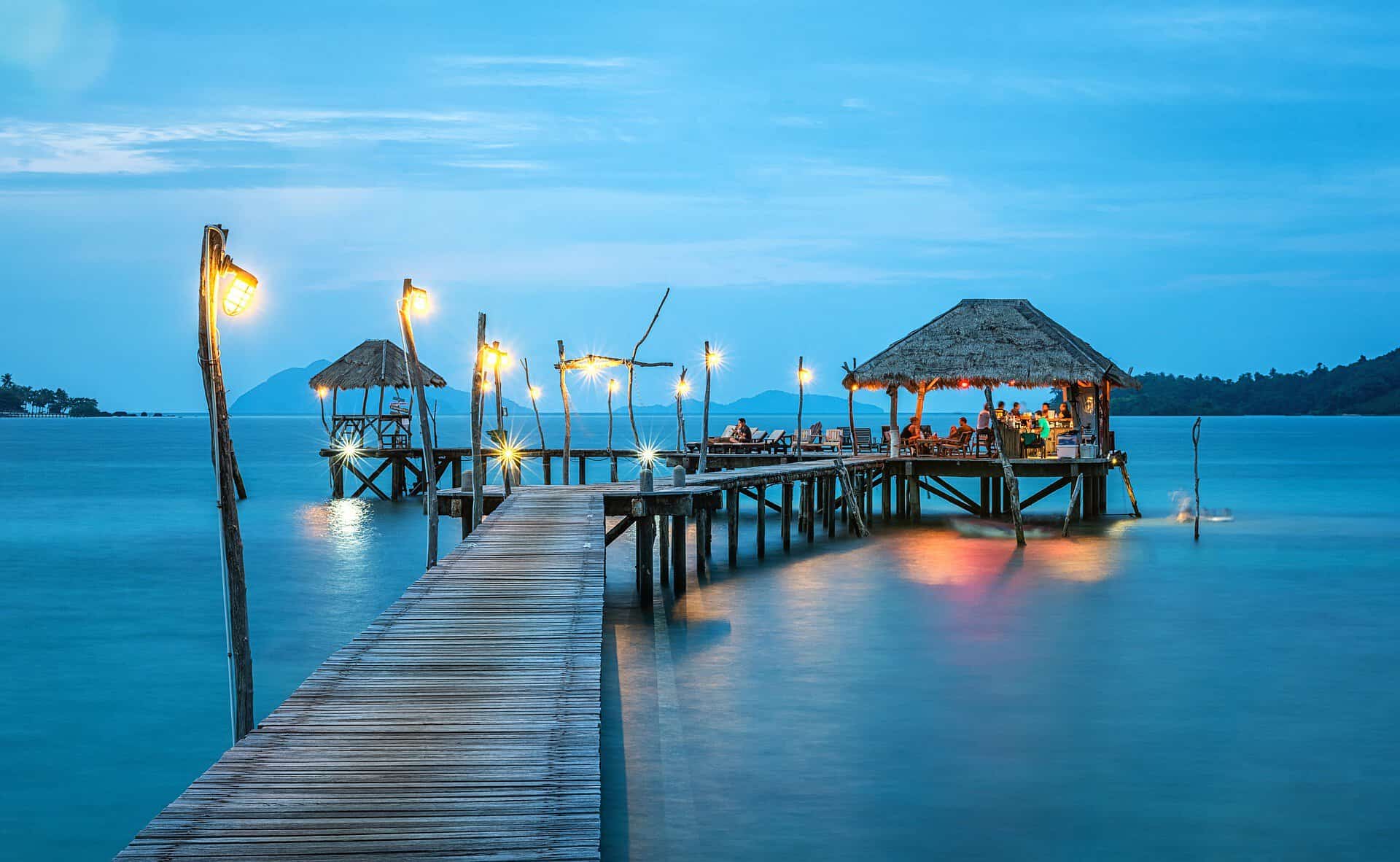 Hua Hin
Hua Hin is a very well-maintained and clean town with no obvious prostitution. This is where the royal family goes on holiday and spends a lot of time – the town is very proud of this and therefore they try to keep it nice and tidy.
There are luxurious hotels and lovely beaches mixed with beautiful scenery and exotic wildlife. This makes the area a popular destination and easy to get to. It's about a three- to four-hour drive south of Bangkok, where you can catch a plane.
Phuket
Many tourists travel to Phuket every year, it is probably one of the best places to visit in Thailand – here you'll find everything a tourist could wish for. Plenty of options for good food, long beautiful beaches, paradise islands, and much more. Unfortunately, there are also things you probably won't be interested in.
There are women, men and even children selling themselves, and a very lively nightlife. But if you're young and just want to get out, explore and party, it's a great place to go. And there's no getting around the fact that it's beautiful and warm all year round.
Khao Lak
Here you'll find nature and beauty at their best in the National Park area, located north of Phuket on the mainland. There's plenty of opportunities to hike in the jungle or go diving and snorkeling at the Similan Islands, considered one of the best dive sites in the world.
Khao Lak doesn't have a huge center with lots of shops and fuss, but it does have fine dining, stalls, shops and many good hotels, all of which invite you to enjoy the scenery and relax on the beach.
If you want to go to Khao Lak, you can take a plane to Phuket airport and take a bus or taxi from there. You can go to the area all year round, but in September-October it can be very windy, so conditions can be difficult for swimming and diving.
Krabi
Krabi is a province, but there's room for fun and frolic, visit the beach town of Ao Nang for example, which is popular and of the more colorful variety. You'll find Krabi on the mainland east of the island of Phuket. Here you'll find long beach streets with a bustle of shops, tailors, restaurants and market stalls.
Lively, it's a great destination for families who don't want to get bored while traveling, or for people who want a holiday that has a bit of everything: good beaches, lovely bathing waters, good food and great city life.
Make sure to plan your Krabi itinerary well to experience the best of the region!
Koh Samui
Is one of the largest islands in Thailand, located 700 kilometers south of Bangkok and only 35 kilometers outside the city of Surat Thani. It is part of an archipelago of 80 islands and receives many tourists each year. This is one of the top islands to visit in Thailand.
There are lovely beaches, beautiful scenery and good opportunities for scuba diving. You'll also find great nightlife in Chaweng, with lots of cozy cafés and music venues. The island has had a reputation as a hippy island for many years, and this is particularly evident in the many health, spa, yoga, and meditation facilities and resorts that you can visit or stay at.
If yoga is what you're after on your holiday here is a suggestion of the best yoga retreats around the world.
Koh Chang
This is one of the most unspoiled places in Thailand, because tourism has come here late. It's part of a larger archipelago and known for being quiet and relaxing. Koh Chang is also known as Elephant Island because it is shaped like an elephant's head, and has a windswept lush rainforest and atmosphere.
There are chalk-white sandy beaches, beautiful scenery, primeval forest and palm trees. And there are plenty of good hotels for those who want to relax.
Koh Lanta
Here you'll find a peaceful island with great beaches, rainforest, restaurants and attractions about 70 kilometers off Phuket by boat or a four-hour drive away.
There are bars and nightlife, but not spread out over the whole place, so there's room for relaxation and tranquillity too. The island is very popular with families, as the beaches are child-friendly in the northwest and the area is more rugged in the south.
The scenery is beautiful and the beaches stunning, so the island is a great option if you want a bit of everything. Backpacking Koh Lanta is a very popular and affordable way to explore the island, there are many options for accommodation in hostels or private accommodation available for rent.
Phi Phi
Well known and visited, the islands are beautiful with large limestone mountains, cliffs, caves and white sandy beaches leading into crystal clear waters.
Phi Phi consists of six islands, and they are located right between Phuket and Krabi. This makes the islands ideal for a few days' visit if you don't want to spend your whole holiday there.
Thailand Facts
Area: 524.000km2
Currency: Baht
Largest city: Bangkok
Geography: A kingdom in Southeast Asia, bordering Myanmar (Burma), Laos, Cambodia and down to Malaysia.