As the sun-kissed days grow longer and anticipation for well-deserved getaways intensifies, the term "resort casual" emerges like a siren's call, inviting us to embrace a style that effortlessly blends relaxation and refinement.
Just imagine strolling along pristine beaches, savoring sunset cocktails by the poolside, or exploring exotic destinations with an air of laid-back sophistication.
With its versatile charm, resort casual captures the essence of leisurely luxury and encapsulates the ultimate fashion freedom that comes with vacation.
We will guide you into the world of resort casual, providing you with insights and inspiration to master this artful dress code.
What is Resort Casual?
Resort casual combines comfy beach style with watered-down formal attire. These are usually made using lightweight and flowy materials like linen and satin. You can wear them in bold colors and prints. Just keep in mind "light, comfy, beachy, elegant" in one. It's the middle ground of casual and formal but with a specific theme – tropical. 
Where to Wear Resort Casual?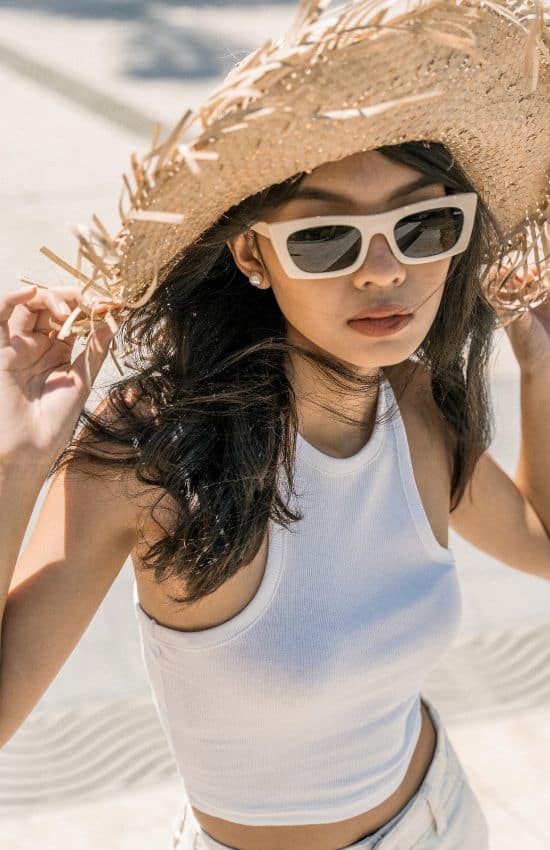 Resort casual attire is typically appropriate for various relaxed and upscale settings, such as:
Resorts and Beach Vacations

: Resort casual is commonly seen at beach resorts, tropical destinations, and cruise ships. It's a comfortable yet stylish choice for daytime activities and informal dinners.

Country Clubs

: Many country clubs have a resort casual dress code, especially during the warmer months. It's suitable for casual golf outings, social events, or dining at the club's restaurant.

Casual Business Functions

: Certain business events or conferences may specify a resort casual dress code, mainly in a relaxed setting or during warmer seasons. It allows for comfort while maintaining a professional appearance.

Outdoor Gatherings

: Resort casual is ideal for outdoor gatherings like garden parties, picnics, or summer barbecues. It strikes a balance between comfort and style in a laid-back setting.

Upscale Restaurants

: Some upscale restaurants have a resort casual dress code, especially those located near beach fronts or vacation destinations. It offers a sophisticated yet relaxed look for fine dining in a more informal atmosphere.
If you're confused about dress codes for your specific trip/event, contact the organizers or whoever invited you for confirmation if resort casual is the way to go. 
Resort Casual Dress Code
We'll demystify the dress code, offering invaluable tips and fashion inspiration to help you master the art of resort casual fashion with ease. Get ready to elevate your vacation wardrobe and leave an unforgettable impression at any resort destination.
Resort Casual Dinner Attire
Resort casual dinner attire typically refers to a relaxed and comfortable dress appropriate for dining at a resort or a casual restaurant with a more upscale ambiance. It strikes a balance between being simple and stylish, reflecting the resort's laid-back atmosphere while maintaining a level of elegance.
Resort Business Casual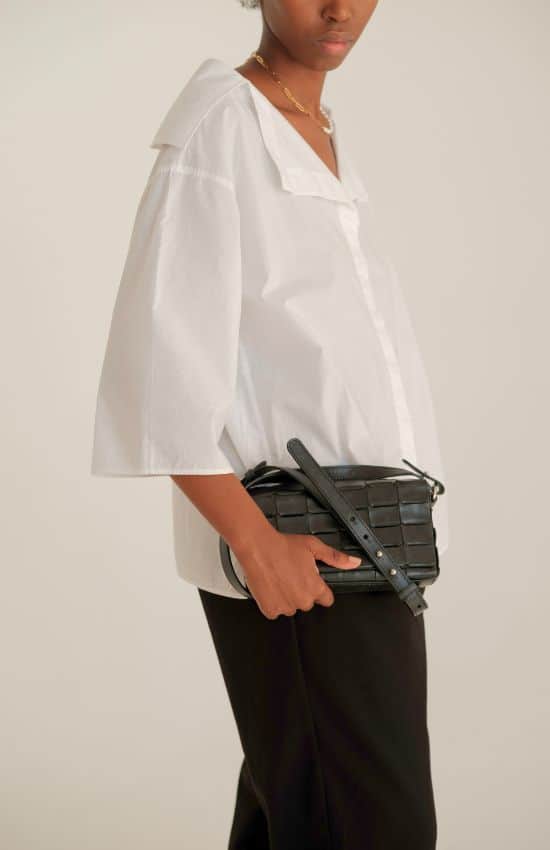 Resort business casual is a professional yet cozy dress code typically observed in resort or vacation settings where a more informal atmosphere is maintained. It combines elements of both business attire and casual wear, striking a balance between comfort and professionalism.
Resort Casual Shoes
Here's a list of resort casual shoes that are popular and suitable for various warm-weather activities. Mix and match them with your outfit and choose one that best suits your style. 
Boat Shoes

: Classic and versatile boat shoes are perfect for a resort casual look. They're typically made of leather or canvas and have a slip-resistant sole.

Espadrilles

: These lightweight, breathable shoes are perfect for a resort setting. Espadrilles have a canvas or fabric upper and a jute rope sole, offering a laid-back and stylish vibe.

Loafers

: Loafers are a comfortable and sophisticated option for resort casual attire. Look for loafers made of suede or leather with minimal embellishments for a more relaxed feel.

Sandals

: A staple for warm weather, sandals are essential for a resort casual wardrobe. Opt for leather or fabric sandals with adjustable straps for a comfortable fit.

Slip-On Sneakers

: Slip-on sneakers combine comfort and style effortlessly. Look for lightweight, breathable materials like canvas or mesh for a casual resort look.

Moccasins

: Moccasins are a comfortable and stylish choice for a resort casual outfit. They are typically made of soft leather and feature a flexible sole.

Canvas Sneakers

: Canvas sneakers are a versatile choice for a resort casual look. They're lightweight, comfortable, and come in various colors and patterns to match your style.

Driving Shoes

: Driving shoes are known for their comfortable fit and rubber pebble sole that provides excellent grip. They typically have a moccasin-like design and are made of soft leather or suede.

Wedge Sandals

: Wedge sandals are an excellent resort casual option if you prefer a bit of height. Look for wedges with comfortable straps and a stable heel height for all-day wear.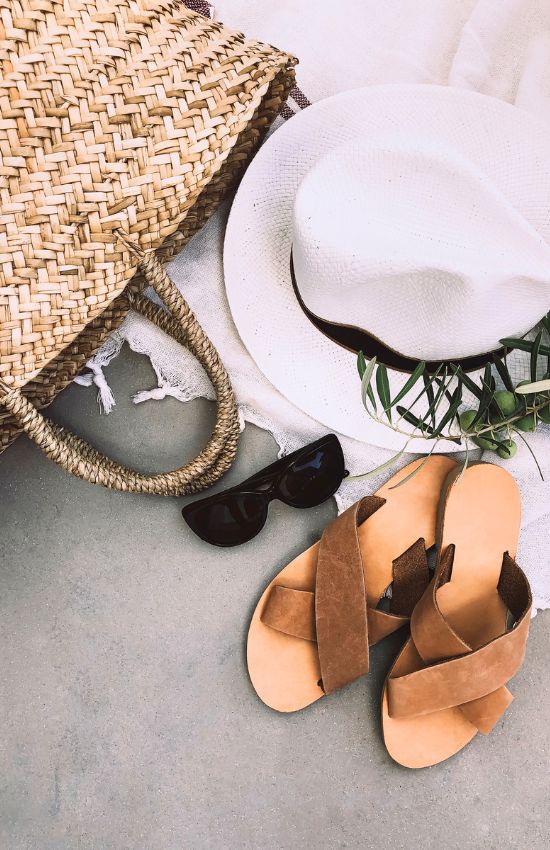 Remember to consider the activities you'll be engaging in during your resort stay to select the most appropriate shoes.
Resort Casual Accessories
Create more fun with your attire by adding some accessories to your resort casual ensemble. 
For women, sunhats, fedoras, or hats have massive wide brims for sun protection. You can also use light scarves or shawls for an artistic touch. Statement jewelry like colorful beaded bracelets, necklaces, or oversized earrings gives your overall look an extra oomph. Sneak sunglasses and a mini bag complimenting your clothing, and you're good to go.
For men, a stylish belt that matches your attire to accentuate. Designer sunglasses also add a kick while protecting your eyes at the same time. Don't forget the casual watch or leather bracelet as a subtle accessory.
Resort Casual Attire for Women
Women's resort casual typically refers to a relaxed yet chic dress code suitable for situations. Imagine sophistication and comfort in one. Choose airy and breathable fabrics and welcome bold and tropical colors, floral patterns, or nautical-inspired stripes to your style. Pastels and neutrals will also add a soft touch that blends well effortlessly.
You can pack up polo shirts and collared shirts. Sleeveless or tank tops are lovely options as long as they're not too revealing that the style goes beyond casual.
Toss in some capri pants, cropped trousers, or Bermuda shorts in comfy materials. Flowy maxi skirts and casual dresses create an excellent section for your resort casual attire.
Sundresses in light fabrics with vibrant colors or playful prints are must-haves. Wrap dresses and shirt dresses can be good alternatives too. Just remember to avoid overly formal or structured dresses like you're out in front of a camera about to broadcast news.
Resort Casual Attire for Men
Collared shirts such as polo shirts, button-down shirts, or linen shirts are excellent choices for your top. Short-sleeved shirts in lightweight fabrics are suitable for warm weather. Skip t-shirts with graphics or slogans unless they are resort-themed or tastefully designed.
Grab your chinos, khakis, or linen pants in light colors like beige, tan, or light gray. Tailored shorts that hit just above the knee are also good options, as long as they don't look like an item of the past, all washed up.
Jeans may also be nice if they are in good condition and paired with a more dressed-up top.
A lightweight blazer or sportcoat can add a touch of elegance to your outfit. Cardigans or light sweaters are suitable for cooler evenings. Toss away heavy or formal suit jackets.
Choose lightweight fabrics like cotton, linen, or seersucker for breathability. Opt for light and neutral colors, such as white, beige, light blue, or pastels. Subtle checks, stripes, or tropical prints for a resort vibe are also well-loved.
Remember, resort casual attire allows for a relaxed and comfortable look while maintaining a sense of style.
Pictures of Resort Casual Attire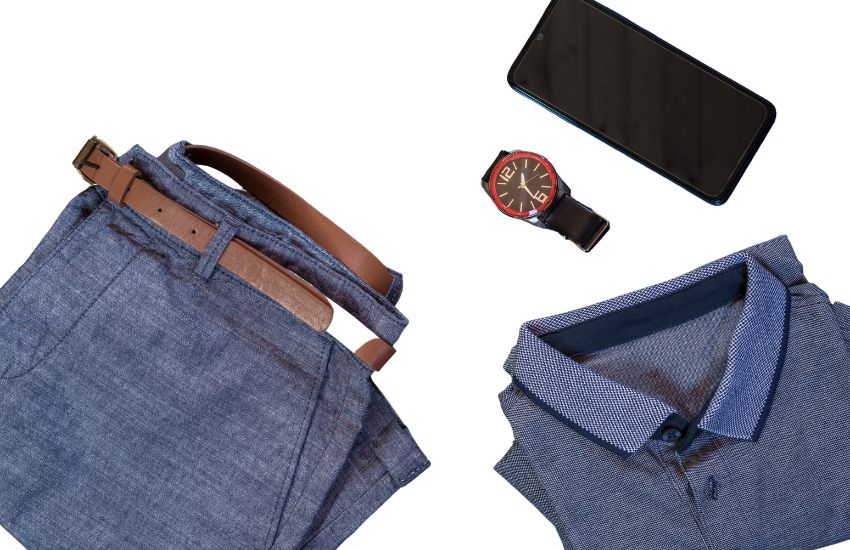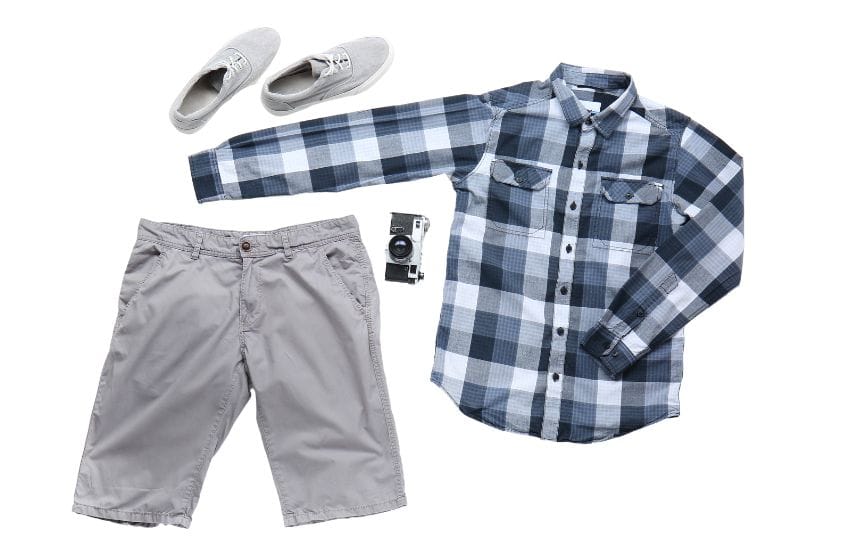 What to Wear on a Cruise?
When packing for a cruise with a resort casual dress code, it's essential to choose comfortable and versatile clothing that can be worn during the day for various activities and can be dressed up slightly for evening events.
Packing Guide
Daytime Attire:
Cotton shirts, polo shirts, and blouses.

Shorts, skirts, or casual pants in flowy fabrics.

Sundresses or maxi dresses for women.

Comfortable walking shoes or sandals for exploring ports of call.

A lightweight sweater or jacket for cooler evenings or air-conditioned areas.
Evening Attire:
Men can opt for slacks or khakis paired with collared or polo shirts. You may also consider a blazer or sports coat for more formal nights.

Women can choose from sundresses, skirts, or dress pants paired with blouses or tops. A lovely dress or jumpsuit can also be suitable.

Depending on the length of your cruise, you might have one or two formal nights where you may want to dress up a bit more. In that case, men can bring a suit or a tuxedo, and women can opt for cocktail dresses or elegant evening gowns.
Accessories and Extras:
Bring a variety of accessories like scarves, belts, and jewelry to change up your outfits and add a touch of elegance.

Don't forget to pack swimwear accessories such as hats, sunglasses, and a beach bag.

Comfortable walking shoes for shore excursions or athletic activities.

A lightweight raincoat or travel umbrella in case of inclement weather.

Pajamas, undergarments, and socks.

A small foldable tote bag or backpack for carrying essentials during shore excursions.

Depending on the cruise line and destination, you may want to pack a formal outfit and appropriate footwear for specific events or venues on the ship.
Check your cruise line's dress code guidelines; some may have slightly different requirements. Additionally, consider the duration of your cruise and any specific activities or events you plan to participate in when packing.
What to Wear to a Resort?
When deciding how to dress up for your trip to the resort, it's essential to consider the destination, the specific activities, and the overall vibes of the resort. Resorts vary greatly, from beachside retreats to mountain getaways, so check out these general guidelines to help you plan your wardrobe:
Packing Guide
Casual Resort:
Daytime: Select a comfy, relaxed style like shorts, sundresses, skirts, lightweight blouses, and shirts. Look for thin flowy materials.

Evening: For evening events and dinner, dress up a bit with resort casual attire. It could include sundresses, flowy linen pants, or nice flowy shorts matched with a button-down shirt, blouse, or summer dress.
Beach Resort:
Swimwear: Make an assortment of  Pack your favorite swimwear and flip-flops for beach or poolside lounging., and sarongs too!

Daytime: Light and breezy clothing like sundresses, rompers, shorts, and tank tops are excellent activities. Loose-fitting, breathable fabrics are ideal for staying comfy while the heat and humidity are on blast.

Evening: Many beach resorts have a relaxed dinner dress code. Consider wearing maxi dresses, linen pantsuits, collared shirts, or flowy summer skirts.
Mountain Resort:
Daytime: Layering is essential when dressing for mountain resorts. Start with a base layer of thermal or moisture-wicking clothing, add a warm sweater or fleece, and top it off with a waterproof and insulated outer layer. 

Footwear: Choose sturdy, waterproof boots for hikes and strolls on uneven terrain.

Evening: Mountain resorts often have a comfortable and casual atmosphere. Pack comfortable jeans, sweaters, flannels, and boots. Bringing a slightly dressier outfit for formal dining options is also necessary.
Resort Activities:
Outdoor Activities: If you plan on engaging in activities like hiking, biking, or golfing, pack appropriate athletic clothing, activewear, and comfortable shoes.

Spa and Wellness: If the resort offers spa services or fitness facilities, consider packing workout clothes, yoga pants, athletic shoes, and swimwear for saunas, steam rooms, or pools.

Nightlife: If you plan to enjoy the resort's nightlife, bring along some dressier attire, such as cocktail dresses, dress shirts, or stylish pants paired with a nice top.
In the realm of fashion, resort casual stands as a gateway to liberation from formal constraints, a canvas upon which personal style can shine and evolve.
It celebrates the fusion of comfort and sophistication, allowing us to savor every moment of our well-deserved breaks with effortless elegance.
Embrace the spirit of relaxation, embrace the understated glamor, and let your wardrobe mirror the blissful escape that awaits you. Whether you find yourself on sandy shores, exploring vibrant cities, or simply indulging in a staycation, let resort casual be your sartorial companion, guiding you toward the perfect balance of comfort, confidence, and timeless allure.
So, pack your suitcase with intention, blend ease with sophistication, and let resort casual whisk you away on a journey where style meets paradise.
Bon voyage!
____________________________________________________________
Looking for Travel Tips?
Read our Guides
Can you use Bluetooth Headphones on a Plane?
Tips on Spring Cleaning Your Travel Gear
Tips for Air travel with Babies
How to Avoid Scams as a Traveler
Travel Tips for Booking on Airbnb
How much to tip in the USA
____________________________________________________________
FAQs
What is Resort Casual?
Resort casual is a comfortable yet classy dress code you can wear during trips. It's more stylish than casuals but a bit more relaxed than formal.
You can also read more in our guide on Resort Casual Clothing. 
Where to Wear Resort Casual?
You can wear resort casual in various settings, including:
Cruise

Casual Resort

Beach Resort

Mountain Resort

Country Clubs

Casual Business Functions

Upscale Restaurants
You can also find out more in our guide on Where to Wear Resort Casual.