Surf's up in Belize! Known for its crystal-clear waters, sandy beaches, and rich marine life, Belize is a hidden gem for surfers seeking an adventure off the beaten path. Despite being a relatively small country in Central America, Belize offers a plethora of surf spots for beginners and seasoned surfers alike. From the tranquil waves of Long Caye to the thrilling barrels of Secret Spot, Belize's diverse coastline provides something for everyone. Whether you're a surfing enthusiast or just looking to catch some waves on your next vacation, Belize should be at the top of your surfing destination list, and here's why! 
Is surfing good in Belize?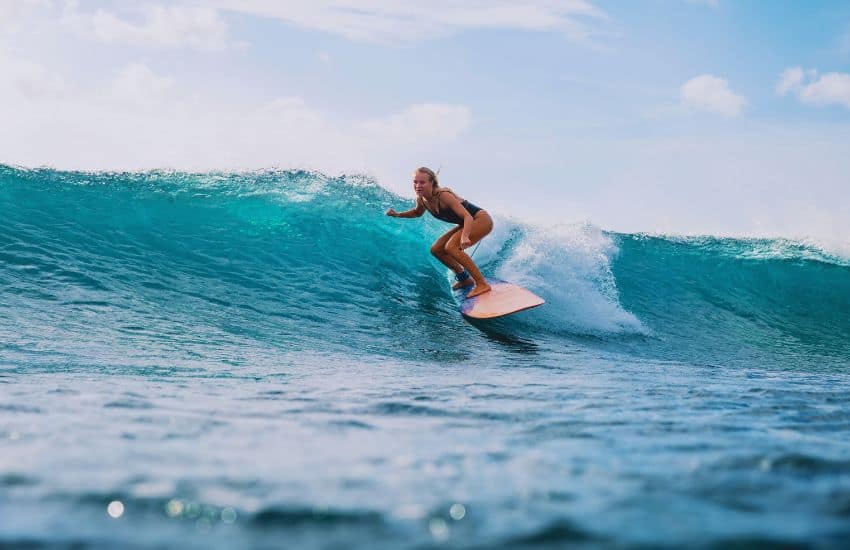 Without a doubt!
Although surfing in Belize is not a popular option, since it's the home to the world's second-largest reef, which keeps the shores protected by breaking the waves, there is a spot known for its consistent waves and is suitable for both beginners and more experienced surfers- Long Caye. A small island off the coast of Belize that is home to some significant reef breaks. Glover's Reef is one of the three atolls in Belize and part of the Belize Barrier Reef Reserve System, a UNESCO World Heritage site. Mind you. You can't just go here since it's a protected area. You'll need to cooperate with an accredited ecotourism company like Slickrock.  
Weather in Belize
Belize has a tropical climate with two seasons. The wet season runs from May to October, with average rainfall ranging from 50″-180″. The dry season is between November and April. The average temperature in Belize during this season is roughly 79 degrees Fahrenheit, with the hottest months being May through September, with temperatures rocketing up to 90 degrees Fahrenheit. The humidity is usually around 85%, especially during the wet season. Belize is also almost hurricane-free, with an average of only two, typically happening between June to November. 
What time of year is best for Surfing?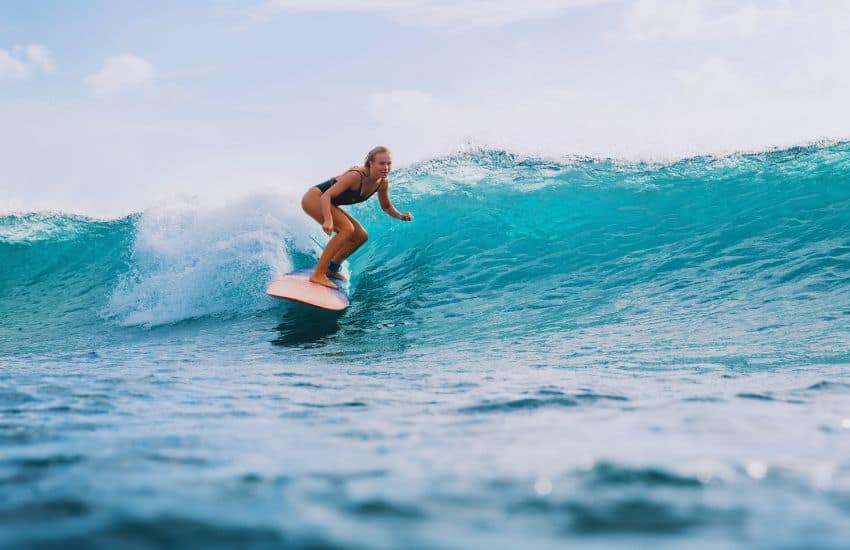 Surfing in Belize is best between November to March when the Caribbean Sea experiences consistent swells and favorable wind conditions. The waves are typically between 3-6 feet, offering good opportunities for experienced surfers. 
Yes, you need experience before you can ride the waves and go through barrels since the bottom is hard corals and can cause fatal injuries. You'll also have to maneuver with gusts blowing between 10-15 knots. 
Remember, Belize is not generally considered a top surfing destination, so don't expect the same conditions you might find in places like Hawaii or Indonesia. 
Best places to surf in Belize
Glover's Reef
The partially-submerged atoll of Glover's Reef at Long Caye is roughly 45 miles off the coast of Belize, and it's known for its clear turquoise waters and abundant marine life. It's the only spot in Belize where you can enjoy surfing and riding the waves up to 100 yards, weather permitting. Surfing in Glover's Reef can be a unique experience due to its remote location and pristine surroundings.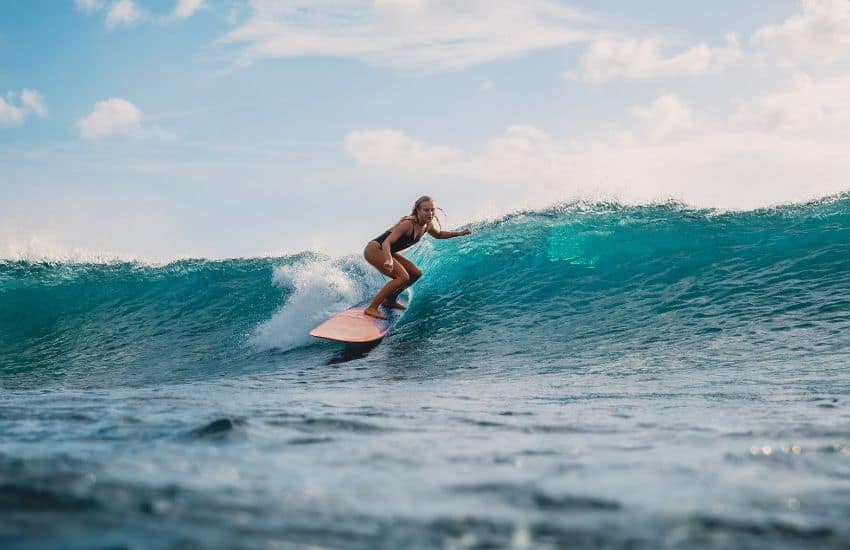 Best Places to Surf in Belize for Kids
Surfing in Belize is not recommended for kids, even for adult beginners. But that doesn't mean you can't enjoy other watersports activities to get thrill kicks like paddle boarding and kayak surfing. Older kids aged 12 to 15 may only be allowed to test the waters with close guidance. This decision will also depend on the instructor available at that time. 
Kitesurfing in Belize
Although surfing in Belize is not popular, kitesurfing is! And with the powerful tradewinds, there's no shortage of gusts to keep you cruising the waters. 
Ambergris Caye
Sitting northeast of the mainland is the biggest island of Belize, Ambergris Caye. Although surfing in Belize is not popular, this Caribbean gem's turquoise and warm waters, coupled with winds blowing between 15 and 21 knots, make it an ideal spot for kite surfers of all levels. Check out Secret Beach and its overall friendly weather, perfect for beginners or those looking to practice new tricks.
Other popular kitesurfing spots include the Boca del Rio area, just south of San Pedro town, and the North Ambergris Caye area, which offers more challenging conditions for experienced kitesurfers.
Caye Caulker
Where the younger crowd packs up. Literally. Caye Caulker is way more crowded than Ambergris Caye. The kiteboarding spots on the island are mainly on the eastern side, where the water is calmer and shallower. The most popular area is the Split, a narrow channel that separates the northern and southern parts of the island, where kiteboarders can ride in both shallow and deep water depending on the tide. Caye Caulker is a party island. So if you want to kitesurf and have fun after sunset, this is the place to go.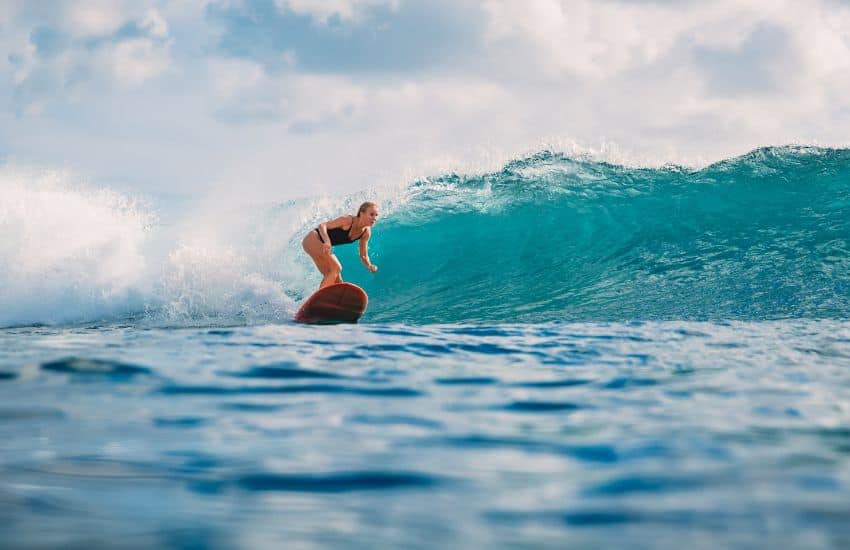 Surfing in Belize is a must-try experience for anyone who wants to add more wonder to their memory bank. Belize has something to offer for surfers and kite surfers of all levels. From challenging reef breaks to gentle beach breaks, there is no shortage of waves and winds to ride in this stunning Central American paradise. So, whether you're a seasoned pro surfer or a beginner kite surfer, grab your board, head to Belize, and get ready to catch some amazing waves in one of the world's most beautiful destinations.
____________________________________________________________
Going Surfing?
Read our Surf Guides
Surfing in Aruba
Surfing in Guam
Surfing in Mexico
Surfing in California
Surfing in Tulum
Surfing in Ventura
Surfing in Florida
7 Best Surf Towns in Costa Rica
Surfing Ecuador: 9 Best Places
____________________________________________________________
FAQs
Can you go surfing in Belize?
Yes! 
But remember that Belize is not a surfing paradise. The barrier reefs break any swells, so there's only one good surfing spot in Belize. 
Learn all about surfing in Belize.
What are the best places to surf in Belize?
The best option is surfing at Glover's Reef at Long Caye, where waves can be as high as 6 feet and allow you to ride for up to 100 yards (during best weather conditions).