Nestled on the shores of the Caribbean Sea, this picturesque town boasts some of the most awe-inspiring beaches and waves in the world. It may not be as famous as the surfing spots on the Pacific coast, but you can still try and have fun surfing in Tulum when you visit. 
With its crystal-clear waters, picturesque coastline, and consistent gentle waves, Tulum has become a magnet for surfers worldwide, eager to experience the magic of riding the waves in one of the most breathtaking settings on the planet. 
Surfing in Tulum offers a unique surfing experience that will leave you awe-inspired and craving more. So grab your board and get ready to dive into the fascinating world of surfing in Tulum!
Is surfing good in Tulum?
Surfing in Tulum can be good, especially for first-timers and newbies. But it is important to note that it is not as popular a surfing destination as other places in Mexico, such as Puerto Escondido. Tulum's beaches tend to have smaller waves, typically from wind swells, suitable for beginner or intermediate surfers. One of the main reasons surfers of any skill level go surfing in Tulum is the inviting pristine turquoise waters. The beauty of Tulum is a piece of paradise you want to take advantage of.
Weather in Tulum
The weather in Tulum is typical of tropical dry and wet seasons. It usually rains between May and October, and hurricanes are usual, especially during August and September. It's the dry season from November to April and Tulum's peak season. The average temperature in the area ranges from 62-92 degrees Fahrenheit, and it feels muggy for most days with roughly 70% humidity that sometimes spikes to 84% during October. 
What time of year is best for surfing?
You can catch waves with some punch if you try surfing in Tulum between June and November, considered the hurricane season. However, you still can't expect to have any double overheads and powerful swells like in California, but enough to pose an additional challenge to your ride. 
Best places to surf in Tulum
Surfing in Tulum won't be as diverse as you would expect from spots facing the Pacific. It's all beach breaks with crystal blue waters that only pick up waves due to winds. Typically, wind swells here are a meter high. 
These surfing spots in Tulum are padded with soft sand, so there is no need to worry about injuring yourself if you fall off your board. The waters are also warm most times, and the view is simply stunning. Surfing in Tulum might not be the best surfs you'll ever catch, but they're some of the most beautiful. Check out these spots: 
Playa Paraiso

Playa Pescadores

Playa Las Palmas
Kids and adults alike will enjoy surfing in Tulum, especially if they never tried the sport before. And if you already have experience, the area's calm and overall boho ambiance is the main perk. Perfect if you simply want to unwind for a while. 
Kitesurfing in Tulum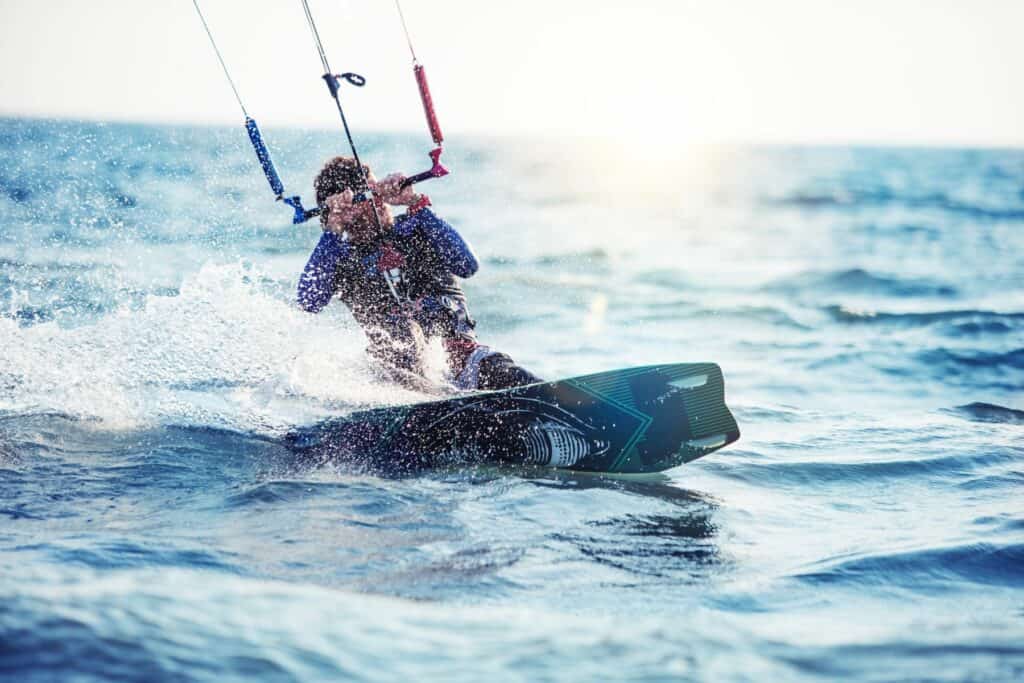 Now, surfing in Tulum might not be that exciting, but kite surfing is! Blessed with gusts blowing as much as 25 knots in the best weather conditions, you can have fun catching winds in this stunning Mexican gem. 
You can go kitesurfing in Tulum almost in any part of the beaches but just be mindful of the swimmers. These spots are usually crowded with people who want to enjoy the sun. 
Best Surfing and Kitesurfing Schools in Tulum:
Surfing in Tulum might not have the oomph you'll usually get from beastly, powerful swells. But it's an experience unlike any other. As the sun sets on another fantastic day of surfing in Tulum, the memories of exhilarating rides and breathtaking vistas linger in your mind. The convergence of natural beauty, history, and culture creates a once-in-a-lifetime adventure. 
The waves may be gentle, but the spirit of this place will forever resonate in your heart, inspiring you to seek new horizons and chase the next perfect wave. From the shimmering waters of the Caribbean Sea to the ancient ruins of the Mayan civilization, Tulum is a destination that will leave you breathless and yearning to return for more. 
____________________________________________________________
Going Surfing?
Read our Surf Guides
Surfing in Aruba
Surfing in Guam
Surfing in Mexico
Surfing in California
Surfing in Belize
Surfing in Ventura
Surfing in Florida
7 Best Surf Towns in Costa Rica
Surfing Ecuador: 9 Best Places
Surfing Tamarindo: 12 Best Surfspots
____________________________________________________________
FAQs
Can you go surfing in Tulum?
Of course! 
Surfing in Tulum is more of a laid-back experience since no powerful swells are visiting the area. But the winds pick up waves just enough for a mellow ride while savoring the picturesque beauty of the crystal clear waters. 
Learn more in our guide – Surfing in Tulum.
What are the best places to surf in Tulum?
Pretty much any spot along Tulum Beach. But to be specific, here are some points you can check out:
Playa Paraiso

Playa Pescadores

Playa Las Palmas
Learn more in our guide – Surfing in Tulum.