Have you ever gone surfing in Ecuador? 
While countries like Australia, Hawaii, and California often dominate the surf scene, there's a hidden gem on South America's Pacific coast, where the waves are just as thrilling, and the surf culture is waiting to be uncovered.
Ecuador is a captivating destination that offers a unique blend of tropical landscapes, vibrant local communities, and a coastline that beckons wave riders from around the globe. Embark on a virtual journey as we dive into the depths of Ecuador surfing paradise, where every wave promises exhilaration and endless summer bliss.
Is surfing good in Ecuador?
Yes, surfing in Ecuador can be pretty good along its 2200 km coastline. Ecuador has various spots catering to different skill levels, from newbies to experienced riders. The country is famous for its consistent waves, warm water, and beautiful beaches, making it a must-visit for surfers worldwide.
Montañita and its powerful waves are on the central coast, attracting worldwide surfers. Paired with colorful and lively surf culture and a vibrant nightlife scene, surfers and partygoers flock to this Ecuador surfing spot for the experience.
Another popular Ecuador surfing spot is Canoa and its long stretch of sandy beach. Canoa is a beginner and intermediate surfers' paradise, as the waves are generally more forgiving than alternative Ecuador surfing spots with more advanced breaks. Others, such as Mompiche, Ayampe, and Playas, also offer their own unique surfing experience with varying wave conditions and atmospheres.
Remember that your Ecuador surfing adventure can vary per season. So, it's wise to check with forecasts, speak to local surfers or surf schools, and ask for up-to-date information and conditions during your visit.
Weather in Ecuador
It will depend on which part of Ecuador you are in.
Coastal Region
The coastal region, "Costa," experiences a tropical climate with high humidity. typically ranging from 24C (76F) to 30C (87F). Storms frequently visit Ecuador's coastal areas, particularly between October and May. 
Andean Region
Your experience in the Andean region, "Sierra," varies depending on altitude. This area comprises the highlands paired with the majestic Andes Mountains. In higher altitudes, like in Quito (capital city), it's generally cooler, pinging between 10C (48F) to 22C (70F) in the daytime, with colder nights. Expect quick changes between sunny and rainy periods. The months between June and September are typically drier, while the country sees extra rainfall between October and May. 
Amazon Region
The Amazon region, "Oriente," encompasses the vast Amazon rainforest, with a climate characterized by high temperatures and humidity all year round. Daytime plays between 25C (76F) and 40C (96F), with abundant rainfall, especially between April and July and October to December.
Galapagos Islands
Sitting in the Pacific Ocean, you will experience a subtropical weather pattern, where the temperature fluctuates between 21C (70F) and 30C (86F) throughout the year. The weather also comes on a dyad: expect rainy yet humid weather between December and May, while dry and colder temperatures rule between June and November when the cool ocean breeze and lower precipitation play a big part.
What Time of Year is Best for Ecuador Surfing?
The best time for Ecuador surfing varies on the specific spot you plan to visit. However, the prime season generally happens during the dry season between December to April. During these months, consistent swells visit the country from the north and northwest, creating ideal conditions for the best rides.
The Galapagos Islands, specifically San Cristobal Island, can offer good waves year-round due to their exposure to northern and southern swells. However, it's worth noting that the water temperature is cooler in the Galapagos, so you may need a wetsuit.
The best waves are typically found during the dry season in other popular surf spots along the Ecuadorian coast, such as Montañita and Canoa. It coincides with the summer months, characterized by smaller crowds and offshore winds, providing favorable conditions for surfing. Be here during these times for the warm weather and lively Ecuador surfing scene.
Outside of the December to April season, the waves can still be surfable along the coast of Ecuador, but they may be less consistent, and weather patterns can vary. If you've never surfed or are new to the sport, this is the best time to visit. It's always a good idea to check local surf reports and forecasts before planning your trip to ensure the best conditions.
The Best Surf Camps in Ecuador
If you want an Ecuador surfing camp exclusive for girls and women, Saltu Souls in Ayampe is the best one. It is an excellent option if you don't feel as comfortable in a mixed group. When you sign up for Salty Souls, surfing becomes more than just a sport. 
With their 8-day signature program, you can enjoy practicals in the ocean without worries since one instructor is designated per student. You have four lessons in the open. It also includes three theoricals that tackle techniques and photo analysis. Your surfboard rental and meals are already paid for as well. 
Salty Souls also emphasizes meditation with their daily yoga practice. There's also a clay workshop where you can mold a souvenir that will remind you of what matters most personally.
And beyond the waves, you will also experience the country's traditions, visit the Machalilla National Park, and have plenty of jaw-dropping sunsets. 
During your stay, you'll be home in their villa, Salty Casa, and have access to a sun deck, the massive swimming pool, and the yoga shala, where you can enjoy the view or a post-lunch siesta when there aren't any classes. 
Salty Souls is nothing luxurious. But if you want to learn and enjoy Ecuador surfing in the company of empowering women, signing up for a spot in their program is a wise move. 
If you're staying in the Galapagos Islands, try Ecuador surfing with Amangala Surf Co. Unlike the main spots on the mainland, you'll enjoy the cooler waters here. Amangala focuses on your needs as a newbie, and even if you're a pro who wants to polish your skills, the professional instructors have your back. 
With only ten clients per week, there's a focus on your progress. Now, since it's in Galapagos, expect you will have to fork out money to surf camps on the mainland. However, if you love effective coaching while surrounded by rustic nature and fantastic surfing spots, you'll enjoy every minute of the experience. 
We also appreciate that they offer a free diving course under certified instructors' supervision. If you want to tailor your stay to include hiking, biking, snorkeling, SUP, and diving to your surf training for an all-out active vacation, Amangala Surf Co will help you achieve your dream Galapagos holidays.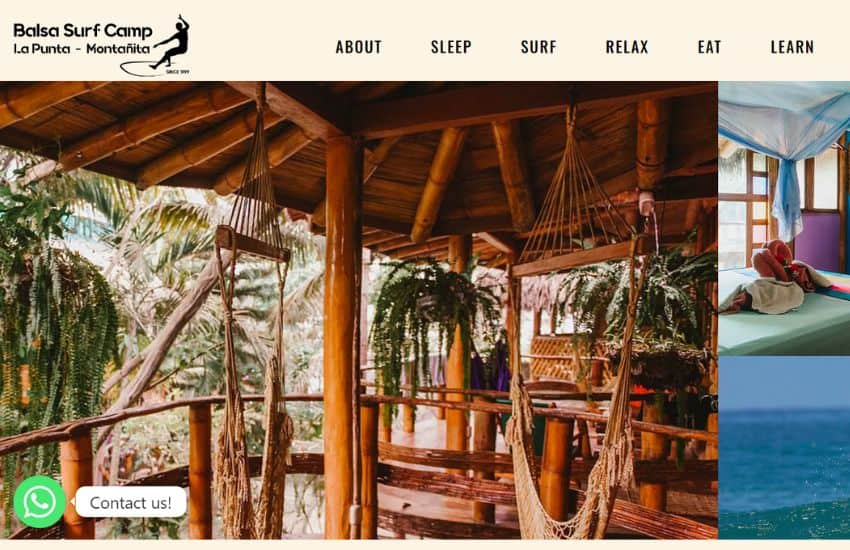 Offering a variety of selections of surf packages in Montañita, Balsa Surf Camp has options for non-surfers to advanced riders and everything in between. And since you're around instructors with decades of experience, you'll learn quickly. 
If you're a first-timer, their Activities Pack Surf School is the best option. It includes seven nights of accommodation, six open water practical lessons, group yoga, a one-hour massage, a jacuzzi and hammam session, and your meals. There's also a detour to a surfboard shaper's workshop, and you'll head home with a little souvenir. You can also extend your stay or add Spanish lessons to your itinerary. 
The rooms at Balsa Surf Camp embody raw Ecuadorian beauty, not just in design but in its overall vibes. Plus, you can easily access nearby attractions, restaurants, and other modern amenities. Nightlife is no problem either since you're in Montañita. You can go club-hopping and party all night long. 
Balsa Surf Camp might only have the basics for your accommodation. Nothing luxurious or out of the ordinary. But the activities included in their packages ensure that every penny you invested is well-rewarded.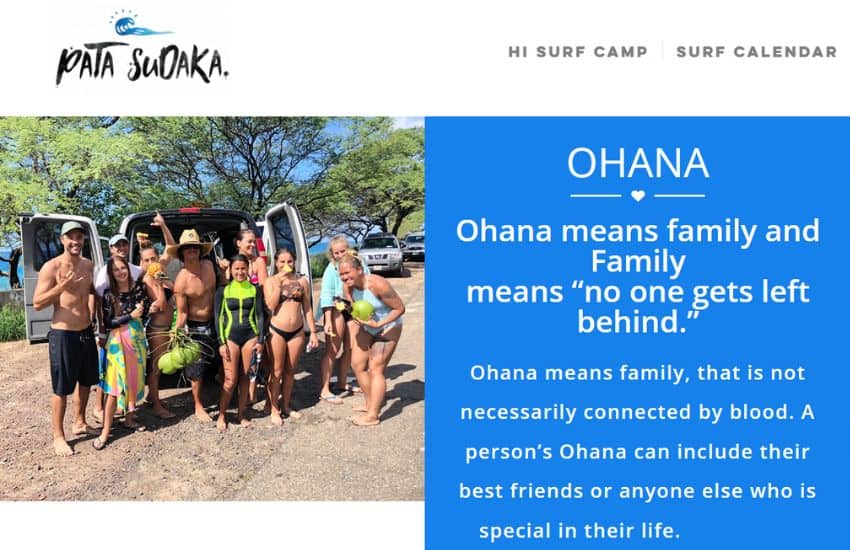 If you're staying in Ayampe for your Ecuador surfing, Pata Sudaka is an excellent surf camp with authentic Ecuadorian vibes. With experienced local staff and instructors, it's one of the most popular options in the country for its effectiveness. 
You can join in for four practicals, three theoretical and daily yoga classes, and guided meditation for a week. Healthy food is also part of the package, plus you'll receive a welcome gift and go home with professionally shot pictures and videos. And on your last day at Pata Sudaka, there's a farewell BBQ party every class member can enjoy. 
You can also have fun learning salsa, slacklining, and trying new recipes in the cooking classes. There's also access and transportation to and from Los Frailes Conservation National Park and Agua Blanca Natural Clay Pools and Spa. You can also detour to Pacoche National Park and meet its monkey residents or go snorkeling at Salango Island. 
Pata Sudaka is also sitting in front of the ocean. All you need is your flip-flops, sunscreen, and surfboard, and you're ready to hit the waters. You can enjoy surfing, the beautiful outdoors, and other exciting activities and relax at the end of the day while sipping tequila sunrise as you watch the sun go down.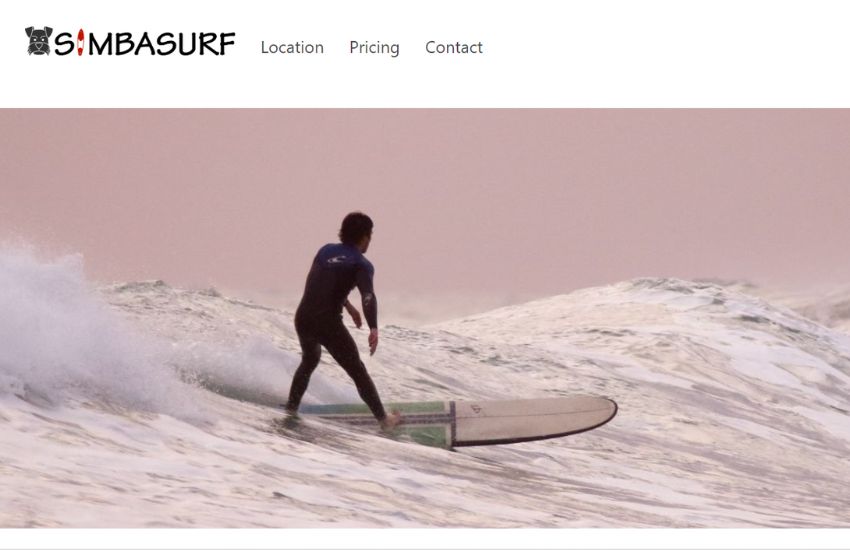 This affordable surf camp in Canoa is one of the best for anyone searching for budget-friendly options. For roughly a couple hundred dollars, you camp at Simba Surf for a week, learn from 4 surf lessons, use your board without limits during your stay, unwind on an hour-long massage, and learn salsa. There's also a tour of the Beerkingo, where you can gulp ice-cold drinks to close your day. And since Simba Surf is in Canoa, you have the longest shore in the country, just a few steps away. 
Now, manage your expectations. No pools. No fancy rooms. But that doesn't mean the quality of lessons and your safety are compromised. And condition everything included in the package. You're getting more than what you paid for. If you're a backpacker out for Ecuador surfing with limited money, Simba Surf is for you. Bonus, you meet plenty of fabulous people too! 
9 Best Places to Surf in Ecuador
Mompiche
Best for: Beginners, Intermediate, and Advanced
With an exposed point break offering 10-footer left-handed waves at best, Mompiche is a hidden small fishing town where you stay close to nature as much as possible without all the touristy noise and buzz. 
With NW groundswells and SW offshore winds, you can catch rideable waves here for at least a minute. These lefts are what locals and tourists are waiting for. So even though it's rarely crowded, once the news is out that it's working, Mompiche can be heavily flocked by surfers. 
When the massive swells are not around, you can grab your longboard, and newbies can enjoy the mellow waters. If you're a goofy foot surfer, you'll love the challenges of Mompiche as part of your Ecuador surfing adventure. 
Best Surf Spots in Mompiche
Mompiche Point:

When it's high tide, Mompiche Beach might surprise you with 10-footers from both sides. The waves also vary, so there are plenty of rides for surfers of any skill level.

Playa Negra:

Located in Mompiche's southern area, Playa Negra and its black sands feature a sandy beach break. Both sides offer rideable waves that are generally ideal for intermediates and pros. The barreling steep waves offer adrenaline for the skilled, especially during mid-high tides. Best have your shortboard ready for easy maneuvering. It's also never crowded here, so you can enjoy Ecuador surfing without worrying about lineups.

La Punta

: Following the rocky path to the left of Mompiche Beach, the point break of La Punta and its left-handed waves are waiting. If you're in time for N groundswells, it's a surf spot for intermediates. The slow-peeling left-handers at La Punta offer excellent rides, especially when the tide is low. Beginners can enjoy the waves as long as they stay within the recommended area right before the rocks, where the powerful swells break into calmer ones.

El Rio

: Tracing the shores to the right side of Mompiche Beach, you'll reach El Rio and its beach break. You can catch beginner-friendly waves right by the river mouth, if not a bit further. There are plenty of clean, mellow rights during mid-high tides.
Best Surf Schools in Mompiche
Where to stay in Mompiche
The average rent in Mompiche is roughly $450 for a studio apartment. It's one of the reasonably-price places for a long-term stay during your Ecuador surfing. 
Canoa
Best for: Beginners and Intermediate
An earthquake tragically hit Canoa in 2016, and some remnants of the tragedy remain. But aside from that, Canoa offers numerous surfing opportunities, lively nightlife, and chill overall vibes. It's the home to some of the most loved left-handers in the country. 
There are consistent waves all year round from its beach break that works with E SE offshore winds and NW groundswells. Surfers of any level can enjoy the lefts and rights that frequent Canoa without the annoying crowds. And if you're in luck, you might even spot some dolphins while you paddle out. 
Want to try your ripping skills for your Ecuador surfing? Canoa will let you test yourself as much as you wish when the weather is optimal, and you might catch double overheads between November and April. 
Best Surf Schools in Canoa
Where to stay in  Canoa
You can get a beachfront apartment in Canoa for at least $800. If you plan to stay longer for your Ecuador surfing experience, you might find stays where you can enjoy majestic sunrises and sunsets if you invest enough time in research. 
Manta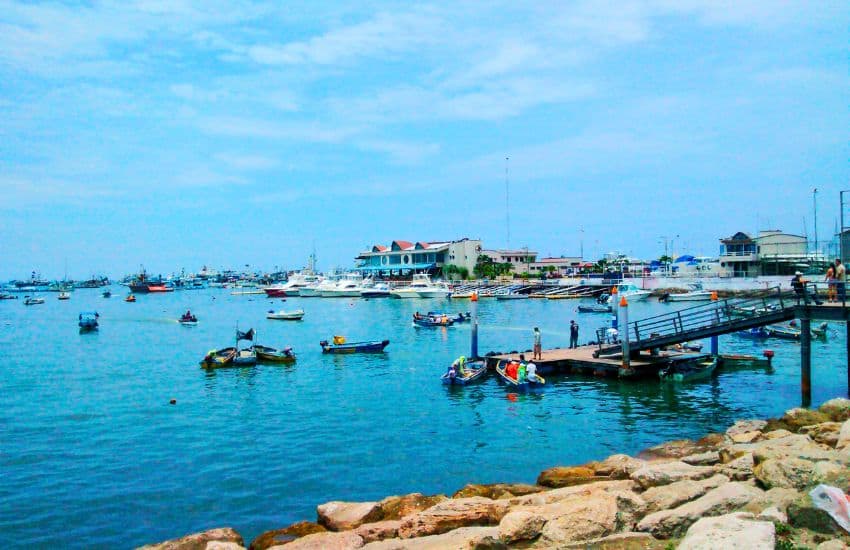 Best for: beginners, intermediate, or advanced
Home to the country's biggest tuna school, Manta boasts several beaches that offer excellent surfing opportunities. The most famous surf spots in the area include El Murciélago Beach and Playa Tarqui. These beaches have consistent waves and attract surfers of all skill levels. The waves here also vary depending on the beach and the time of year.
The surf season in Manta is generally from December to April, when the swells are more consistent, and the waves are bigger. Surfers can expect waves ranging from 2 to 8 feet during this time, providing ideal conditions for surfing and tubing. However, it's worth noting that waves can also be found throughout the year, although they may be smaller and less consistent during the off-peak months.
Manta has a growing surfing community, and you'll likely encounter other surfers enjoying the waves. It creates a vibrant and friendly atmosphere where you can meet fellow surf enthusiasts, exchange tips, and share experiences. This town also offers a range of other activities to complement your surfing adventure. You can explore the city's vibrant culture, visit the local seafood markets, or take part in water sports such as kitesurfing (a must!), paddleboarding, and fishing.
Best Surf Spots in Manta
El Murciélago

: This beach break in Manta has excellent wave conditions for both surfers of all skill levels. It works consistently, and its sandy bottom makes it safer to bail out when needed or when you get washed out. It's best for intermediates, especially when SE offshore winds couple with NW groundswells when there are plenty of rideable rights and lefts. However, it can be a bit crowded when the surf's up.
Best Surf Schools in Manta
Where to stay in Manta
You can find a one-bedroom apartment in Manta for at least $400 and live comfortably for at least $1000 as a solo traveler. The rates are relatively low, so you can enjoy staying for extended periods and make the most of your Ecuador surfing trip. 
San Mateo
Best for: Beginners
Right next to Manta is the fishing town of San Mateo. Its point break has plenty of 6 feet left-handers when it's working (and can be crowded). However, this surfing spot is less reliable than others. The best waves visit San Mateo when NW groundswells and E SE offshore winds are around. You'll also need to be careful of the rocks and the sharks that visit the area sometimes. 
Best Surf Schools in San Mateo
Where to stay in San Mateo
Cabañas Turisticas Ortymar
Ayampe
Best for: Intermediate, and Advanced
This famous surf town offers plenty of options for its visitors. Although modern amenities are not as grand as other surf towns in the country, its slow and chill atmosphere makes Ayampe a haven for those who don't like crowds. If you can't stand all the noise of famous Ecuador surfing spots like Montanita, you can escape to Ayampe to mellow down without giving up all the fun. 
Ayampe's beach break offers reliable waves year-round on both sides, particularly when NW swells, and E NE offshore winds are around on a high tide. These rides can last up to 200 yards out. You can enjoy barrelling typical 12-footers but keep your wits with you to avoid being sucked by strong rip tides. Be here for Ecuador surfing when the surf's up between December and April. Even if you're a beginner, you can enjoy the calmer waves throughout the year. 
If you can't find a good spot in the country, you're sure that Ayampe is almost empty. You have the waves practically all to yourself. 
Best Surf Spots in Ayempe
Ayampe Point:

This beach break is the main surf break in Ayampe, ideal for intermediate and advanced riders. You can enjoy consistent rights and left-handers with long rides. Known for their power and can reach impressive sizes, Ayampe is a go-to for thrilling rideable waves without the heavy crowds lining up for their turn.

Las Tunas

: Located just north of Ayampe, Las Tunas is another excellent surf spot. The bottom is rocky, so be mindful of falling off your board. Its reef break offers rides on both sides. They can be snappy and quick-peeling, providing an exciting experience for the skilled. When the E NE offshore winds and SW groundswells are at play, you can expect Las Tunas to work at its best.

Olón

: Another nearby surf spot, Olón, is located just north of Montañita. It's a picturesque beach town with a long sandy beach and consistent waves. The surf here is suitable for all levels, and beginners can find smaller, mellow waves while more experienced surfers can enjoy some bigger sets, typically at 1.5 meters high. Be here between December and May, January and February for roaring swells.
Best Surf Schools in Ayampe
Where to stay in Ayampe
Montañita
Best for: Intermediate, and Advanced
Renowned for its colorful surfing scene, Montanita attracts enthusiasts from every corner of the globe. Its powerful right-handers consistently visit, an excellent opportunity for both beginners and experienced surfers. It's also the most crowded, hyped-up, and touristy spot. Montanita is also typically the first stop for those out on an Ecuador surfing adventure.
Its beach break produces waves ranging from gentle and mellow to more challenging, depending on the tides, swells, and weather conditions. Try riding the waves at Montanita between December to April when the swells are roaring and are generally more consistent.
Montañita is also an excellent place for beginners to learn how to surf. There are several surf schools and instructors available, offering lessons for all skill levels. Whether you're a novice or looking to improve your skills, the instructors can guide you and help you catch your first waves. Surfboard and equipment rentals are also readily available in the town.
The town itself is known for its busy atmosphere, colorful nightlife, and numerous beachfront bars and clubs. Surfers from different parts of the world gather here to enjoy the waves, exchange stories, and soak up the energetic ambiance.
Best Surf Spots in Montanita:
Montañita Point

: This is the main surf break in Montañita and offers powerful right-hand point breaks. It can be crowded, especially during peak surfing seasons when NW groundswell and E offshore winds are around.

La Punta

: Located at the northern end of Montañita, La Punta and its point break offers a consistent right-handed. It is an excellent spot for intermediate to advanced surfers, especially when the waves grow up to 3 meters high. And since they hold their shape pretty well, you can enjoy cruising on a long ride. If you want steep waves, visit La Punta when the tide is about to get low.

Curía

: Situated north of Montañita, Curía is known for its powerful, fast, and long-riding waves. It is recommended for experienced surfers due to its challenging conditions.
Best Surf Schools in Montañita
Where to stay in Montañita
You can find cottages with one bedroom in Montanita for only $350. And since it's a tourist hotspot, you have all amenities you need within walking distance. 
Playas
Best for: Beginners and Intermediate
Surfing in Playas, Ecuador, can be an exciting and enjoyable experience for beginners. Playas, also known as General Villamil Playas, is a coastal town about 97 kilometers southwest of Guayaquil, the largest city in Ecuador.
The waves in Playas are generally consistent and well-suited for surfing. The region benefits from a mix of ground and wind swells. The wave quality varies from beach breaks to point breaks, offering diverse surfing opportunities. However, they are not as thrilling and roaring as most famous alternatives.
Drop by between December and April when the waves are at their best. Apart from surfing, Playas offers various other activities to enjoy. You can go fishing, take boat trips, or simply relax on the beautiful beaches. The town also has a lively nightlife and a selection of restaurants serving delicious seafood.
As with any surfing destination, keeping safety in mind is essential. Pay attention to local surf conditions.
Surfing in Playas, Ecuador, can be a fantastic experience for newbies, providing the opportunity to catch waves, enjoy the beach lifestyle, and embrace the region's coastal beauty.
Best Surf Spots in Playas
El Pelado

: El Pelado is a well-known spot breaking swell on a beach break and consistent rides. You can test your newbie skills or wind down for a chill session in the calm waters. Try Ecuador surfing at El Palado during NE offshore wind visits and when the SW groundswells are hitting the shores for clean waves.

Engabao

: Located about 20 minutes from Playas, Engabao's picturesque fishing village is home to consistent swells. Its point break is excellent for surfers of varying skill levels. SW swells and NE offshore winds bring working days, and it's rarely crowded. If you want a detour from typical Ecuador surfing spots, Engabao is for you.
Best Surf Schools in Playas
Playas Escuela de Surf Camp Gabriel Rolando
Where to stay in Playas
You can find long-term stays for at least $690/month. If you're a solo traveler, you can live comfortably for a thousand bucks while enjoying the views and waves of Playas. 
San Cristobal Island
Best for: Beginners, Intermediates, and Advanced
San Cristobal Island is a beautiful gem among the Galapagos Islands archipelago. Although Galapagos Islands are renowned as natural treasure troves with diverse wildlife and natural landscapes, San Cristobal Island offers fantastic opportunities for Ecuador surfing.
Surfing on San Cristobal Island is popular due to its favorable conditions, consistent waves, and stunning coastal scenery. The island receives consistent swells throughout the year, making it an excellent destination for year-round surfing. The waves are generally of moderate size, ranging from 3 to 6 feet, but they can occasionally reach up to 10 feet during larger swells. The wave quality varies depending on the spot, but you can generally expect fun and playful waves.
One of the unique aspects of surfing on San Cristobal Island is the stunning natural surroundings. While riding the waves, you might be lucky to spot marine wildlife such as sea lions, turtles, and various fish species. The coastline offers breathtaking views, with rugged cliffs, pristine beaches, and crystal-clear waters.
Best Surf Spots on San Cristobal Island
Playa Mann

: Playa Mann offers consistent waves for beginners and intermediate surfers. It's easily accessible and provides a relaxed atmosphere, and if you're lucky, you might spot some sea lions during your Ecuador surfing session.

Punta Carola

: Punta Carola is a beautiful beach with rocky formations and challenging surf. The waves here can be fast and hollow, providing an exciting experience for experienced surfers who can enjoy riding 10-footer during high tides. On the beach's right side is a point break with tricky swells, and on the left is a reef break for newbies.

El Canon:

Located on the eastern side of San Cristobal Island, El Canon is a more secluded beach with a reef break. It offers consistent 6-footer left-handers and occasional powerful rights. The best time to ride the waves here is between November and April, when N NW swells might let you cruise up to a hundred meters.

Puerto Chino

: Puerto Chino can occasionally produce good snappy waves on its tranquil beach with stunning scenery. And when the conditions are right, it can be an excellent spot for surfing. Plus, it's a secluded spot, so for those who want a slow Ecuador surfing holiday, this paradise is your best option on the island.
Best Surf Schools in San Cristobal Island
Where to stay in San Cristobal Island
Santa Cruz Island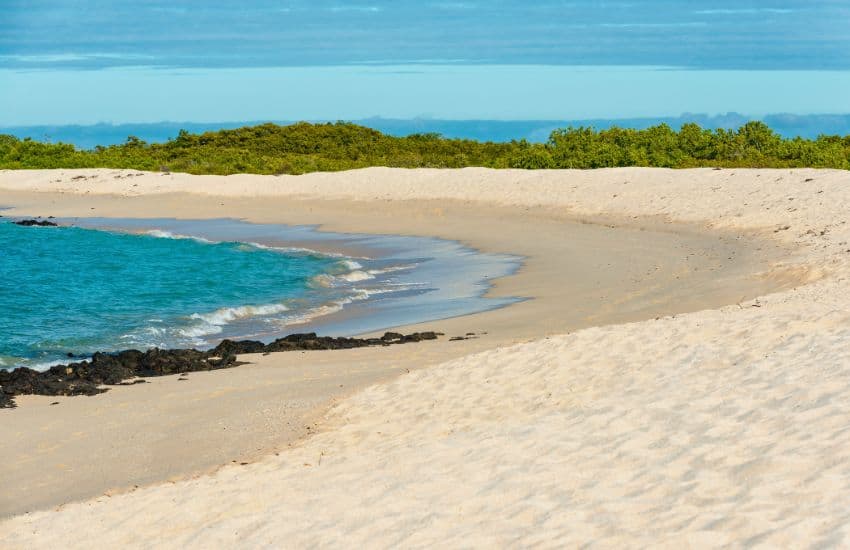 Best for: Beginner,  Intermediate, and Advanced
Santa Cruz Island is your go-to in the Galapagos for long-peeling rides. If you're around between December and March, you'll catch 8-footers that can sometimes grow up to 12 feet on a perfect day. You might even spot solid steep walls and tubes that can last up to 150 yards out. 
No Ecuador surfing trip is complete without a stop at Santa Cruz Island. And once you're done riding the waves, plunge underwater and see Santa Cruz's jaw-dropping underwater world. 
The overall ambiance in Santa Cruz Island is a bit resort-y. But it's balanced out with the rawness of nature and the surf spots ready to take you for a scenic ride. 
Best Surf Spots in Santa Cruz Island
La Lobería

: Located about 6 kilometers east of Tortuga Bay, La Lobería has consistent waves from its reef break. Named after the sea lions (loberías) inhabiting the island, you'll often see them by the nearby rocks. It best works when SE offshore winds and NW groundswells meet, providing both lefts and rights. We recommend good boots to protect yourself from sea urchins hiding in the reefs.

Playa de los Alemanes

: Playa de los Alemanes is a tucked-away gem famous for its hollow waves, an excellent spot for the pros. You can reach it by following a hiking trail in Puerto Ayora. And since it's a hidden wonder, you might have the shores all to yourself. Snorkeling is also a must while you're here.

Tortuga Bay

: With white sands and warm turquoise waters,  Tortuga Bay has beach and reef breaks offering good surfing conditions. Although you might find it flat, if you time your visit during the dry season, you'll catch clean, decently sized waves since N offshore winds and S swells are at play. Take advantage of the lefts and rights but be mindful of the sharks and possible strong rip currents.
Where to stay in Santa Cruz Island
There is definitely a surfing scene in Ecuador and we've listed the 9 best places in Ecuador from Canoa on the mainland to Santa Cruz Island. Whether you are looking for a surfschool or advanced conditions you'll find more information for your level in this guide on surfing in Ecuador. 
Happy Surfing!
____________________________________________________________
Going Surfing?
Read our Surf Guides
Surfing in Aruba
Surfing in Guam
Surfing in Mexico
Surfing in California
Surfing in Belize
Surfing in Tulum
Surfing in Ventura
Surfing in Florida
7 Best Surf Towns in Costa Rica
Surfing Tamarindo: 12 Best Surfspots
____________________________________________________________
FAQs
When is the best time for Ecuador surfing?
Generally, surfing season in Ecuador is from December to April, but some spots vary per season, so you can expect that some are working any time of the year. You can also click here to find out more about Ecuador Surfing. 
What are the best Ecuador surfing spots?
Check out these Ecuador surfing spots and experience the country's diverse and colorful surf scene:
Mompiche

Canoa

Manta

San Mateo

Ayampe

Montañita

Playas

San Cristobal Island

Santa Cruz Island