The sun is shining, the waves are rolling in, and the salty ocean air is refreshing. It's the quintessential California surfing experience. For decades, surfers worldwide have flocked to the Golden State to catch the perfect wave. 
With 840 miles of coastline, California boasts some of the best surf spots in the world, attracting everyone from seasoned professionals to beginners looking to ride their first wave. 
Surfing in California is a culture that values the ocean, the environment, and the pursuit of adventure. If you don't want to miss all the fun in some of the world's prominent surfing spots, read on! 
Is surfing good in California?
Definitely!
Surfing in California is very popular and enjoyable, especially along the coast of Southern California, where there are many world-famous surf breaks. From the long right-hand point breaks of Malibu to the powerful beach breaks of Huntington Beach, there is a wide range of waves to suit every surfer's ability level. 
Surfing in California offers a unique and memorable experience unmatched by any other surf destination. Whether you're a beginner or an experienced surfer, there's something for everyone in California's surf scene. 
Weather in California
The weather in California mimics the tropical Mediterranean, with an average of 70oF that can rocket up to 80oF during summer near the coast. It will also depend on where in California you are. On the south's coast, 62oF to 68oF is typical between July and August, while inland, you can expect an average of 90oF. In winter, the Coachella Valley stays warm at 72oF. Northwest Cali experiences 15 to 50 inches of rain annually, while Coast Redwood receives double. High-altitude places like Lake Tahoe accumulate up to ten feet of snow during winter. California is also a cyclone-prone state with a cold westward current from the Pacific. 
What time of year is best for surfing?
Again, it will depend on where you'll go surfing in  California. In the south, summers bring in the south swell, although the winds can be challenging. Between December and February, powerful waves from the north give long solid rides, but the waters are colder. These swells are the usual from April to May too, with a bit of south swells pitching in. If you go surfing in California between September and November, north and south swells offer surfers some of the best waves on the west coast. 
It's the same for all of the surfing spots in California. Fall, spring, and winter offer the best swells, but that doesn't mean summer is a no-go. You can enjoy riding the waves in Cali all year long. 
Point Break vs. Beach Break vs. Reef Break
Well, what is a surf break in the first place? A break is anything underwater that causes the swell to break and form a barrel you can ride before it ends foaming up onshore. Now, if you're a newbie surfing in California, any breaks with surfers doing their thing just look the same. But no. There's more to the story. Reading breaks is vital to avoid wipeouts and catch the best wave possible. Here are three types of breaks you'll typically encounter:
Point Break
Usually offering enough wave length for multiple surfers to surf without bumping into each other while maneuvering, a point break happens when a wave wraps around a "point." It can be a rock formation or a piece of land peeling the swell, and since they don't move, you don't have to worry about smashing into them in case of a wipeout. Point breaks are also easy to read and consistent, although they can be challenging to get into. 
Beach Break
Usually created by sandbars or jetties, beach breaks can be a good option for beginner and intermediate surfers. The sandy bottom provides a softer landing if you fall off the board. They also tend to offer more forgiving waves than reef breaks, which can be more powerful and hollow. However, beach breaks are less reliable than point breaks since the sandbanks constantly shift and can create unpredictable wave conditions. It makes beach breaks harder to read, and it'll be tricky to time and position your surf. 
Reef Break
A reef break in surfing is a wave formation that occurs when waves break over a coral reef or rocky outcropping near the ocean's surface. The wave's concentrated energy is amplified as it approaches the reef, causing it to break distinctively and powerfully. Surfers highly seek them because they can produce large, hollow waves that provide an exciting and challenging ride. 
However, reef breaks can also be dangerous during wipeout due to the shallow water and sharp rocks or coral. They are notorious for causing severe injuries, and you'll usually need to paddle way out into the open to catch them. 
What kind of waves are in California?
Aside from surf breaks, surfable waves can also be classified based on how they're generated. Swell waves are from the energy of powerful winds transmitted to the water. In short, the more powerful winds are, the bigger the swells are. If local winds catch that swell while traveling to the shore and form chops, it becomes wind waves. Ship waves are obviously from vessels passing by and are typically small and short-lived. Backwash waves go back to the ocean after hitting the shores. 
Best surf spots in Southern California
Rincon
Hailed as the "Queen of the Coast ", Rincon, sitting between Ventura and Santa Barbara, is one of California's best spots for winter surfing. With swells as high as 15 feet, you can enjoy a long ride up to a quarter mile. You can choose from three setup points: The Cove, The Indicator, and The Rivermouth. The waves at Rincon are from point break, where the waves peel to the coast, providing long rides lasting up to a minute or more. The waves at Rincon can vary in size and power, but they are generally best for intermediate to advanced surfers. Experience some of the best winter surfs when you visit Rincon on a low tide when NW and W swells are coming in. 
Best Surf Schools in Rincon: 
Malibu
Get your kicks from point breaks on the right. You can ride up to 20 feet waves in Malibu between August and September in the best weather conditions. Heavily crowded during summer, you can still enjoy some swells coming from the south. Malibu's most famous surf spots include Surfrider Beach, Malibu Pier, and First Point. 
Surfrider Beach is a famous point break known for its long, peeling waves and is suitable for intermediate to advanced surfers. It's also the first "World Surfing Reserve. Malibu Pier sits on its eastern borders and is famous for long rides up to 300 yards, with point breaks coming from three points. It has a beach break that offers more mellow waves, making it ideal for beginners and longboarders. First Point is a right-hand point break best for experienced surfers since even a bit of wind degrades wave quality. 
Best Surf Schools in Malibu: 
Trestles
If you want to go surfing in California for the A-frames, Trestles is the spot for you. There are several different breaks, each with unique characteristics, with an average of 4-footers that can climb as high as 15 feet. The most famous break is called "Lower Trestles," a right-handed ideal for high-performance surfing. The other breaks at Trestles include "Upper Trestles," with 47% clean waves during winters, and "Cottons," a left ideal for cutbacks. Barrels are also typical here. Not beginner-friendly but have reliable swells throughout the year for skilled surfers. 
Best Surf Schools in Trestles: 
Huntington
Huntington Beach, also known as "Surf City USA," is a world-renowned destination for surfing with 8.5 miles of coastline. The waves in Huntington Beach are generally suitable for surfing and attract surfers of all levels, from beginners to professionals. Winter is the best time when the swells from S Pacific are most potent, allowing 200 yards of closeout. Newbies can try out the mushy waves gently rolling on the sand-padded bottom. 
There are several popular surf spots in Huntington Beach, including the Huntington Beach Pier and the Huntington Cliffs, with a beach break and ground swells from the W SW. These spots can get crowded, especially during summer, so it's crucial to follow surf etiquette and be respectful of other surfers in the water.
Best Surf Schools in Huntington: 
Newport Beach
Surfing in Newport Beach, California, can be fantastic, especially during spring, fall, and winter when larger swells arrive from the north and northwest. Newport Beach has a variety of surf breaks that cater to different levels of skill, from the gentle waves of the Wedge to the more challenging breaks at the River Jetties and the Point. Skimboarding and boogie boarding are also popular here. Of the three, the Wedge takes surfing in California to the next level if you have the skills. After creating a point break after hitting the jetty, it produces backwash that collides with the upcoming swells, and you have some of the most powerful surfs you'll ever ride in the state that can be as high as thirty feet. 
Best Surf Schools in Newport: 
Seal Beach
For the daredevils, winter swells in Seal Beach offer the challenge that ends in a glorious exit (as long as they don't fall off). Even the champs, Kelly Slater and Brett Simpson, find the aggressiveness of the waves and barrels exciting. These beach brakes on the right can be as high as two overheads when the weather is just right and typically a couple of feet high during summers, an excellent spot for beginners. 
Best Surf Schools in Seal Beach: 
Palos Verdes Cove
Offering solid southwest and northwest swell for surfable waves on both sides, Palos Verdes Cove and its exposed reef break and groundswells can get as high as 20 feet. If you want forgivable waves, get inside the Boneyard for fun left-handers. However, you'll have to go down a steep trek to get to the beach, which is still infected with rude localism. 
Best Surf Schools in Palos Verdes Cove: 
Redondo Breakwater
If you want to go surfing in California in January, Redondo Breakwater in LA County is for you. With groundswells, exposed beach breaks, and backwash, these swells can grow up to twenty feet high. Rideable from left with light easterly winds, you might end up in a wipeout if you're not careful enough. If barrels are your fave, high surfing here will keep you wanting more. 
Best Surf Schools in Redondo Breakwater: 
Manhattan Beach
With consistent beach break surf all year long, Manhattan Beach is a beginner's paradise in summers while providing intermediates and pros solid SW swells ranging from six to ten feet between fall and winter. Be out in the waters during sunset for one of the most scenic surfing in California, which also means heavy crowds, so practice surfing etiquette. 
Best Surf Schools in Manhattan Beach: 
Types of Surf Breaks in Southern California
You'll find it all in Southern Cali – from point breaks to jetties, reef breaks to beach breaks and couple serious shorebreaks.
Best surf spots in Northern California
Ocean Beach
Ocean Beach, A.k.a. OB, in San Francisco, offers some of the best tubes you can ride during winter. Unforgiving swells that peel and turn into barrels ready to wipe out those who are not skilled enough. Rip currents and the unreliable and consistently shifting sand-padded bottom are notorious for taking the lives of both surfers and beachgoers. Totally a dangerous beach break on a 3.5-mile shore. And if you're a confident surfing maniac, the triple overheads will give you a different high. The conditions can be unpredictable since powerful swells from the Pacific come from every direction. It might also need paddling out for roughly half an hour to get to the take-off point. So this is no spot for beginners and intermediates. Some peaks you can dare try out are Taraval, VFW, and Noriega.
Best Surf Schools in Ocean Beach: 
Mavericks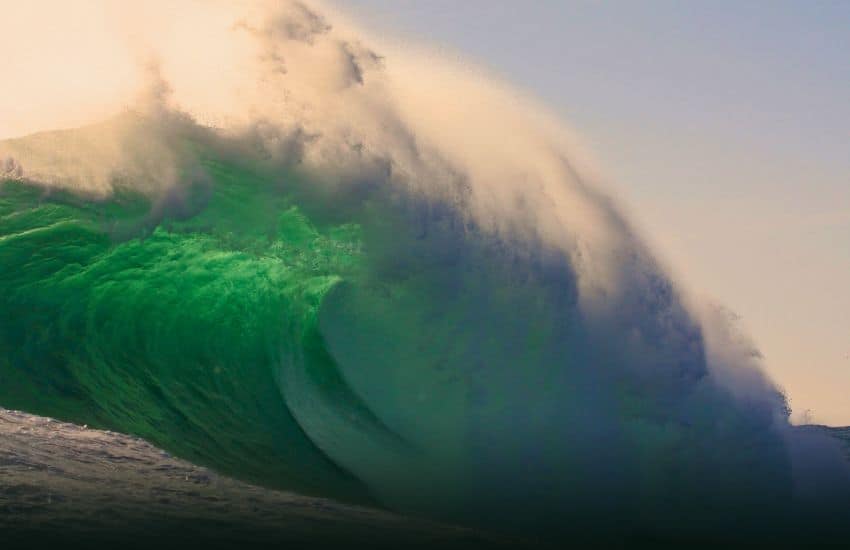 Reserved for the pros and daredevils, the Mavericks is almost like the Wedge at Newport Beach but taken not to another level but a whole new universe. With XXL waves that can go as high as 60 feet. The powerful waves created by the mix of incoming waves from the North Pacific and Mavericks' canyon ocean floor are some of the most challenging, dangerous, and rewarding surfs in the country and worldwide. It is not for noobs. And even if you're a pro, you still need to be extra careful if you want to conquer Mavericks for your surfing in California adventure. 
Best Surf Schools in Mavericks: 
Windansea Beach
Previously hailed as Neptune Beach, waves at Windansea Beach typically range from 2 to 10 feet high, both left-hand and right. The steep ocean floor is paired with reef breaks and north swells during winter and south during summer, and you can have fun taking advantage of rideable waves here. The walls are some of the hardest on the coast, and if you're skilled enough, you might end up injured, if not worse. You can hit the breaks at Big Rock, Middle, or Turtles. 
Best Surf Schools in Windansea Beach: 
San Onofre State Beach
The beach break and gentle swells at San O invite surfers of any skill level and are ideal for first-timers and kids. The best rides happen in summer when south waves come in or winter from the North. And even during these seasons, you don't have to fear powerful wipeouts. You can check out four spots: Dogpatch, Four Doors, Old Man's, and The Point. Be there early if you want to waste time looking for parking. You and your fam/friends can also use fire pits during your visit. 
La Jolla Shores
Friendly waves and sandy beach break makes La Jolla Shores one of the best spots to start learning the sport. And if you want to go surfing in California but need to gain surfing knowledge, getting classes here would be a wise investment. Swells from the west and northwest usually produce high waves from waist to head. And with the cove's protection, winds won't be a problem. 
Best Surf Schools in La Jolla Shores: 
Types of Surf Breaks in Northern California
Sharp and exposed reef breaks, underwater canyon point breaks, and sand-padded beach breaks.
Best surf spots in Central California
Steamer Lane
Sitting at Santa Cruz, Steamer Lane is another famous spot if you want to go surfing in California. With NW winds and consistent Pacific swells, the waves are usually five to six feet but can reach up to twenty in optimal weather conditions, especially during summer and winter. And since your access is cliffside with a rocky bottom, you might break your board on low tides if you don't end your ride on time. There are various points you can tackle depending on your skill level. 
The Point is a right-hander with S and SW swells between 4 to 6 feet, while The Slot offers fast and powerful closeouts. A-frames are the norm at The Middle Peak from SW swells with steep drops. The Middle Peak also has three sections, First, Second, and Third, indicating the sizes of the reef in the area that extends for another mile into the waters. The Indicators offer five to eight-foot-high swells from NW with rides up to 300 yards. These are ideal for intermediate and pros. Beginners can check out the neighboring Cowell's Beach. 
Best Surf Schools in Steamer Lane: 
Morro Bay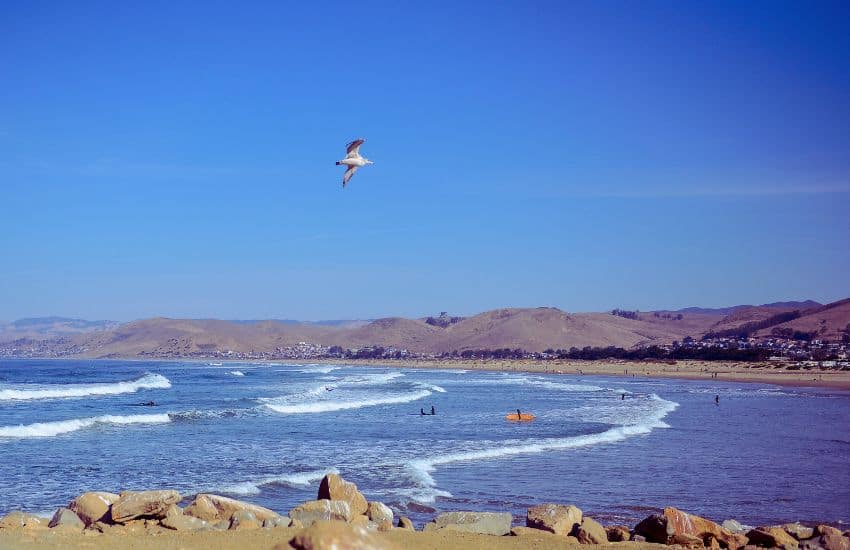 With clean and consistent swells, Morro Bay in San Luis Obispo has plenty of lefts with some visits from right—a spot for surfers of all skill levels. Not to say that Morro Bay is no fun throughout the year (because it is!), but you can visit between September and November for the best waves, warm water, and a crowd-free surfing experience. 
Like most spots, Morro Bay has various points to make surfing in California even more exciting. The Rock has a beach break where swells smash into the sandbar and offer an average of six footers, while The Strand requires some paddling out to reach the point. 
Best Surf Schools in Morro Bay: 
Asilomar State Beach
With beach and reed breaks, Asilomar offers consistent waves regardless of the season. And if you catch W wind swells with SW winds, you can enjoy a ride up to 10 feet high, left and right. There are three surf points in Asilomar: Road Sides offers 5-second barrels, the second needs paddling and has better barrels with ledge, while the third, known as Tracks, has mighty walls riding to the shores. 
Best Surf Schools in Asilomar State Beach: 
Pismo State Beach
When locals say Pismo, it's not just one specific area. It's a combination of all the beaches on the shore, namely Shell, Oceano, Pismo, and Grover. With a total coastline of 17 miles, Pismo State Beach is a popular spot with plenty of beach breaks and a few reef breaks. The sides near the pier are the most surfed in the area due to consistent waves and long rides. And if you catch NW swells, you can ride for roughly 10 seconds. You'll also find Addie Street Sandbar half a mile away with better wave quality. And if you want more challenging surfs, go to Oceano, a couple of miles south of Pismo. 
Best Surf Schools in  Pismo State Beach: 
Types of Surf Breaks in Central California
Central California boasts diverse surf breaks: reef, beach, and point breaks are all present. 
Whether you're a seasoned pro or a beginner, surfing in California will leave you wanting more. With its diverse surf spots and unique culture, it's no wonder why California is often referred to as the birthplace of modern surfing. 
From the sandy beaches of San Diego to the rugged coastline of Northern California, there's no shortage of waves to ride and adventures to take. 
So if you're looking to experience the thrill of surfing in one of the most iconic surf destinations in the world, California is the place to be. Get out there, catch some waves, and discover what makes surfing in California an incredible experience.
____________________________________________________________
Going Surfing?
Read our Surf Guides
Surfing in Aruba
Surfing in Guam
Surfing in Mexico
Surfing in Tulum
Surfing in Belize
Surfing in Ventura
Surfing in Florida
7 Best Surf Towns in Costa Rica
Surfing Ecuador: 9 Best Places
____________________________________________________________
FAQs
Can you go surfing in California?
Definitely, yes.
With hundreds and hundreds of miles of coastlines, California offers some of the most beautiful surfing spots in the world, and the locals love the sport. 
You can learn more about surfing in California.
What are the best places to surf in California?
These are some of the best places to surf in California:
South Cali: Huntington Beach for all levels & Malibu for intermediate and advanced
North Cali: Ocean Beach & Mavericks for the Pro's
Central Cali: Steamer Lane Santa Cruz for advanced surfing and Cowell's for beginners
Which place is best for you will depend on you skill level. Learn about all the best places to surf in California.