Surfing in Guam offers an exhilarating and unique experience for wave enthusiasts of all skill levels. Located in the western Pacific Ocean, Guam's warm waters and tropical climate provide year-round surfing conditions. With its diverse range of breaks and scenic coastline, Guam attracts surfers worldwide who come to test their skills and enjoy the island's natural beauty. 
Read on, and we will explore the best spots to catch waves in Guam and the island's surf culture. Guam's surf scene will surely provide an unforgettable experience whether you are a beginner or a seasoned pro.
Is surfing good in Guam?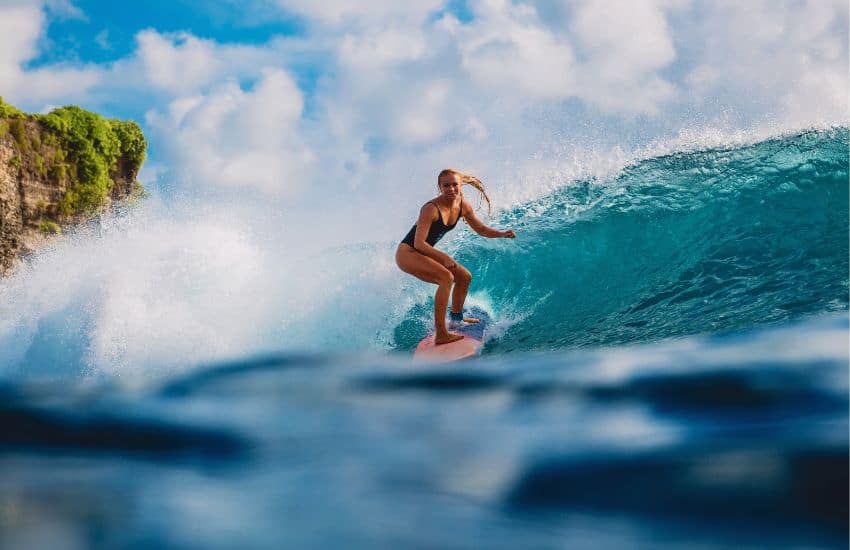 Sure! Some popular surf spots in Guam include Talofofo Bay, Umatac Bay, Ritidian Beach, and Inarajan Bay. Talofofo Bay is known for its long and consistent left-hand break, while Umatac Bay offers a challenging right-hand break.
However, beware of the localism going on on the island. Localism is a phenomenon in the surfing world where the local surfers are kind of like on top of the surfer hierarchy, where they set the rules in the surfing spot to protect it and can sometimes make an unwelcoming and rather rude ambiance for outsiders, particularly if they feel that these outsiders are disrespectful or ignorant of local customs and rules. That's why surfers must be aware of and respect local surf culture and etiquette when surfing in Guam.
You can't just hit the waters and ride the waves just because you want to. It's akin to disrespect. If you want to go surfing in Guam, you can break through the localism by going with a local surfer, grabbing some drinks with some of them and learning about the surf culture, or getting in touch with a local surf shop such as Lotus. Leave your ego in your hotel room so you don't get in trouble. 
Weather in Guam
Guam generally has a tropical climate characterized by warm temperatures and high humidity throughout the year. The average temperature in Guam can range from around 81°F to 86°F, and it can be pretty rainy at times, especially during the wet season from July to December. Yearly rainfall on the island is between 14 and 116 inches, mostly falling during the wet season. 
Additionally, Guam is a typhoon-prone region since it sits in the typhoon belt, so it is vital to be aware of any potential storms or severe weather conditions if you plan to surf in Guam.
What time of year is best for surfing?
The best time to surf in Guam is during the dry season, which runs from January to May. During this period, the weather is generally sunny, and the water temperature is warm, making for comfortable surfing conditions. The waves are typically smaller during this time but still suitable for beginners and intermediate surfers.
However, if you are an experienced surfer looking for more giant waves, you may want to visit Guam during the wet season, from July to November. It is when the typhoon season hits, and the waves can become more powerful, but it can also be riskier due to the potential for storms and dangerous conditions. The government issues High Surf Warnings during these times, which note the dangers of waves going as high as 15 feet. 
Best places to surf in Guam
Talofofo Beach
Surfing in Guam at Talofofo Beach and its unique black sand can be an exciting experience for both beginners and experienced surfers. The beach is known for its relatively calm and consistent waves, with options for left- and right breaks. It's perfect for beginners just learning how to surf, and with a sandy bottom, it's generally safer than surfing over rocky or coral reefs.
Talofofo Beach can still provide a fun and challenging surf session for more experienced surfers. Depending on the swell and weather conditions, the waves at Talofofo can range from minor and mellow to bigger and more powerful, making it an excellent spot to catch some decent waves.
One thing to note is that Talofofo Beach can get crowded during peak surfing season, typically from August to March. It's a good idea to arrive early in the morning to secure a spot and avoid crowds if you want to enjoy surfing in Guam.
Umatac Bay
Umatac Bay is another famous surfing destination that can offer good waves under the right conditions with its exposed reef breaks. The waves at Umatac Bay are generally best during the winter months (December to February), when the swells from the North Pacific are most consistent and powerful. And with the pebble bed, you can enjoy faster rides from the left, although you'll feel the crash if you fall. 29% of the waves are clean and hold up well for an extended time. Surfing in Guam at Umatac Bay can be a rewarding experience for skilled surfers looking for adventure and a chance to ride less crowded waves.
Tanguisson Beach
Tanguisson Beach sits at the village of Dededo in the island's northern part. It is known for its consistent and powerful waves, especially from December to February, when they are at their biggest. It is no place for beginners. The waves and current will smash you if you're not skilled enough to maneuver. The beach is a bit disappointing with all the trash, but the waves will satisfy you. 
Rick's Reef
Not for the faint of heart, if you go surfing in Guam at Rick's Reef, ensure you're prepared for challenges. Named after a local surfer named Rick, Rick's Reef is known for its challenging waves, ranging from chest-high to double overhead, depending on the conditions. The reef break produces a fast, hollow wave that breaks right, offering experienced surfers a thrilling ride. However, the spot is not for beginner or intermediate surfers due to the sharp coral reef beneath the hollow water. Wrong move with the strong currents and fall; you'll end up with spikes from sea urchins native to these waters! 
Glass Breakwater
The swell in Glass Breakwater near Apra Harbor is plenty but tends to blow out quickly. But catching a right with an average of 1-1.5 meter height up to 3 meters in the best weather conditions will give you the best experience while surfing in Guam. Since the rocks are sharp, you must be extra careful when hopping in and out of the water. Accessing the area can also be challenging. You can either kayak your way or walk for 15-30 minutes to get there. The powerful waves in Glass Breakwater are best suited for experienced surfers who want to challenge themselves. 
Best Surf School in Guam: 
Surfing in Guam is a must-try experience for any surfing enthusiast. The island's breathtaking scenery, warm waters, and diverse range of breaks make it a top destination for surfers worldwide. Guam's surf scene offers something for everyone. So, if you're planning your next surfing adventure, include Guam on your list. With its stunning waves, surfing in Guam is sure to be an experience that will leave a mark forever. 
____________________________________________________________
Going Surfing?
Read our Surf Guides
Surfing in Aruba
Surfing in Mexico
Surfing in California
Surfing in Tulum
Surfing in Belize
Surfing in Ventura
Surfing in Florida
7 Best Surf Towns in Costa Rica
Surfing Ecuador: 9 Best Places
Surfing Tamarindo: 12 Best Surfspots
____________________________________________________________
FAQs
Can you go surfing in Guam?
You can definitely go Surfing in Guam! 
Guam's warm tropical climate means that its surf's up year-round. The best waves are typically found from November to April, but plenty of surfable waves visit during the rest of the year. There's also a wide range of surf breaks, from beginner-friendly spots to more advanced breaks for experienced surfers. Surfing in Guam also offers stunning tropical scenery, with crystal-clear waters, palm trees, and white sandy beaches. You might even spot sea turtles, dolphins, and other marine life while surfing!
Learn more in our Guide on Surfing in Guam.
What are the best places to surf in Guam?
Here are some of the best spots to go surfing in Guam with various types of breaks:
Talofofo Beach

Umatac Bay

Rick's Reef

Glass Breakwater

Tanguisson Beach

Learn more in our guide about Surfing in Guam.