Thinking about surfing in Tamarindo?
Welcome to the sun-kissed shores of Tamarindo, a vibrant coastal paradise nestled along Costa Rica's Pacific coast. As the fiery sun illuminates the cerulean waters, an irresistible call beckons adventure seekers and wave riders from around the globe. Tamarindo isn't just a destination; it's a sanctuary where surfers find solace, excitement, and a profound connection with nature.
From beginners to seasoned wave warriors, this captivating destination offers something extraordinary for every enthusiast.
We've included the 12 best surfspots in and around Tamarindo, the best surfschools & camps and where to stay during your time in this surfers paradise.
Is surfing good in Tamarindo?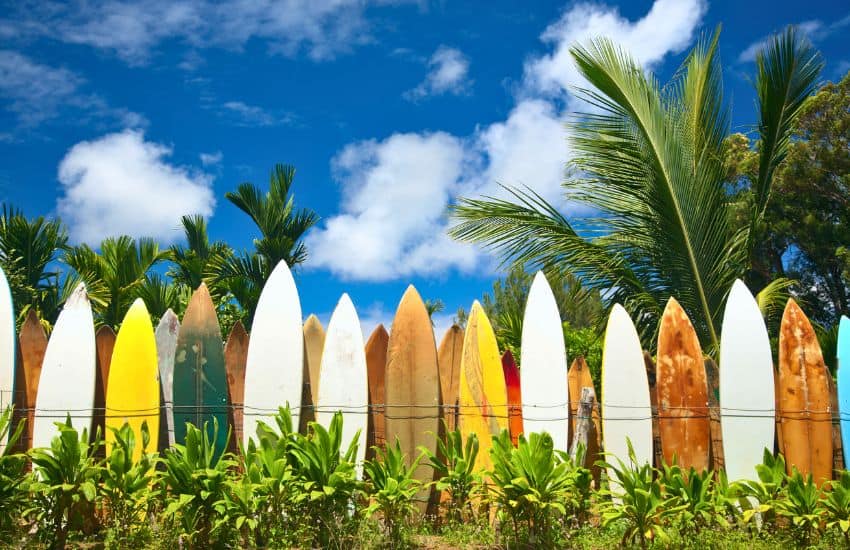 Yes, surfing is quite popular in Tamarindo and reliable. It is famous for its consistent waves and is a fantastic surfing spot for riders of all skill levels. It has a beach break, meaning the waves break over sandy bottoms, providing a forgiving environment for newbies and intermediates alike. However, more experienced surfers can also find challenging reef breaks nearby.
Tamarindo's main beach offers consistent surf throughout the year, with the peak surfing season occurring between May and November when larger swells arrive. Whether you're a beginner looking to take surf lessons or an experienced surfer seeking great waves, surfing in Tamarindo provides excellent opportunities to catch waves year-round.
Weather in Tamarindo
Tamarindo has a tropical dyad climate. Tamarindo's dry season involves blue skies and plenty of sunshine. Humidity is also typically low around, with little to no rainfall. Expect 28C to 35C (82F to 95F), rocketing the temps between March and April. On the other hand, the rainy season has more frequent rainfall paired with high humidity. However, it's important to note that sunshine still visits the town occasionally. Rainfall usually visits around the afternoon or evening, while mornings are welcomed with the sun out with temperatures ranging from 26C to 32C (79F to 90F).
What time of year is best for surfing?
High Season (December to April) is considered the dry season in Tamarindo, characterized by sunny weather paired with offshore winds. Expect that the swells are generally smaller during this time, the ideal season for first-timers and newbies. Advanced surfers may find larger swells on certain days. Overall, it's an excellent time for all skill levels.
Green Season (May to November) is a rainy period in Tamarindo, but don't let that deter you. The rain can bring good-quality waves and fewer crowds. Advanced surfers may find larger and more challenging swells during this time. Remember, occasional heavy rainfall still visits, and it's a less consistent condition, but if you have years of experience, you'll love the bigger waves.
Overall, deciding when is the best time to go surfing in Tamarindo will depend on your preferences and skills as a surfer. For more forgiving waves, the high season is a good choice. If you're a daredevil seeking bigger swells and don't mind occasional rain, the green season can offer more excitement. Before planning your trip, it's always a good idea to check the local surf reports and talk to the local surf shops or instructors for the most up-to-date information.
Downsides of Surfing in Tamarindo
While surfing in Tamarindo can be an exciting and enjoyable experience, there are a few downsides that you should be aware of. Tamarindo is a popular surfing destination, particularly for beginners and tourists. This popularity can lead to crowded waves, especially during peak seasons. The high number of surfers in the water can make it challenging to find open space and may increase the risk of collisions or accidents.
And since Tamarindo is a bustling tourist town, the increased development and population can strain the local environment. Some surfers have reported pollution and water quality issues in Tamarindo, especially after heavy rains when runoff can enter the ocean. We recommend you check local reports or talk to locals about the water conditions before surfing.
This Costa Rica surf town has some potential hazards, like how the beach break can be powerful and have strong currents, which may be challenging for inexperienced surfers. Rocks and reef formations may also threaten certain spots, particularly during low tide. It's essential to be cautious, familiarize yourself with the area, and surf within your skill level.
This popular tourist destination has vibrant nightlife and bustling streets. While this may appeal to some, others seeking a more secluded and tranquil surfing experience might find the lively atmosphere distracting or overwhelming.
Where is Tamarindo?
Sitting on Costa Rica's northwest coast, Tamarindo in Guanacaste is roughly 80 km (50 miles) from the country's capital, San Jose. Its exact coordinates are 10.2996 N and 85.8374 W, and it is famous for its stunning beaches, diverse surfing spots, exciting nightlife, and abundant outdoor adventures. Tamarindo has been a go-to for surfers and tourists who want to bask under the sun while chasing mother nature's glory and a haven for backpackers who ache to experience new cultures.
The Best Surf Camps in Tamarindo
One of the most cost-effective surf camps in Tamarindo, La Botella de Leche, offers its guest package that lasts between 4 and 8 days. When you sign up here, everything you need for your stay is already included in the payment- surf lessons, accommodation, surfboard rental, breakfast, yoga lessons, and a crocodile tour. 
Simple, friendly, and professional, the La Botella de Leche instructors make it easy for beginners to understand the sport and enjoy the journey. And since your accommodation is dorm-inspired, you'll meet many fabulous people during your stay. Of course, if you want your own room, you might want to look for an alternative that will cost more than this surf camp offers. But other than that, you'll have a cozy bunk bed, access to Wi-Fi, an outdoor kitchen, a swimming pool, and arcade machines. 
La Botella de Leche is best for backpackers who want to try surfing in Tamarindo for the first time and those who are new but still want to catch waves without drilling holes in their pockets. 
If you want a more personal experience with professional ISA-certified instructors in a cozy boutique hotel, Iguana Surf Camp is one of the best for those who want to try surfing in Tamarindo. You can choose from 5 to 7 nights packages. They will pick you up from the airport and provide daily surfing, theoretical lessons, and breakfast. You can start your surfing journey with comfort and practical methodology. It also includes your rashguard, photos, and the rent for your board during your stay. 
You can select your accommodation from a shared room or stay in their beachfront cottage, so you're literally steps away from the waters. And if you bring in a friend or two, you can get a discount of up to 40%!
We also appreciate that there's a supermarket at the ground level of the hotel, making it a breeze to grab any needs you have. Iguana Surf Camp is also just walking distance from plenty of shops, restaurants, and bars, so you have plenty of options. 
For digital nomads traveling to Costa Rica to try surfing in Tamarindo, Selina offers a combination of work, play, and relaxation in one. With packages lasting 5-10 days, your stay includes a stay in a shared/private room, meals, surfing lessons, and any extra gear that might help during your lessons. However, keep in mind that your board rental is only accessible during the classes themselves. Besides that, you need to fork out extra if you want extra time in the water. 
Selina Tamarindo's coworking space is the main selling point for digital nomads who enjoy adventure. There are desk spaces where you can focus on productivity, and the Wi-Fi here is impeccable. 
Guests can also access the pool, garden, and shared kitchen if they want to cook a meal. Add-ons like hiking tours, horseback riding, and canopy tours are also available. 
Selina is the best option for anyone who wants to go surfing in Tamarindo without totally leaving behind important work. The comfortable stay, modern amenities, delicious meals, and effective surf lessons from experienced instructors make it one of Tamarindo's best surf camps. 
One of the sustainability OGs in the area, Dreamsea Surf Camp is the ideal place for anyone who wants to enjoy surfing in Tamarindo and connect with nature in eco-friendly ways. Their week-long surf camps include stays in a dorm, villa, or via glamping, daily surfing, and yoga lessons. And if you're up for some slacklining challenge, you can access intro lessons. You can also use bikes to wander around the thousands of acres of land surrounding Dreamsea Surf Camp. Bonus, your breakfasts and dinners are indeed delicious yet healthy! 
Now, since it's sitting on the hills roughly ten minutes away from the shores, you must rely on the service shuttle or walk your way back and forth. But you can access many hikes and observe wildlife such as monkeys and iguanas. 
Overall, you'll quickly learn from the professional instructors at Dreamsea. The entire experience is more than just learning to catch the waves. It's a place where you can reconnect with yourself and nature, discover the magic of the waves, and meet new people who add value to your experience. 
12 Best Places to Surf in Tamarindo
Pico Grande & Pico Pequeño
Best for: Advanced
Location: In Tamarindo, Center

No place for beginners, Pico Grande and Pico Pequeño (Big Peak and Little Peak) are twins advanced riders can't miss on when surfing in Tamarindo. With the rocky/reefy bottom, you can't make a mistake trying out the waves here on a low tide unless you want injuries. 
But when SW swells and light offshore winds are at play, Pico Grande offers numerous barrelling opportunities that can run up to 50 meters long, while Pico Pequeño has A-frames that hold their shape pretty well. 
Be here between July and August when SW swells visits. Grab a board with more volume than usual to help you catch more waves. But if you want to increase the range, take a shortboard. Again, you have to be careful when you fall off your board. You must also practice patience since there's only a single take-off point. 
Best Surfschools in Tamarindo Center
Where to stay in

Tamarindo Center
Henry's Right & Left
Best for: Intermediate
Location: In Tamarindo, Center

There is nothing fancy about the waves at Henry's Left and Right, but they tend to be challenging. If you're an intermediate or advanced surfer, you'll enjoy the challenge they pose, knowing that underwater awaits painful reefs and rocks. 
These lava reef breaks work best with NW swells and light offshore winds on a high tide. Left is trickier than Henry's Right, and the waves can grow up to overhead. Both spots are not that famous because when they're working, other spots with more ideal waves are also working. But if you want some thrill, Henry's Left and Right are excellent spots. Just be extra careful, though! 
Best Surfschools in Tamarindo Center
Where to stay in

Tamarindo Center
Tamarindo Beach Break
Best for: Beginners and Intermediate
Location: In Tamarindo, Center

Best for newbies and those breaking into the intermediate level, Tamarindo Beach Break is the main one along the shores, so plenty of surf schools and crowds are around. The combination of forgiving chest-high SW swells and sandy bottom makes this surfing spot the best in town for first-timers. 
When you're around in the best weather, there are some long-peeling left-handers to catch, especially on a high tide. Remember, Tamarindo Beach Break is usually crowded, and you must be mindful of your surroundings since most riders are newbies still trying to get the gist of the sport. 
Best Surfschools in Tamarindo Center
Where to stay in

Tamarindo Center
El Estero Rivermouth
Best for: Advanced
Location: In Tamarindo, Center

Famous for quick-peeling tubes that can run as far as 200 meters out, El Estero Rivermouth is for the adventurous and skilled. Blessed with double overheads from SW swells that break on a sandbar between December and April, the unpredictability of its wave quality adds to the fun of surfing here. 
If you want to experience the best surfing in Tamarindo, come around during low tide, which creates pumping and shallow barrels. And if you're not alert enough, it might break your board or you. 
Again, it's a beach break, so catching the waves at El Estero Rivermouth can vary. But when it's working, thick wedges are also on the horizon. Locals also packed the area when the surf was up, so you might have to wait along a lineup. 
Best Surfschools in Tamarindo Center
Where to stay in

Tamarindo Center
Playa Langosta
Best for: Intermediate and Advanced
Location: In Tamarindo, South side
The surf at Playa Langosta is characterized by its fast and powerful waves, providing a thrilling experience for experienced surfers. The beach offers a mix of left and right-hand breaks, which can be challenging and require some navigation skills. The wave quality is generally good and can get quite hollow, offering some great barrels.
The best time to surf in Playa Langosta is during the high tide, which produces better waves. The surf conditions are favorable year-round, with the most consistent swells occurring from April to October. During these months, the south and southwest swells generate larger waves, attracting surfers worldwide.
Besides surfing, Playa Langosta offers a beautiful beach setting with golden sand and clear turquoise water. It's an excellent spot for sunbathing, swimming, and enjoying the area's natural beauty. The beach is less crowded than nearby Tamarindo, offering a more tranquil and relaxed atmosphere. It's a fantastic destination for surfers seeking challenging waves and a picturesque beach setting.
Best Surfschools in South Tamarindo
Where to stay in

South Tamarindo
Capitán Suizo
Best for: Beginners
Location: In Tamarindo, South side

This beginner-friendly spot in Tamarindo has some of the best waves for newbies who want to experience surfing in Tamarindo. Although the swells are not the most powerful, they guarantee you can ride up to 200 meters in optimal weather conditions. If you want plenty of lefts and rights, time your visit when SW and NW swells are paired with E SE offshore winds. It usually happens between July and August, as well as December and March. 
You can expect waves at least 3 feet high and can grow up to overhead. The bottom is also a mix of sand and rock, and the rocks are not that big, so you don't have to worry about them when you fall off your board. The waves are mellow enough so beginners can paddle out and catch them. Capitan Suizo is also usually crowded, but there are plenty of take-off points anyways.
Best Surfschools in South Tamarindo
Where to stay in

South Tamarindo
Isla Capitán (Captain Island)
Best for: Advanced
Location: Island 1km from Tamarindo

If you want to test your skills as a surfer and courage as a daredevil, you must drop by Isla Capital, a kilometer away from Tamarindo Beach. You can either paddle out or rent a boat or a jet ski. The choice is yours. 
This spot doesn't work unless you have double overheads visiting, usually between July and August, as well as December and March. It is due to the reeds sticking out, which breaks the waves, making them impossible to ride. But when SW/NW swells and NNE offshore winds are around, monstrous lefts and rights are typical. 
Now, keep your wits with you at all times. Unlike surfing in Tamarindo, there are no establishments, lifeguards, or anything. Go with a buddy/group to ensure your safety. Know your capacity and avoid biting more than you can chew. When you fall off your board and hit the reef underwater, your ego won't save you. 
Playa Grande
Best for: Intermediate and Advanced
Location: Tamarindo North riverside, 40min drive

The best option for intermediates and advanced who want to enjoy the best surfing in Tamarindo, Playa Grande offers its best waves from S SW swells. Once they start coming in around the dry season, there are A-frames, steep walls, and barrels on the left and right, usually growing around 7 feet. 
Expect hollow and snappy rides, and take-offs can be confusing. If you launch too early, you might just miss the best part of the wave. That's wedges and solid walls where you can try out your carving skills. 
If you're not yet confident with your skills but have some experience, just walk around 50 miles either south or north of Playa Grande, where take-offs are accessible. For the best experience, time it a couple of hours before the scheduled high tide. And since beginners are out of the lineup, it's not as crowded as neighboring breaks. 
Best Surfschools in North Tamarindo 
Where to stay in

North Tamarindo 
Casitas
Best for: Beginners and Intermediate
Location: Tamarindo North riverside, 45min drive

Casitas is the right place for you if you want more challenging swells than the famous Tamarindo Beach Break. It offers enough power for advanced beginners and just the right oomph for the skilled. At best, you can ride A-frames up to a hundred meters from left and right. Typically at chest height with sand-padded bottom, the waves are fun to ride for newbies with little trouble to tackle, even if you get wiped out. 
When E NE offshore winds and SW/NW swells are around, expect that fun is waiting at Casitas. Take a longboard when the tides have just returned, roughly a couple of hours and a half after low tide, for the best cleans. Casitas is an excellent place for a late afternoon session if you want to try some cutback or let the waves carry you while you chill. 
Best Surfschools in North Tamarindo 
Where to stay in

North Tamarindo 
Playa Avellanas
Best for: Beginners, Intermediate, and Advanced
Location: 30min drive south of Tamarindo

Famous for its consistent waves, warm waters, and beautiful surroundings, Playa Avellanas attracts those who want to try surfing in Tamarindo, regardless of their skill level. It offers excellent surfing conditions throughout the year. It benefits from a consistent swell, which means you can catch waves almost daily. It has a sand-padded bottom, and both the left and right have waves, providing opportunities for goofy-footed and regular riders. Searching for point and reef breaks? You'll find them within this crescent beach.
Playa Avellanas is generally less crowded than more popular alternatives, such as Tamarindo. But during peak seasons, especially in the mornings when conditions are optimal, expect flocks of visitors. If you want solitude while catching waves, consider going first thing in the morning or before sunset.
Best Surf Spots in Playa Avellanas
Little Hawaii

: Located just south of the Rivermouth, it is a reef break known for its long, powerful left-hand waves. The break gets its name from its similarities with the famous Banzai Pipeline in Hawaii. Experienced surfers favor Little Hawaii due to its heavy and fast-breaking waves. It requires good wave knowledge and the ability to handle larger surf.

El Palo

: El Palo is a beach break south of the Rivermouth. It offers a variety of wave options, including left and right-handers. The wave quality can be pretty good, especially during medium to large swells. El Palo is suitable for all levels of surfers, although beginners may find it more challenging during bigger surf.

Lola's

: Lola's is a beach break north of the Rivermouth. It is a popular spot for beginners and surf schools due to its mellow, consistent waves. The sandy bottom and forgiving nature of the waves make it an ideal place for novice surfers to practice and learn.

La Purruja

: La Purruja is a reef break north of Little Hawaii. It is a powerful, fast-breaking right-hand wave best suited for experienced surfers. The wave is known for its steep drops and hollow sections, making it an exhilarating ride for those up to the challenge.
Best Surfschools in Playa Avellanas
Where to stay in Playa Avellanas
Playa Negra
Best for: Intermediate and Advanced
Location: 50min drive south of Tamarindo
Playa Negra is a volcanic black sand beach known for its powerful and hollow waves. It offers left- and right-hand breaks, with waves often reaching XXL heights. The surf break at Playa Negra is reef-based, which contributes to the quality of the waves. The beach is surrounded by lush vegetation, and its remote location adds to its charm. 
The best time for surfing is during the dry season when the swell is more consistent. However, there can still be good surf throughout the year, so it's worth checking conditions before planning your trip.
Playa Negra offers waves suitable for surfers of varying skill levels. Still, it is generally ideal for intermediate to advanced surfers due to the size and power of the waves. The barrels are among the most exciting for skilled riders surfing in Tamarindo who dare face double overheads. But skip it on low tides since the reefs stick out of the water.
Now, when Playa Negra is working, expect it to feel a bit crowded since it can only accommodate a few riders in a lineup. A couple of handfuls is just right for enough space to maneuver the roaring right-handers of Playa Negra.
Best Surfschools in Playa Negra
Where to stay in Playa Negra 
Witch Rock
Best for: Advanced
Location: Santa Rosa National Park north of Tamarindo (join a tour to reach destination)

This location is only for the adventurers that don't mind a long drive and a good 30 min walk on the hot sand from the parkinglot.
Parking Location: Q8HP+R8V, Provincia de Guanacaste, Hacienda Naranjo, Costa Rica.
The best way to get here and surf safely is to go with the Witche's Rock Surf Camp that offers advanced surf tours to this location. They will take you by van and boat to the best waves.
When you get to Witch Rock around June, you'll face powerful wells that break into tubes and A-frames on both sides. And since getting there is a bit tricky, it's never crowded. 
But how do you really get there? 
The trip up to Witch Rock can only be done with a 4×4 and it's recommended only for skilled 4×4 drivers. You can either rent a car and invest a lot of energy in the journey or join a tour (recommended). Guaranteed you'll be rewarded with glorious waves. If you're around between November and January, the waves are usually smaller, roughly 3 feet high, making it more accessible for beginners. 
Best Surfschool and Accommodation
Tamarindo offers surfers of all levels something to check out. Whether you are a beginner or a seasoned surfer looking for bigger waves.
If you are heading to Tamarindo you might want to check out these surfspots from the beginner friendly waves on the beaches in Tamarindo to more adventurous and advanced tours to Witch Rock outside the town.
____________________________________________________________
Going Surfing?
Read our Surf Guides
Surfing in Aruba
Surfing in Guam
Surfing in Mexico
Surfing in California
Surfing in Tulum
Surfing in Ventura
Surfing in Florida
7 Best Surf Towns in Costa Rica
Surfing Ecuador: 9 Best Places
____________________________________________________________
FAQs
Can you go surfing in Tamarindo?
Definitely!
There are plenty of spots to accommodate surfing in Tamarindo for all skill levels. You can learn all about surfing in Tamarindo in our guide. 
What are the best places to surf in Tamarindo?
Here are the spots you need to check out to experience the best surfing in Tamarindo:
Playa Negra

Playa Avellanas

Playa Langosta

Capitán Suizo

Casitas

Pico Grande & Pico Pequeño

Witch's Rock

Isla Capitán (Captain Island)

Henry's Right & Left

El Estero Rivermouth

Playa Grande

Tamarindo Beach Break
You can learn all about surfing in Tamarindo in our guide.