Ever thought about surfing in Aruba?
This tiny Caribbean island, known for its crystal clear waters, white sandy beaches, and constant trade winds, is a surfer's paradise. With various breaks to choose from and water temperatures that never dip below 75°F, Aruba offers a year-round surfing experience like no other. Whether you're a seasoned pro or a novice looking to catch your first wave, Aruba's waves will not disappoint. 
So grab your board friend and get ready to ride some of the best waves in the Caribbean!
Is surfing good in Aruba?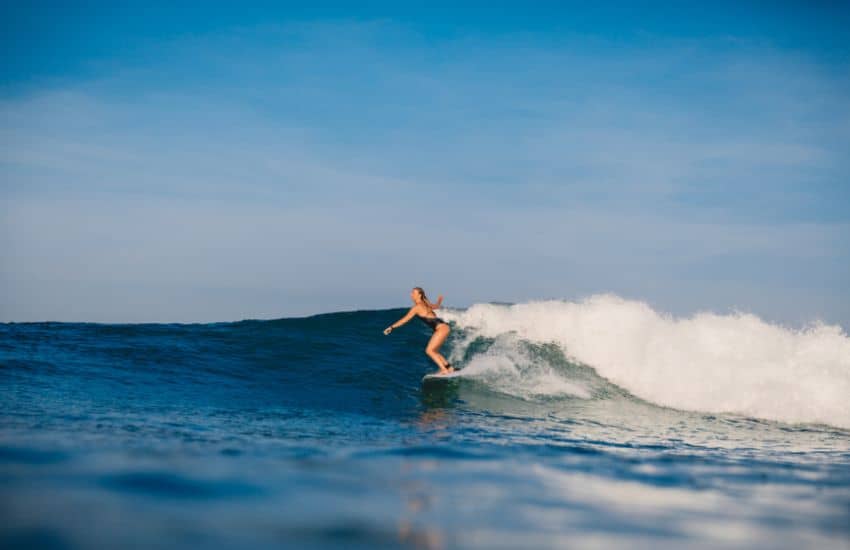 Definitely!
Aruba is known for its consistent trade winds and warm waters, which create excellent surfing conditions year-round. The island has several surf breaks suitable for surfers of all levels, from beginners to experts. The most famous surf spots in Aruba are on the island's northwestern coast, which includes Arashi Beach. These breaks offer waves ranging from easy and playful to fast and hollow, providing diverse surfing experiences. So whether you're a seasoned surfer or just starting, Aruba has something to offer everyone. And remember the waters at Baby Beach, Dos Playas, Fisherman's Huts, and Wariruri, too!
Weather in Aruba
Between March and August, surfing in Aruba relies mainly on the waves created by winds, and if you want spots with clean breaks, check out Aruba's east side. If you want to enjoy the thrill of massive swells, be there by the end of fall or winter when storms and hurricanes form them. And no worries about the heat either. You can take advantage of the tropical weather, with an average of roughly 82.4°F yearly. Rainfall is also not a problem since Aruba only catches around 16 inches between October and January. 
What time of year is best for surfing?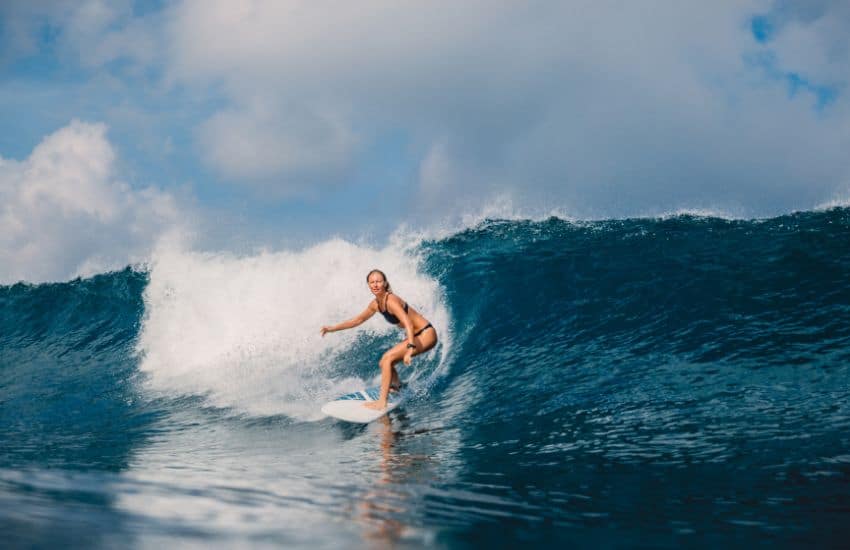 If you want to go surfing in Aruba with the best waves you can ride, be there between October and March. It's the time of the year when the massive swells from the North Atlantic manage to travel to the island's shores. If you can't make it during the season, the next best option is June/July. 
Best places to surf in Aruba
Arashi
If you want an unforgettable experience surfing in Aruba, hit the waters at Arashi Beach. It's clear and warm, with an average temperature of around 81 degrees Fahrenheit. The waves are typically best during the winter months (December to February) when the northerly trade winds create swells that can reach up to 10 feet (3 meters) high. However, there are still plenty of waves to catch throughout the rest of the year.
The reef break at Arashi is close to shore. The waves can be pretty powerful and fast-moving. It makes for an ideal spot for experienced surfers. However, beginners can still find smaller waves closer to the shore more suitable for learning and practicing. 
Sitting between Boca Catalina and California Lighthouse, the beautiful scenery at the beach also provides stunning views of the Caribbean Sea and the rugged coastline. 
Dos Playa
Just a head's up: if you go surfing in Aruba in this spot, you might need an extra board. The powerful waves of Dos Playa are famous for crushing surfboards. As the name suggests, Dos Playa comes in two coves, offering white sands and massive waves to ride. 
You might even catch swells as high as 4 feet during the late afternoon. It's no place for beginners, not only for surfing but also for swimmers and snorkelers. 
Now, the area is pretty secluded, so don't expect any amenities and facilities within reach. You must arrange your transportation in advance and bring your board from the nearest shop. 
Wariruri
The waves of Wariruri are usually considered safe, even for beginners—both the right and left sides of the beach benefit from the swells from the north. The best time to be surfing in Aruba on this beach is around December, when 20% are considered clean, giving you a long time to ride the waves while the rest are still manageable and suitable for newbies. 
Best Surf Schools in Aruba: 
Aruba Surf & Paddle School

: There is no surf school near Arashi Beach, Dos Playa, and Wariruri per se. The nearest surf school you'll find is the Aruba Surf & Paddle School along J.E. Irausquin Blvd. at Noord. 
Best places to Kitesurf in Aruba
Hadicurari Beach
Also famous as the Fisherman's Huts, Hadicurari Beach is one of the best places to kitesurf in Aruba for its gusty winds blowing between 15 to 25 knots. Blowing from the northeast, the gusts on this beach offers excellent opportunities for kite surfers of all levels. The sandy bottom of the shallow calm waters makes it an ideal spot for beginners who never tried the sport before. The area is also known for its vibrant and friendly kitesurfing community. It's also the place where the Aruba Hi-Winds Tournament happens. 
Best Kitesurf Schools in Hadicurari Beach: 
Boca Grandi
With its consistent trade winds and ideal shallow water conditions, Boca Grandi is a famous spot for beginner and experienced kitesurfers. It's one of the windiest beaches in Aruba, with 15 up to 20 knots during summer. Boca Grandi is one of those spots that kitesurfers have finally taken over. But that doesn't mean you can't swim here anymore. You just have to be careful about your surroundings. 
Baby Beach
Before anything else, kitesurfers have limited time to hit the Baby Beach: 6 AM to 9 AM. Be here as early as possible before the bathers and swimmers start coming in since you're not actually supposed to be here in the first place. But if you arrive before the crowd does, you can get away with it. 
The waters are crystal clear and gentle, and seeing any swell is almost impossible. Paired with a consistent breeze, the Baby Beach makes it easy to ride upwind, allowing you to explore and enjoy the thrill of kitesurfing. It's best suited for anyone who's never tried the sport before and seasoned enthusiasts who want to learn new tricks or polish old ones. 
Best Kitesurfing Schools in Boca Grandi and Baby Beach:
Pro Kite School Aruba

: Boca Grandi and Baby Beach are roughly only 5 minutes apart. The Pro Kite School Arua sits at Boca Grandi, the only kitesurfing school nearby. 
Aruba is not just a destination for sunbathing and relaxation but also for adventure and excitement on the waves. With consistent swells and a warm, tropical climate, surfing in Aruba is an experience you can't miss. Whether you're looking to improve your skills, catch some epic waves, or simply soak up the natural beauty of this island paradise, Aruba has something for everyone. So pack your bags, grab your board, and head to Aruba for an unforgettable surfing adventure.
____________________________________________________________
Going Surfing?
Read our Surf Guides
Surfing in Guam
Surfing in Mexico
Surfing in California
Surfing in Tulum
Surfing in Belize
Surfing in Ventura
Surfing in Florida
7 Best Surf Towns in Costa Rica
Surfing Ecuador: 9 Best Places
Surfing Tamarindo: 12 Best Surfspots
____________________________________________________________
FAQs
Can you go surfing in Aruba?
Yes, you can surf in Aruba!
Surfing in Aruba is one of the most famous watersports activities on the island, along with kitesurfing, although not as popular. There are also not many surf schools in the area, unlike kitesurfing. But that doesn't mean you can't ride the waves in this tropical paradise! 
What are the best places to surf in Aruba?
Here are the best spots for surfing in Aruba:
Arashi

Dos Playa

Wariruri