Tucked in the pristine shores of the Central American jewel known as Costa Rica lies numerous surfer's paradise that beckons adventure seekers and wave enthusiasts from across the globe. With its warm turquoise waters, golden sandy beaches, and vibrant surf culture, Costa Rica surf towns boast an array of selections that embody the spirit of sun-soaked freedom and the relentless pursuit of that perfect wave.
Beyond the conventional notion of a tropical getaway, these Costa Rica surf towns are more than just tourist hotspots. They are vibrant communities where local charm intertwines with international surf legends, creating a unique fusion of culture, camaraderie, and endless stoke.
Whether you're a seasoned pro looking to conquer legendary breaks or a novice eager to catch your very first wave, Costa Rica surf towns offer an experience that transcends the sport.
So grab your board, slip into your favorite pair of board shorts or bikini, and join us as we explore the enchanting world of Costa Rica surf towns. Prepare to ride the waves, immerse yourself in the laid-back lifestyle, and discover the magic that awaits in these coastal havens where paradise meets the perfect wave.
Is surfing good in Costa Rica?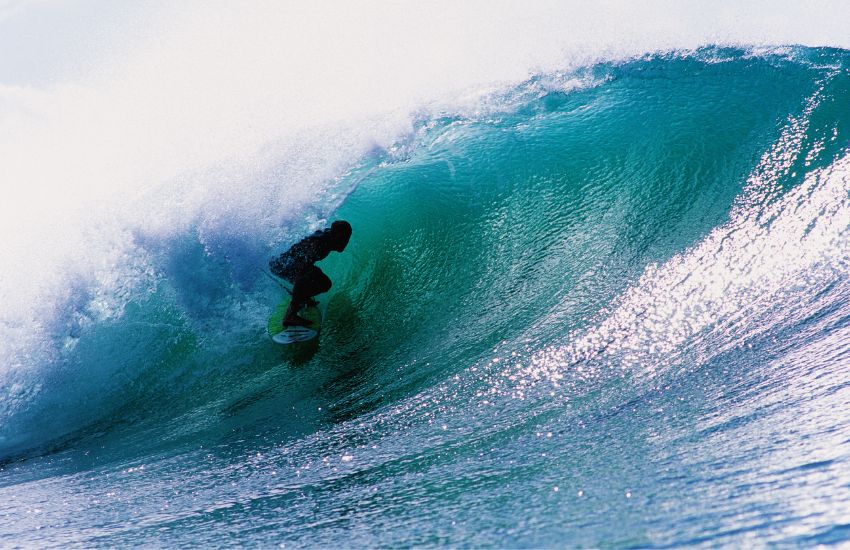 With blessings from the Caribbean and the Pacific oceans, surfing in Costa Rica naturally and quickly became popular with enthusiasts worldwide. 
Weather in Costa Rica
Costa Rica is home to the dry season between December and April and the wet season starting May until November. And depending on where you are, the average temperature ranges between 80F and 90F along the coastline while inland has between 75F and 80F. 
The annual rainfall is typically a hundred inches, but this rockets up to 300 inches by the mountains. Humidity also makes this tropical paradise pleasant for all sorts of water sports or just spending time by the beach. 
What time of year is best for surfing in Costa Rica?
Costa Rica has fantastic surfing conditions any time of the year, thanks to swells that consistently travel to the shores. However, it will still depend on your availability, the weather, and the spots you're interested in.
Visit during a dry season, and you'll see why Costa Rica surf towns along the Pacific Ocean turn into a Mecca. Sun's out with little to no rainfall. You have unlimited rideable cleans, tubes, barrels, and A-frames with minimal offshore winds. Consistent surf in these spots, with renowned breaks like Tamarindo and Pavones. However, it's worth noting this season is usually heavily crowded. Expect that prices are higher than usual, but it's definitely worth it. It's the best time to master your skills while having fun basking under the sun.
The wet season sees more frequent rainfall and occasional thunderstorms, but it also brings larger swells and consistent waves. It also helps that frequent rain creates some local wind patterns. With these in mind, assessing specific surf breaks and regions to live the best surfing experience during your visit to Costa Rica surf towns during this season is essential. Want to take on the Costa Rica surfing towns along the Caribbean coast? The wet season is your best friend.
Overall, the best time for surfing in Costa Rica depends on your preferences. Want sunny weather and consistent cleans? Be there between December and April. But if you're ok with occasional rain complemented by massive swells, you'll catch them between May and November.
The Best Surf Camps in Costa Rica
Nosara's premier surf camp since it started welcoming people in 1999, Safari Surf School (SSS) at Guiones, Nosara, is one of the best options for learning the sport. And if you're all about sustainability, you'll appreciate their efforts, from the boards and cute boutique hostel Olas Verdes to tree planting and local employment. 
You're in safe hands with instructors and staff, all ISA Level 1 and 2, plus they are also certified lifeguards. If you've never tried surfing before, you'll quickly learn here. 
SSS offers different packages to suit your needs: budget, standard, all-women, and customized. Yes, you can customize your own classes and your time at SSS, but of course, it comes with a higher cost. 
The location of SSS itself is also ideal for beginners searching for Costa Rica surf towns with friendly waters. The rideable waves of Playa Guiones are mere steps away from their accommodation. And for advanced riders, you only need to paddle a bit out to enjoy massive swells. 
Want extra fun away from the water? Safari Surf School can also arrange hikes, horseback riding tours, and other extreme sports if you want to add them to your itinerary. Don't forget to try out the menu at their restaurant! Fresh seafood is overflowing, and whatever dietary needs you have, they can surely handle it without depriving your taste buds. 
This surf camp at Tamarindo is flocked by solo travelers who want to learn surfing or explore more of their skills after years of practice. Witch's Rock Surf Camp (WRSC) sits right at the front of the beach, where you can access different breaks with friendly waves ready to give newbies exciting rides. 
Want to try surfing as a family? WRSC offers a week-long package with lessons, accommodation, breakfast, and unlimited board use. Your kiddos will love experiencing it all with their parents. 
With its convenient location, Playa Tamarindo and its breaks are just a few skips away. There are also plenty of restaurants and shops around, so you have numerous options other than what WRSC offers, but we recommend that you check out their menu and microbrewery. Ice-cold brews are the best post-late afternoon surfing sesh! 
Advance surfer? Sign up for a tour and join in catching the monsters of Witch's Rock and Ollie's Point. Don't miss out on the Endless Summer tradition! WRSC screens the classic face every week with spice from icon Robert August! 
Want an intimate and luxurious surf camp? Then Kalon Surf Resort is the place for you. With only six guest homes, you can enjoy the beauty of the mountains, conquer the ocean's waves, and lavish on modern amenities and delicious food. 
This all-in experience includes gourmet meals, an infinity pool, a jacuzzi, and an open kitchen where you can grab whatever you want and need. Can you imagine chillin at the jacuzzi after an entire day of surfing while drinking wine and listening to nature sounds from the surrounding mountains? Yes. But you need to fork out way more than you usually would. 
Now, you'll have to walk a bit to reach the beach. But once you get there, you'll have it all to yourself and the limited people staying in Kalon Surf Resort. And since there are very few people, rest assured that instructors are on the entire focus to help you start your surfing journey or polish and push yourself to the next level, whether trimming, clean takeoff, or riding snappy clean waves at high speed. 
It's like your lavish surfing home away from home!
You can also tailor additional activities to your stay. You can visit the Nauyaca Waterfalls, try cheese and wine on a farm, or try extreme sports for adrenaline shots. ATV tours are also a must to explore the lands and its rich flora and fauna, where you'll stop at native villages, chase a 300-foot-tall waterfall, and spot parrots, monkeys, and sloths (just to name a few). 
Kalon Surf Resort is your best bet if you're willing to invest for an exciting, relaxing, and recharging stay. 
Another incredible surfing camp in Nosara, Surf Simply offers easily digestible lessons for surfers of all skill levels and first-timers. You can learn the sport with competent and friendly instructors or take your skills to the next level. All with ILSF and  ISA certifications, each provides practical lessons focusing on your goals. 
One part of the stay we appreciate is how theoretical video analysis is included in their program, where they break down situations and the skills needed to perform them. This way, you already know what your body needs to do. Married with practical training in the water, you get an excellent combination. 
The accommodation at Surf Simply is also one of the most stunning in Costa Rica surf towns. With the architecture and interior designed by the minds behind big-time offices like Facebook and Apple, your stay is undoubtedly a package of relaxation and rejuvenation. 
If you book with Surf Simply, everything you need and want for your week-long stay is included- accommodation, meals, plus any and every tour you want to try during your time at the camp. You can pitch in for SUP sessions, hiking, or massages. They also focus on 12 people only per week so they can tend to the lessons as effectively as possible. 
Once your stay ends, you will have complimentary videos and photos during your camp at Surf Simply. You might even have a professionally shot reel that captures your highlights throughout the week. 
Lucero answers your research if you're searching for a budget-friendly surf camp. You can enjoy a week of surfing and stay for roughly a thousand bucks. This gem at Santa Teresa includes four days and 1.5 hrs. of surfing lessons, buffet breakfasts, and unlimited gear use. Your accommodation is also already included. 
We love the simple tropical vibes at Lucero. The rooms allow plenty of natural light, and the rustic design makes your stay more about nature and surfing. And with more than 15 years of experience and limited 2-3 people per instructor, your lessons are packed with helpful information to help you catch your first wave. Already an experienced rider? Lucero can also help customize a tour that will take you through Costa Rica surf towns that suit your skills and adrenaline needs. 
Although not the fanciest surf camp out there, Lucero delivers approachable services both to surfers and non-surfers for an affordable price without taking away the basics, relaxation, and excitement. 
____________________________________________________________
Going Surfing?
Read our Surf Guides
Surfing in Aruba
Surfing in Guam
Surfing in Mexico
Surfing in Belize
Surfing in California
Surfing in Tulum
Surfing in Ventura
Surfing in Florida
Surfing Ecuador: 9 Best Places
Surfing Tamarindo: 12 Best Surfspots
____________________________________________________________
7 Best Surf Towns in Costa Rica
Tamarindo
Best for: Beginners
Probably everyone's jump-off point for their journey across Costa Rica surf towns, Tamarindo, offers the warm waters of the Pacific Ocean. And since the area is super busy and hyped up for the most part, there are plenty of activities to do. Whether it's trying the sport for the first time, doing essential grocery shopping, seeking medical help, or partying all night, Tamarindo has you covered. 
Now, the main Tamarindo beach has gentle waves, making them ideal for beginners. But for surfers with experience, there are also walkable surf spots that deliver rideable waves to challenge your skills. And if surfing isn't your cup of tea, you can try other water sports like scuba diving and boating. 
Be a Tamraindo during the dry season for the best weather. But the wet season is the best time to go for massive swells. 
Tamarindo is one of the most famous (if not the most famous) Costa Rica surf towns. Expect heavy crowds and higher rates. But overall, this area offers gorgeous surf breaks that riders of any skill level will enjoy. 
Best Surfspots in Tamarindo
Tamarindo Beach

: This surf spot offers consistent waves primarily for newbies, particularly during the high tide from its beach break. Anyone can enjoy riding clean waves without worries (the sand-padded bottom has your back). Plus, there are plenty of beachfront accommodations to choose from.
Playa Grande

: Sitting in Tamarindo's northern area. It's a famous surf spot that hosts consistent waves in Tamarindo. It has rolling, powerful, and hollow waves, especially when you hit the waters on a high tide. Playa Grande is best left for intermediate to advanced surfers. You'll also enjoy the crowd-free waters from some of its best breaks, like in Casitas and Main Peak.
Langosta

: Langosta is another well-loved spot with waves from a reef break. Langosta offers more challenging rides than main Tamarindo Beach, making it ideal for experienced surfers. Consistent left and right waits for you, sourcing unlimited clean, snappy waves. Checking out the river mouth break is the best for daredevils, but be warned about the crocodiles that frequent its waters.

Avellanas

: A short drive from Tamarindo, this long sandy beach and its excellent waves attract skilled surfers. Experience its main break called "Little Hawaii," providing rideable and powerful waves on both sides that can grow up to 12 feet in optimal conditions. This spot is a haven for intermediate to advanced riders who want to experience challenging swells. Choose from various surf breaks like Lala's, Palo Seco, and Purruja.
Playa Negra

: Located further south of Avellanas, it has consistent and powerful rights. With a reef break, it can provide long rides favored by experienced surfers. It's important to note that Playa Negra has shallow reefs, requiring caution and experience. You can enjoy barreling when the wet season brings in powerful swells.
Witches Rock and Ollie's Point

: While not directly in Tamarindo, these two legendary spots are accessible by boat from the shore. Witches Rock (Roca Bruja) and Ollie's Point (Potrero Grande) are famous for their world-class waves, offering long rides and powerful swells. These spots are recommended for experienced surfers due to their challenging nature.
Best Surfschools in Tamarindo
Where to stay in Tamarindo
We know a lot of first-timers who fell in love with the vibes of Tamarindo and its surfing culture. If you plan to stay for extended periods, you can expect to pay rent between $1300-$3000. 
Puerto Viejo de Talamanca
Best for: Beginners, Intermediate, and Advanced
Heading to the Caribbean side of Costa Rica surf towns, Puerto Viejo de Talamanca will give you authentic Caribbean vibes to match your surfing experience. Although not as overly hyped as the Pacific alternatives (which is good!), you'll love the diverse surf breaks here that can accommodate surfers of any skill level. The town itself has a rugged tropical ambiance; from the shops, and homes to people and music, there's a touch of rasta culture. 
Warm waters with major swells are visiting between December and January, and July-August. If you've tried taming the beasts of Pipeline in Oahu, you'll love the challenge of monstrous swells in Puerto Viejo de Talamanca. There are also other breaks that can accommodate newbies, especially during the dry season when the waves are more forgiving. 
If you want a rugged Caribbean surfing experience, add Puerto Viejo de Talamanca to your list of Costa Rica surf towns to visit. 
Best Surfspots in Puerto Viejo de Talamanca
Salsa Brava

: This spot attracts experienced surfers seeking a thrilling ride. Salsa Brava has a reef break that produces hollow, particularly powerful barrels with peak swells from December to March. It is no spot for beginners and the faint-hearted. If you've conquered Hawaii's Pipeline, you might have the luck to bag a thrilling ride on Salsa Brava's unforgiving waves.
Playa Cocles

: Playa Cocles welcomes surfers of all skill levels, offering rideable swells throughout the year, especially during the high tide. Beginners can find smaller surf closer near the shore, while more advanced enthusiasts can venture farther out for larger sets. Shortboarding is also stunning, with lefts and rights consistently.
Playa Grande

: A short distance south of the town of Puerto Viejo, this stunning beach and its reef break offer clean waves on both sides. No problem whether you prefer left or right-handed rides. Playa Grande is good for surfers of all levels, with smaller and more forgiving waves during low tide and more giant waves during high tide.
Punta Uva

: This picturesque beach and its crystal-clear waters have a reef break that produces fun waves. It offers a consistent surf ideal for people with some experience in the sport. The beach's lush surroundings also make it an excellent spot for a whole day of surfing and relaxation. If you catch NE groundswells with S SE offshore winds, you're in for exciting snappy waves.
Manzanillo

: Manzanillo is a tranquil village with a beach offering a diverse collection of surf breaks. Depending on the swell direction, surfers can find left and right-hand waves. Manzanillo is suitable for intermediate to advanced surfers. Time your visit around February when there are plenty of clean waves to ride. However, be mindful of sea urchins, sharp rocks, and rip tides that frequent the area.
Best Surfschools in Puerto Viejo de Talamanca
Where to stay in Puerto Viejo de Talamanca
Planning a long-term stay? The average rent in Puerto Viejo de Talamanca is around $800/month. It's considerably cheaper than busy tourist hotspots. There are also properties for sale starting at $110,000. 
Playa Hermosa
Best for: Intermediate and Advanced
Home to some of Quicksilver's international competitions, Playa Hermosa in Puntarenas is a paradise for intermediate surfers who want to polish their skills. With quick-peeling and roaring waves, there's enough excitement to challenge those who have honed more than the basics of riding waves. The swells here can grow to XXL, especially around September when hurricane season is up. There are also plenty of clean rideable waves between December and April. 
It can be tricky locating Playa Hermosa because it's tucked behind a heavily tree-lined shore just off the highway. The vines here are super chill. No pressure on anyone who wishes to test their surfing skills or just wants to drop by and see the beauty of the shores. Playa Hermosa is rarely crowded, so if you want solitude while catching waves. With plenty of room to maneuver, this spot is a must on your list of Costa Rica surf towns. 
Powerful waves and riptides come into play all the time. So if you're new and don't trust your swimming skills, stay out. 
Best Surfspots in Playa Hermosa
Playa Hermosa Main Break

: It's the primary spot in Playa Hermosa, characterized by consistent swells that break into powerful waves. It offers both left and right breaks, making it accessible to riders of different skill levels. You can enjoy barrels and long rides from the beach break. And since Playa Hermosa has a sandy bottom, you don't have to worry about hurting yourself even if you fall off your board. 
Backyard

: Sitting near the southern end of Playa Hermosa, the Backyard is for advanced surfers looking for new challenges. Packed with barreling left-handers, there's fun at the Backyard for those with the courage and skills. Whether you're in the waters during the dry season or when it's raining cats and dogs, you won't be disappointed. It's a popular spot, so expect other surfers if you want to ride the waves of the Backyard. 
Almendro

: Almendro is another popular spot at Playa Hermosa, offering a mix of left and right breaks, making it a hotspot for surfers with various abilities. The swells attract surfers and short boarders who ache to enjoy some 9-footers peeling quickly from NW and SW swells. 
Terrazas

: This beach break is in Playa Hermosa, serving left- and left-handed quick-peeling rides. Thanks to its calmer waves and sand-padded bottom, it is a great surfing spot for newbies and intermediates. Terrazas provides ideal conditions for practicing and improving your surfing skills during smaller swells. It's usually crowded since it's right off the accommodation. Be mindful of the reef that can be injurious if you don't keep your wits with you.
Tulin

: Tulin is another reef break located just south of Playa Hermosa. It offers a long right-hand wave that can provide good rides. Fancy some barreling? This spot has them left and right no matter what season you visit. It's also one of the busiest surfing spots in Playa Hermosa, especially since news about Tulin's wondrous monsters spreads like wildfire when they're working. Also, keep your eyes open for crocodiles. 
Best Surfschools in Playa Hermosa
Where to stay in Playa Hermosa
You can get a decent fully-furnished stay for as low as $800 for monthly rentals, but the average rate for Playa Hermosa is around $3000. Not cheap, so make sure you give your shopping around enough time. You'll find more affordable options. You just need to invest time in looking them up. 
Dominical
Best for: Beginners, Intermediate, and Advanced
Dominical might be your ideal spot if you're searching for Costa Rica surf towns with a less busy environment. However, once surfers discover Dominical is working, advanced riders flood the area to tame its powerful swell that crashes into a beach break producing roaring barrels. If you hate the buzz and fuzz at Tamarindo, Dominical is the best alternative. 
With 2.5 miles of coastline, there are plenty of opportunities for surfers of all skill levels. The laid-back ambiance of the town also allows you to slow down and enjoy every moment simply. Contrasted with a straight-outta-movie jungle, Dominical is a surfer's paradise and a nature lover's great escape while in Costa Rica. Whether you're new to the sport, a master, or just a visitor who wants to immerse yourself in Caribbean life, staying here will fuel your wanderlust. 
Best Surfspots in Dominical
Playa Dominical

: This is the main surfing beach in the area and offers consistent waves suitable for all levels of surfers from its point break. The beach break produces powerful and hollow waves, especially during the high tide. Dominical Beach is known for its long rides and can get crowded during peak surfing seasons, between April and October. Enjoy rides when SSW swells, and E winds are at play, the optimal weather condition to give you nonstop cleans. 
Punta Dominical

: Located at the southernmost tip of Dominical Beach, Punta Dominical is known for its rocky point break. This spot suits experienced surfers as the waves can get quite heavy and fast. It offers long and powerful left-hand rides, especially during bigger swells. Take note that when Playa Dominical is at its best, Punta Dominical can be relatively flat, making it a good spot for newbies. 
Dominicalito

: Situated a few kilometers north of Dominical, Dominicalito is a smaller and more mellow beach break compared to Dominical Beach. It is an excellent spot for beginners and intermediate surfers looking for smaller, more manageable waves. Dominicalito offers a more relaxed and less crowded atmosphere, with waves coming in on both the left and right. And if you time your visit when S swells are paired with E offshore winds, you'll have powerful waves at your disposal. 
Playa Guapil

: Located about 15 minutes south of Dominical, Playa Guapil is a beautiful and secluded beach known for its consistent surf. The beach break at Guapil produces fun and playful waves suitable for surfers of all levels. It is an excellent spot for beginners and experienced surfers looking for a less crowded option.
Best Surfschools in Dominical 
Where to stay in Dominical
If you want to rent a place, you can enjoy a comfortable stay for at least $900. Of course, utilities are not included yet, so expect to fork out more if you rent a place. A beachfront option typically costs $1200 and will only need 10 minutes of walking to reach the beach. 
Santa Teresa
Best for: Intermediate and Advanced
Santa Teresa offers a variety of surf breaks suitable for all skill levels. Some popular surf breaks include Playa Santa Teresa and Playa Carmen. These beaches provide a range of wave types, from mellow beach breaks to more challenging reef breaks. The waves in Santa Teresa are known for being powerful and consistent, with the best surf conditions generally found during the dry season (December to April). However, there can still be good waves throughout the year. The water temperature hovers around 78-82F (26-28C) throughout the year, making it comfortable to surf without a wetsuit.
This town has a vibrant and welcoming surfing community. You'll find a mix of locals and international surfers, creating a laid-back and inclusive atmosphere. There are also various surf events and competitions held throughout the year, adding to the community's vibrancy. And since the place is more affordable, you'll also find tons of backpackers and digital nomads in the area.
Beyond surfing, Santa Teresa offers breathtaking natural beauty. The area is known for its pristine beaches, lush rainforests, and stunning sunsets. You can also engage in other activities such as yoga retreats, horseback riding, snorkeling, and exploring nearby national parks. The community also strongly focuses on sustainability and preserving its natural environment. Many accommodations, restaurants, and surf schools adhere to eco-friendly practices, making conscious efforts to minimize their impact on the local ecosystem.
Best Surfspots in Santa Teresa
Playa Santa Teresa

: This expansive beach offers year-round waves for surfers of any skill level. With reef breaks and beach breaks, this surfing spot provides a diverse selection of waves. The best opportunity happens on medium tides when you'll have barrels. Even if you fall from your board from attempts to ride powerful swells, you'll have the sandy bottom to help make bailing out easier.
Playa Carmen

: Located just north of Santa Teresa, Playa Carmen offers excellent waves for intermediate and advanced surfers. It has a sandy bottom and consistent beach breaks, making it a popular spot for locals and visitors. When the weather is optimal, you can even catch triple overheads if you have the guts to conquer them. The bottom is a bit rocky, so you must be careful about getting whitewashed.
Playa Mal País

: This surfing spot is a beautiful and sleepy beach community, ideal for those who enjoy crowd-free sessions. With a rocky bottom, it offers breaks on both sides. Don't even dare on a low tide. Sharp rocks and reefs are all there is. But if you want a serene surfing experience, hit the waters when the tides are high.
Playa Cuevas/ Los Suecos

: This remote beach has a consistent reef break. It is known for its long and fast left-hand waves, which are popular among experienced surfers. Considered a secret beach, you know there's unspoiled beauty waiting for you. This protected cove is also an excellent spot for snorkeling since it's near Cabo Blanco Nature Reserve.
Best Surfschools in Santa Teresa
Where to stay in Santa Teresa
Staying long-term in Santa Teresa is more affordable than most Costa Rica surf towns, with the cost of living roughly $1000/month, with rent ranging from $300 to $600. If you want a mode budget-friendly stay, Santa Teresa is waiting for you. 
Jaco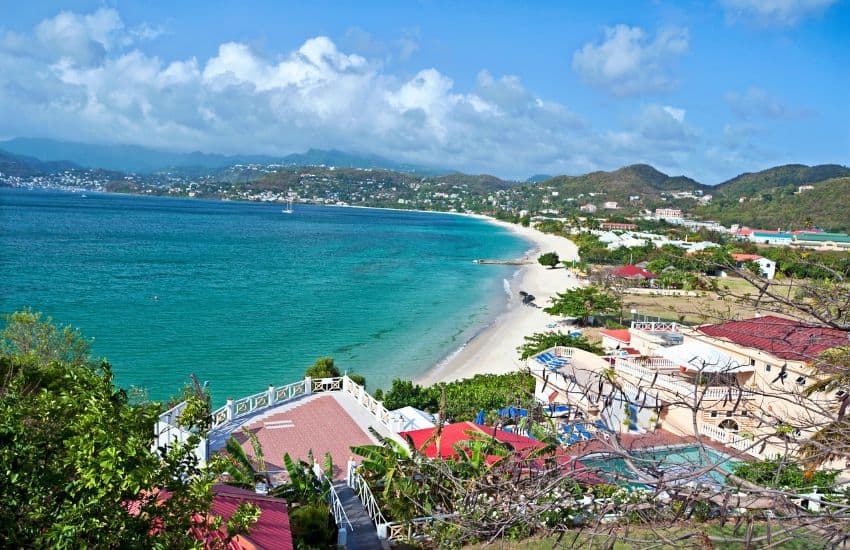 Best for: Beginners and Intermediate 
Jaco, Costa Rica, is known for its exceptional surfing conditions, making it a popular destination for surfers worldwide. It benefits from a combination of swells generated by the Pacific Ocean, which create ideal surfing conditions for both beginners and experienced surfers.
It is conveniently located on the central Pacific coast of Costa Rica, just a short drive from the capital city of San Jose. Its accessibility makes it a popular choice for surfers looking for a quick surfing getaway. Jaco Beach itself provides more forgiving waves for beginners and intermediates. It's also one of those Costa Rica surf towns where international travelers are everywhere and is more than welcome to live long-term. 
Jaco also has a thriving surfing community, including locals and international surfers. The atmosphere is welcoming and friendly, creating a sense of camaraderie among surf enthusiasts. You'll find plenty of opportunities to connect with fellow surfers, share experiences, and maybe even catch a few waves together.
Sitting amidst stunning natural beauty, with lush rainforests and scenic landscapes. When not riding the waves, you can explore the nearby national parks, participate in eco-adventures, or simply relax on the beautiful beaches. And if you want an all-out night out, Jaco offers a vibrant nightlife scene with numerous bars, restaurants, and clubs. After a day of surfing, you can unwind, enjoy delicious cuisine, and immerse yourself in the town's lively atmosphere.
Best Surfspots in Jaco
Playa Jaco:

This is the main beach in Jaco and offers consistent surfing throughout the year. It's suitable for all levels of surfers, with a mix of beach breaks and occasional reef breaks. Playa Jaco can get crowded, especially during peak surf seasons. Although nothing is shocking about the waves you encounter here, what people love is consistency. On a perfect day, you can ride out up to 300 meters!
Playa Escondida

: Also known as "Hidden Beach," this spot is located north of Jaco and less crowded than Playa Jaco. Playa Escondida offers a consistent beach break and is suitable for intermediates and advanced. It's a good option for a quieter surfing experience with snappy lefts and rights that can run up to 150 meters.
Roca Loca

: Located a short drive south of Jaco, Roca Loca is a reef break known for its fast, hollow waves. It's a more advanced spot that requires experience and skill to navigate the sharp rocks. Roca Loca is best during mid to high tide and can provide excellent barrels.
Playa Esterillos

: Just a short drive south of Jaco, Playa Esterillos is a stretch of beaches that offers various surf breaks. Esterillos Oeste, Esterillos Centro, and Esterillos Este are the three main sections, each providing different wave conditions. It's suitable for surfers of varying skill levels, depending on the specific break. Be here between January and March or June and August when the swells can reach up to 7 feet running up to 300 meters.
Best Surfschools in Jaco
Where to stay in Jaco
The average rental in Jaco costs between $500 and $1000 for a 1-bedroom apartment. You can stay long-term in this booming surfing town and enjoy all activities without digging holes in your pocket. 
Pavones
Best for: Intermediate and Advanced
Want to ride the longest lefts of your life? Pavones have gained popularity in the international surf scene, especially for those seeking long rides from monstrous SSW swells. The main attraction of Pavones is its 2-minute point breaks, considered the longest in the world. Extending for over a kilometer, this spot offers incredibly long rides on a good day. The point break is characterized by quick-peeling snappy waves, providing an exciting yet challenging session for the masters.
You can visit any time of the year since the waves here are pretty consistent, like most Costa Rica surf towns facing the Pacific. The best ones typically occur between April and October. The storm's southern swells create roaring, clean waves during this time. They can range from shoulder-high to well overhead, catering to surfers of varying skill levels.
It's generally recommended for intermediate to advanced riders. However, you might find more manageable waves closer to the shoreline, suitable for beginners during the dry season (although we don't recommend this spot for newbies). Remember, long rides can be physically demanding, and surfers should be prepared for endurance paddling.
Although Pavones has gained popularity, especially during peak surf season, it remains relatively uncrowded compared to other famous Costa Rica surf towns. We appreciate that reaching out requires some effort, which has helped maintain crowd-free and authentic Caribbean vibes.
It's a small town with limited amenities, offering a relaxed ambiance for those seeking a more off-the-grid experience. You'll find a few local surf shops, restaurants, and accommodations ranging from rustic cabins to small hotels and guesthouses.
Best Surfspots in Pavones
Pavones Point

: This is the primary surfing spot in Pavones and why surfers flock to this area. It's known for its legendary left-hand point break that can provide up to a kilometer-long ride. It's suitable for experienced surfers due to the size and power of the waves. Keep in mind that reefs and barnacles stick out when low tide. When Pavones Point is working, expect at least a hundred surfers lining up to catch the best lefts ever.
Punta Banco

: Punta Banco offers a reliable beach break with both left and right-hand waves. It's a good spot for all skill levels, with smaller waves than Pavones Point. You can ride up to 200 meters when the weather permits. Although it doesn't deliver the same thrill as Pavones Point, the mellower swells here are the best for those who want to take the day slowly.
Best Surfschools in Pavones
Sea Kings Surf Shop

Liquid Sessions Surf
Where to stay in Pavones
We hope that this glimpse into Costa Rica surf towns' captivating beauty has ignited a spark of wanderlust within you. The enchanting combination of breathtaking landscapes, world-class waves, and the warm hospitality of the locals make Costa Rica a destination that transcends the boundaries of a typical surf trip.
Whether you're an experienced wave rider searching for your next big challenge or a curious adventurer looking to immerse yourself in a culture deeply rooted in the ocean, Costa Rica surf towns offer an experience that is both invigorating and soul-nourishing.
So, as you plan your next adventure, consider the allure of Costa Rica surf towns. Whether it's the legendary breaks of Jaco, the vibrant nightlife of Playa Hermosa, or the hidden gems of Nosara, each surf town has its unique character waiting to be explored.
Grab your surfboard, embrace the Pura Vida spirit, and let the waves carry you to a place where time seems to stand still. Costa Rica surf towns are a gateway to an unforgettable journey, where the ocean's rhythm becomes your heartbeat, and the line where the sky meets water becomes your sanctuary.
Until next time, may your days be filled with endless swells, memorable sunsets, and the joy of chasing waves in the breathtaking Costa Rica surf towns.
May the tides forever guide you on your quest for surf paradise!
FAQs
What is the best time to go surfing in Costa Rica?
You can enjoy surfing any time of the year since there's a hoard of Costa Rica surf towns with consistent waves. And with the options facing the Pacific Ocean or the Caribbean Sea, plenty of rideable surf exists. You can also click here to learn more about the Best Time to go Surfing in Costa Rica. 
What are the best places to surf in Costa Rica?
Check out these Costa Rica surf towns and experience the Caribbean magic:
Tamarindo

Puerto Viejo de Talamanca

Playa Hermosa

Dominical

Santa Teresa

Jaco

Pavones
For more information, you can also jump to our main guide to the Best Costa Rica surf towns.