Searching for your next adrenaline-filled adventure?
Mexico is a surfer's paradise with almost 7,000 miles of coastline and a diverse range of waves suitable for all levels of surfers. 
Whether you're a beginner looking for gentle waves or an experienced surfer seeking big barrels, Mexico's beaches offer an incredible surfing experience. It boasts an awe-inspiring collection of surfing spots that will make your heart race and your spirits soar.
We will guide you through some of the best surfing spots in Mexico, from the famous breaks of Puerto Escondido to the lesser-known gems that line the coast. So grab your board and get ready to hit the waves in Mexico!
Is surfing good in Mexico?
Yes! 
Consistent swells from the Pacific are available in Mexico's coastlines throughout the year. And with the warm waters, you don't need to use a wetsuit. You can freely move for your maneuvers. The surfing culture also welcomes outsiders, not to mention the delicious food. And if you're from the US, these spots are pretty accessible. 
Weather in Mexico
The weather fluctuation in Mexico is minimal between the dry and wet seasons. The average temperature during the wet season is 50 degrees Fahrenheit, while the dry season has a mean of 77 degrees Fahrenheit. May is the hottest month when it can get to 91 degrees Fahrenheit. No matter what season you try the best surfing in Mexico, pack up light and loose clothing as extras since the humidity can sometimes be unbearable. 
What time of year is best for surfing?
The best time to surf in Mexico depends on the specific surf spot you plan to visit and the type of waves you want to ride. Generally, the best surf season in Mexico is from April to October, when the Pacific and Southern Hemisphere swells are most consistent.
For example, Puerto Escondido is known for its powerful and hollow waves, best during the summer when the south swells peak. On the other hand, Sayulita is more suitable for beginners and intermediate surfers, and the best time to surf here is during the winter months when the north swells arrive.
But overall, you'll find the best surfing in Mexico no matter what time of the year you come. You just have to find the best spot available during your stay. 
Point Break vs. Beach Break vs. Reef Break
Well, what is a surf break in the first place? A break is anything underwater that causes the swell to break and form a barrel you can ride before it ends foaming up onshore. Now, if you're a newbie surfing in California, any breaks with surfers doing their thing just look the same. But no. There's more to the story. Reading breaks is vital to avoid wipeouts and catch the best wave possible. Here are three types of breaks you'll typically encounter:
Point Break
Usually offering enough wave length for multiple surfers to surf without bumping into each other while maneuvering, a point break happens when a wave wraps around a "point." It can be a rock formation or a piece of land peeling the swell, and since they don't move, you don't have to worry about smashing into them in case of a wipeout. Point breaks are also easy to read and consistent, although they can be challenging to get into. 
Beach Break
Usually created by sandbars or jetties, beach breaks can be a good option for beginner and intermediate surfers. The sandy bottom provides a softer landing if you fall off the board. They also tend to offer more forgiving waves than reef breaks, which can be more powerful and hollow. However, beach breaks are less reliable than point breaks since the sandbanks constantly shift and can create unpredictable wave conditions. It makes beach breaks harder to read, and it'll be tricky to time and position your surf. 
Reef Break
A reef break in surfing is a wave formation that occurs when waves break over a coral reef or rocky outcropping near the ocean's surface. The wave's concentrated energy is amplified as it approaches the reef, causing it to break distinctively and powerfully. Surfers highly seek them because they can produce large, hollow waves that provide an exciting and challenging ride. 
However, reef breaks can also be dangerous during wipeout due to the shallow water and sharp rocks or coral. They are notorious for causing severe injuries, and you'll usually need to paddle way out into the open to catch them. 
What kind of waves are in Mexico?
Aside from surf breaks, surfable waves can also be classified based on how they're generated. Swell waves are from the energy of powerful winds transmitted to the water. In short, the more powerful winds are, the bigger the swells are. If local winds catch that swell while traveling to the shore and form chops, it becomes wind waves. Ship waves are obviously from vessels passing by and are typically small and short-lived. Backwash waves go back to the ocean after hitting the shores. 
Best places to surf in Mexico
Baja
Sure, SoCal offers some of the best swells in the world, but for that, it's also really crowded. The Baja has the same beasts but without all the noise. Right-handed reef breaks are in the north, while point breaks are in the central sitting between Punta Camalu and Punta Canoas. San Carlos, Cabo San Quintin, and Punta Baja have powerful WNW swells and solid gusts during winter.
If you want beach breaks, Natividad is the place. But you'll need to use an ATV to get there and ride the waves of Scorpion Bay and Punta Abreojos. Here you can enjoy long-peeling SW swells on the right. However, NW winds blow madly and can be tricky at times. The Gulf of California is for those who ride regular foot with southern winds that deliver solid swells. 
Best Baja Surf Breaks:
One of the most famous breaks in Mexico, clean A-frames are the mainstays here. And if you have the skills for it, you'll find killer waves "Killers" as high as 20 meters at Isla Todos Santos. The name alone is enough of a warning. But you need to rent a boat to get there since it's twelve miles from the coast of Ensenada. Beginners can stay at Playa Hermosa for more manageable swells. 
It has solid right-handers located in the town of Rosarito. The combination of NW winds and reef breaks provides giant swells from all directions. 
With the Pacific and Sea of Cortez swells, Los Cabos serves tricky surfs like right-handed Zippers. If you want to take it down a notch, intermediates can try the waves at Nine Palms and East Cape, while newbies are welcome at Monumentos and Shipwreck. 
Famous for its accessibility, Rosarito also has diverse beach breaks that surfers of all skill levels can enjoy. The north end offers forgiving rides for beginners, while the south accommodates the pros. You can also head to K-38 for fun W groundswells on the right. 
Todos Santos and its warm waters are home to one of the World's Surfing reserves, and it is an excellent alternative for crowd-free surfing. It's a place for the skilled with various breaks: point, reef, and beach breaks that can offer triple overheads in the best weather conditions. You can choose from three surf points: La Pastora has beastly swells, Play Pascadero is for solid A-frames, and Playa Los Cerritos is perfect for boogie boarding. 
Black sand beach with long-peeling rights, Playa San Miguel offers big W NW swells for a fun surf. It will need some paddling out, and you need to be careful since sea urchins are natives here. 
Best Surf Schools in Baja: 
Sinaloa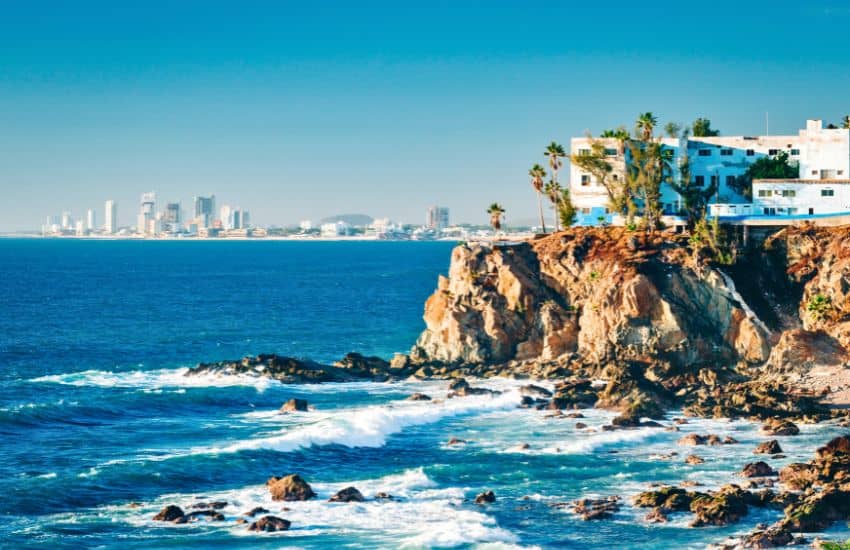 With S SW swells, Sinaloan and its various surf breaks have left and right-handers to offer. And since it's sitting at the mouth of the Sea of Cortez, there are reliable and rideable waves any day of the week, typically 1 or 3 feet high. Ideal for beginners still trying to get comfortable in the waters. But when the weather is just right, you can ride for 200 yards with ease. 
Best Sinaloa Surf Breaks:
SW Groundswells and E NE winds create the best swells in Patole during summers serving surfers with long-peeling world-class left-handed A-frames. Patoles and its reef break are only accessible if you join a surfing camp at Wavehunters (quite pricey). But since you're with a private surf camp company, everything is taken care of, and there's no crowding. 
The consistent SW groundswell works best with E NE offshore winds if you want to surf at Marmol. Point breaks at the left are rideable all year, especially around August. Just be mindful of the rocks when the surf's up so you don't injure yourself or break your board. 
The beach break at Dimas Rivermouth south of Patoles offers 2 to 6 feet SW swells on the left and right. 
Best Surf Schools in Sinaloa: 
Surf Lessons Mazatlan Bonga Escuela de Surf

Lexie Surf Academy
Oaxaca
Home to the world-renown Puerto Escondido, Oaxaca is a surfers' paradise. It serves consistent swells any day of any month. But come around between April and October and encounter closeouts and barrels as you've never seen before. You can ride the typical six-footers here, but double-overheads are also available. If you're still new to the sport, your best surfing in Mexico in this spot happens during winter. And although Puerto Escondido has made a name for itself, the other surfing spots in Oaxaca are still pretty raw, ideal for surfers who prefer true nature over overrated touristy alternatives. 
Best Oaxaca Surf Breaks:
Want to experience the brutal "Mexican Pipeline"? Puerto Escondido's Playa Zicatela offers solid swells as high as 30 feet on the left. Powerful beach break that delivers waves famous for breaking boards of those who dare, Puerto Escondido is not for the faint of heart. 
Roughly a hundred kilometers south of Puerto Escondido, Barra de la Cruz serves tubes from southern swells. Although the waves are not as monstrous as in Puerto Escondido, you will still need your skills to keep up with the right that can grow up to double overhead. 
Right-handed point break serving long-peeling waves and barrels, Salina Cruz and its SW swells is a surfing spot that welcomes riders of all skill levels. You can choose from a couple of surf points: Punta Conejo is famous for its long rides and scenic right, and Punta Chivo's consistent and fast-moving walls on the right can reach up to ten feet during the best seasons. 
La Bocana is a river mouth with sand-padded bottom located in Huatulco. If you want a fast and hollow wedge, you can catch them here on a good day riding up to 300 yards. It's also a popular spot for boogie boarding. And remember the mud bath after your surf! 
Want a sacred space where crowds don't reach? Chacahua is an hour away from PE and only accessible via boat. It's a point break, with waves reaching up to 7 feet with N NE winds and S SW groundswells. It's a surfing spot where anyone can ride the waves and have fun. 
A beginner-friendly goofy-foot left-handed point break. La Punta's mellow waves are usually a couple feet high, making it a good spot for longboarding. Be mindful of the rocks once you end your ride. 
Best Surf Schools in Oaxaca: 
Jalisco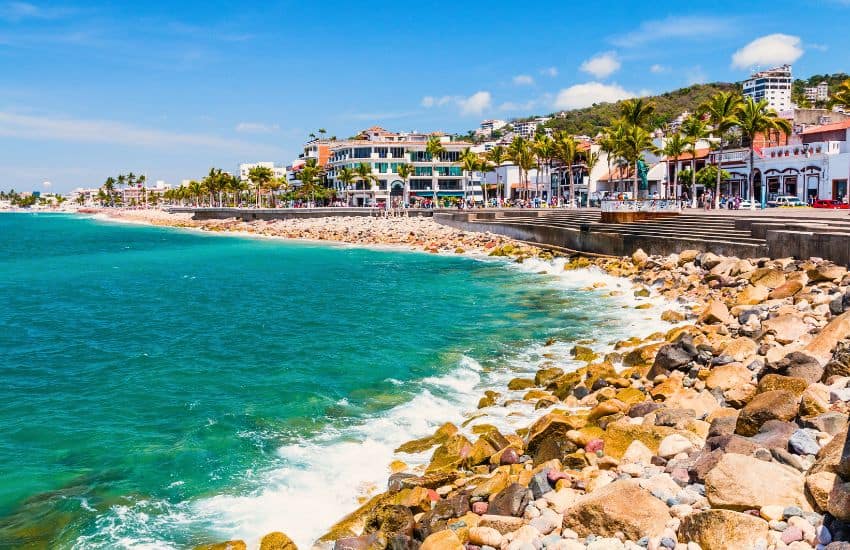 Some of the best surfing in Mexico hides in Jalisco. And with all types of breaks, the waves here welcome surfers of all skill levels. This spot is a secret spot for locals. If you visit between October and November, you can expect powerful S swells, paired with southern offshore winds picking up the waves. Jalisco offers surfing for anyone who wants to try out the magic of surfing in Mexico. 
Best Jalisco Surf Breaks:
Beach break spot with workable lefts and rights. Most powerful wells come from N, NW, and W and can hold up to 12 feet, rideable up to 160 yards on best days.  
One of the most fun summer spots, the challenge of Barra Navidad's combination of beach, reel, and river mouth break on the right makes it an ideal place for surfers who want to feel nature's power. SW groundswells are prominent with N NE offshore winds. There's rarely a crowd here. In the best weather conditions, you can try rideable waves for more than 160 yards and over six feet tall. 
The combination of W groundswells and NE offshore winds during November gives Chamela's river mouth break 44% rideability. It's also an excellent spot for longboarding and paddleboarding. 
Another popular surfing spot in Mexico, Puerto Vallarta's left and right-handed beach break, is packed with surfers during hurricane season. These solid N swells are not for newbies. You can try several take-off points from Sayulita, Punta Mita, Punta Burros, La Lancha, and Sand Pancho.
The reef/rock break on the right of Ranchito is ideal for beginners and pros alike. It's also crowd-free. Slow-peeling hollow waves from S swells are the usual, but getting here is a pain. 
Best Surf Schools in Jalisco: 
Nayarit
The surf community at Nayarit is one of the most welcoming in Mexico. Surf schools and rentals, longboards, shortboards, and paddleboards are popping up everywhere. In short, if you love being in the water and having fun, you'll love Nayarit. With over 100 miles of shore, it's home to diverse surf breaks, so it's an excellent place to experience the best surfing in Mexico. Here are some of the best spots in Nayarit. 
Best Nayarit Surf Breaks:
Hailed as the best in Banderas Bay, The Cove's reef break is best during high tides and not for the unskilled. You'll need to walk more than half an hour to reach it. Fast left-handed waves and long-peeling rights are the mainstays here. 
Offering consistent waves throughout the year, the right-handed reef break in El Anclote comes alive around April when SW groundswell meets N NW winds. Not monstrous, but surfers enjoy the slow and long rides.
Quality A-frames, walls, and slow peeling waves, Punta Mita might not have the massive swells, but the clean waves here compensate for it. Swells are visiting any season you surf from every direction. If you're staying in the area, prices here are higher than usual. 
The exposed reef break of Stoner's Point is best for the pros, producing consistent, high-quality waves during summers with the southern swells and NE offshore winds coming in. 
Right and left from roughly fifteen various surf breaks, Sayulita and its charming little town are not only known for its chill vibes but also for its surf culture. You can head to Sandbar for beach breaks that won't hurt or take it up a notch at Sayulita Right and its rivermouth break. Sayulita Left has its beauty with left-handed short and fast waves. 
Steep beach breaks from W SW groundswells are what to expect from San Pancho, just around fifteen minutes from Sayulita. Best for intermediate and pro surfers since closeouts can be nasty. 
Reef break with workable right and left. La Lancha offers steep challenges for intermediates. And if you're into longboards, this is the place. It's a pretty secluded beach, so if that speaks to you, you'll have fun with the mellow waves in the warm turquoise waters. 
Best Surf Schools in Nayarit: 
Colima
Want a beast wave to tame? Colima's Boca Pascuales is the one to take. Also, the state is a cradle to heavy beach breaks, beginner-friendly point breaks, and river mouths with swells from the Pacific throughout the year. Experience the best surfing in Mexico during the early mornings between April and October for the best beach break barrels you'll ever catch in Colima. Bonus, it's far off the crowd of other more popular alternatives. 
Best Colima Surf Breaks:
This surf spot can offer up to 25-foot waves during the best weather conditions. These fast and powerful swells are terrifying, even for the pros. If you play dumb, you or your board will break in one swoop. But if you're up for the challenge, A-frames on steroids and tubes with pristine waters are your priceless reward. 
Ever heard of "La Ola Verde"? Literally meaning The Green Wave, it is a unique surf you can catch at Cuyutlan during sunsets when the sun gives the waters a touch-up of green shade. Cuyutlan is a more accessible alternative to Boca Pascuales. But during hurricane season, even this place can surprise you with 20-footers. 
Best Surf Schools in Colima: 
Guerrero
You best bring your common sense if you want to try surfing in Guerrero (just like everywhere else)—some claim they won't dare step here for the waves due to apparent crimes. Investing hours of research before you make a decision is the best move. However, that doesn't take away the natural beauty of its coast. The mix of reef, point, and beach breaks in Guerrero's waters are workable any day of the year. Surf with E NE offshore winds and medium waves, or ride barrels to your heart's content. 
Best Guerrero Surf Breaks:
No touristy entertainment, just surfing, and surfing alone is the main attraction in Troncones. With warm waters and year-round swells from the Pacific and visiting hurricanes, there are plenty of rideable rights and lefts. Waves are typically between 2 to 6 feet high during summer, making it ideal for beginners and paddlers. At best, it's possible to see XXL here. 
A.k.a. El Capire, you can ride the left-handed point break from S SW swells that can grow up to double overheads. The Ranch is a crowd-free paradise for daredevils. With SW groundswells and NE offshore winds, surf's up in November when you can enjoy long rides with 61% clean, consistent waves.
Surf the best mellow left-handed point breaks in the country. La Saladita is also now starting to boom for longboarders. Summertime brings SW groundswells for solid rides during low tides, while winter invites beginners for consistent small NW swells. 
A left-handed river mouth break, Playa Linda's slow-peeling W swells are great for beginners. If you enjoy fast, snappy, and powerful surfing, it might not be for you. 
Very accessible since it's neighbors with an international airport, Zihuatanejo was once crime-infested and reclaimed itself and is now one of the best alternatives in southern Mexico. You can cruise up to a hundred meters, enjoy the chill vibes, and ride mellow groundswells between April and November. 
Best Surf Schools in Guerrero: 
Best places to surf in Mexico for kids
Here's a quick look where the best surfing in Mexico happens for kids:
La Punta

Sayulita

Troncones

Conejo

The Ranch

Playa Linda

La Saladita

Ranchito

Rosarito

Cuyutlan
As the sun dips below the horizon, casting hues of gold and orange across the vast Pacific Ocean, the allure of Mexican shores remains irresistible to surfers from around the world. The best surfing in Mexico is a symphony of crashing waves, untamed beauty, and a culture deeply intertwined with the sea. From the legendary breaks of Puerto Escondido to the hidden gems along the Baja Peninsula, this country offers a tapestry of surf experiences that leaves an indelible mark on every wave rider's heart.
So, wax up your board, feel the ocean's pulse beneath your feet, and surrender to the raw power of the Mexican surf. Allow the salty breeze to kiss your face as you embrace the thrill of riding nature's liquid playground. Let Mexico's waves wash away your worries, ignite your passion, and leave you with memories that will echo in your soul, beckoning you back for more. So, if you're looking for an epic surfing adventure, put the best surfing in Mexico on your list and get ready to catch some waves like never before.
____________________________________________________________
Going Surfing?
Read our Surf Guides
Surfing in Aruba
Surfing in Guam
Surfing in California
Surfing in Tulum
Surfing in Belize
Surfing in Ventura
Surfing in Florida
7 Best Surf Towns in Costa Rica
Surfing Ecuador: 9 Best Places
____________________________________________________________
FAQs
Can you go surfing in Mexico?
Of course! 
And if you miss the best surfing in Mexico during your visit, you'll have cold-sweat nightmares at night. The world-renowned spots and even the secret spots in the country offer some of the best rides you'll have as a surfer. From beginner-friendly to daredevil's dream and everything in between, Mexico has everything!
Learn more in our guide – Surfing in Mexico
What are the best places to surf in Mexico?
It will depend on which part of the country you are in. Each has its roster of spots where you can experience the best surfing in Mexico. Click on each place and find out more about the surfing spots for that area:
Baja

Sinaloa

Oaxaca

Jalisco

Nayarit

Colima

Guerrero
Learn more in our guide – Surfing in Mexico