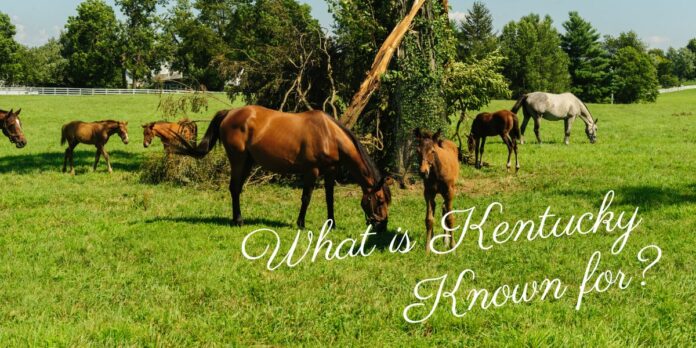 What Is Kentucky Known For?
While Kentucky is widely recognized for the Kentucky Derby and its signature bourbon industry, it does have other unique attractions that often go overlooked. 
Kentucky's underrated appeal lies in its eclectic blend of natural beauty, cultural heritage, and warm hospitality, making it a hidden gem waiting to be explored by those seeking a unique and multifaceted experience. It might not stand out initially as a state one would want to visit, but there are certain elements unique to it that have left me wanting to visit it religiously over the years. 
Read on and find out what makes this underrated state worth visiting!
Kentucky In a Nutshell
Kentucky is renowned for its rich cultural heritage, scenic landscapes, and distinctive culinary traditions.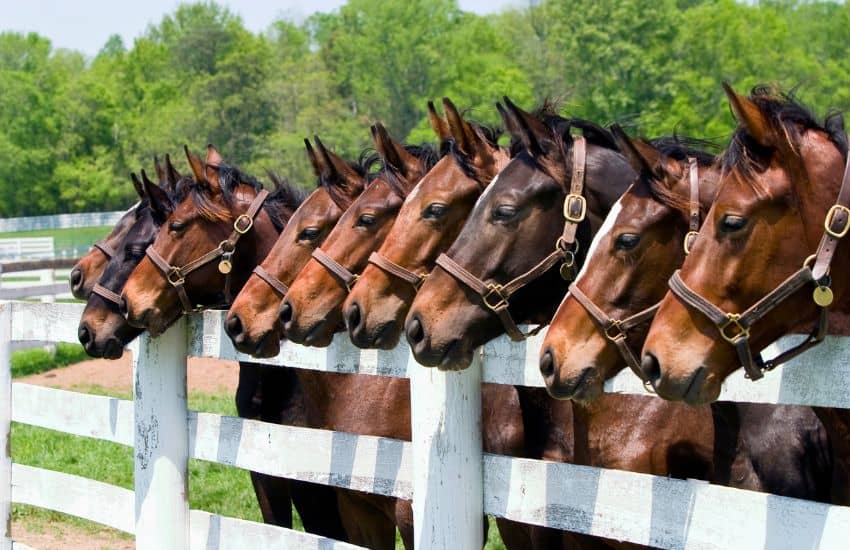 Bluegrass State
Kentucky earned its nickname, the "Bluegrass State," due to the lush, bluegrass pastures that are prevalent throughout the region. Kentucky bluegrass, which was introduced by European settlers, has bluish-green blades, giving the Kentucky landscape a distinctive blue tint, especially when seen from a distance. These fertile bluegrass pastures are not only visually appealing but also provide excellent grazing for horses and livestock, contributing to the state's strong agricultural heritage.
Beyond its natural beauty, Kentucky is also deeply associated with bluegrass music, a genre rooted in the Appalachian region and characterized by its acoustic sound, intricate melodies, and harmonious vocals. The genre gained prominence in the mid-20th century, with influential musicians like Bill Monroe, often referred to as the "Father of Bluegrass Music." 
Bourbon Country
Often hailed as America's native spirit, Kentucky bourbon holds a special place in the state's cultural and economic heritage. Bourbon is a type of whiskey that is primarily made from corn and aged in charred oak barrels, giving it its distinct flavor profile. The production of bourbon in Kentucky dates back to the late 18th century, and the state has since become synonymous with high-quality, authentic bourbon production.
Obviously, bourbon can be made anywhere in the country, but what sets Kentucky bourbon apart is its adherence to specific production standards and the unique natural factors present in Kentucky (abundance of limestone water and climate) that add depth and complexity to the spirit.
Kentucky Derby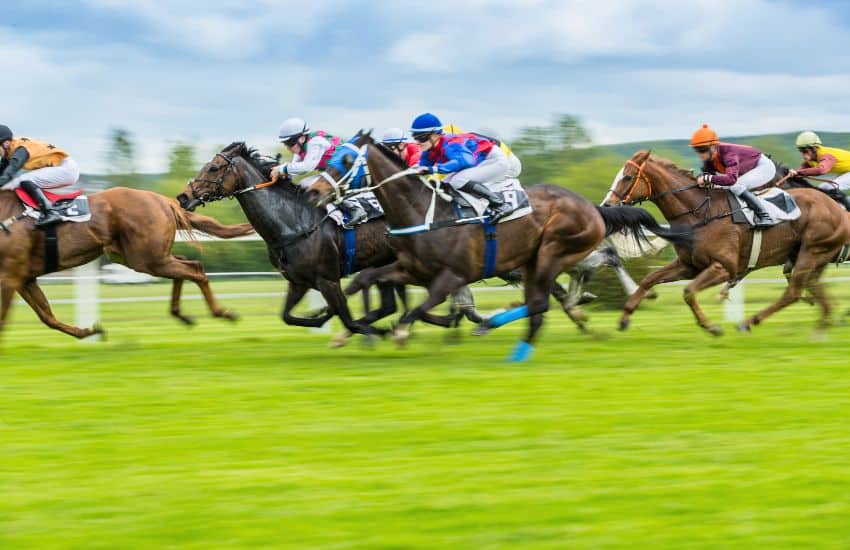 The Kentucky Derby, often dubbed "The Most Exciting Two Minutes in Sports," is a renowned horse race that takes place annually in Louisville, Kentucky, on the first Saturday in May. It is the first leg of the American Triple Crown of Thoroughbred Racing, followed by the Preakness Stakes and the Belmont Stakes. 
One of the oldest continuous sporting events in the United States, the Kentucky Derby holds immense cultural, historical, and economic significance not just in the state of Kentucky, but in the wider United States.
Fried Chicken (yes, not just the Colonel's)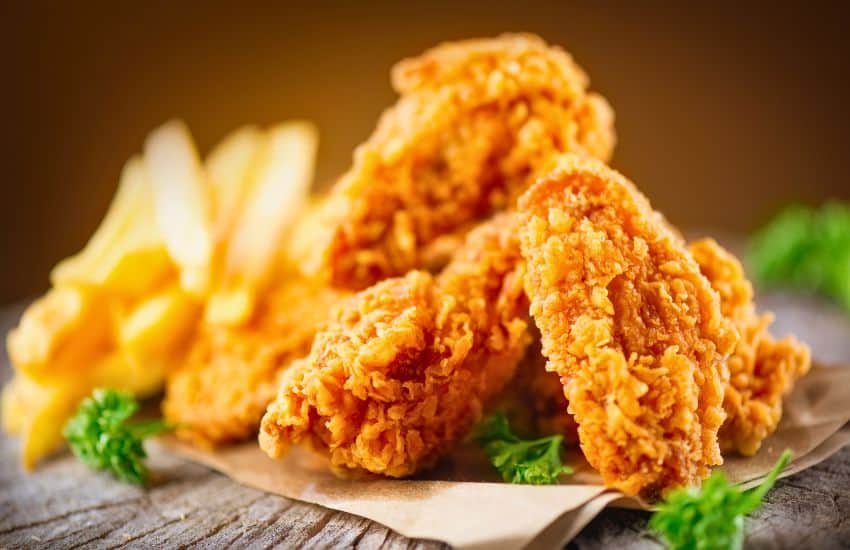 KFC is one of the most well-known and beloved fast food chains in the world, but way before the Colonel's chicken dominated the world, fried chicken was already a deeply ingrained part of the state's culinary culture. Kentuckians take pride in their unique recipes and preparation methods, often incorporating a variety of seasonings and spices to create flavorful and crispy fried chicken.
Rich Moonshining Heritage
There are two sides to Kentucky's distilling industry, and while the state is more known for its bourbon production, the state also has a long history of moonshining. With its rural landscape and abundant natural resources, Kentucky became an ideal location for moonshiners to operate discreetly, often in remote areas hidden from law enforcement. Moonshining wasn't just a way to circumvent the Volstead act, however, for some Kentuckians, it was a way of life.
While Prohibition ended in 1933, moonshining did not disappear from Kentucky. Even in modern times, there are individuals who continue the tradition, albeit on a smaller scale. Some enthusiasts are drawn to the artistry and craft of distillation, experimenting with small-batch moonshine production for personal use or within the confines of legal distilleries.
Crazy for College Basketball
Whether this is because or in spite of the fact that the state has no NBA team, Kentucky is a huge college basketball state. College basketball holds a special place in the hearts of many residents of Kentucky, and the state has a rich basketball tradition that dates back decades. Combined, the University of Kentucky and the University of Louisville have won a whopping 10 NCAA championships (with Kentucky winning 8). 
You might also like
What is Washington State known for?
Natural Attractions Kentucky Is Known For
Kentucky is adorned with lush forests, expansive cave systems, and an abundance of waterways, creating a haven for outdoor enthusiasts and nature lovers alike.
Mammoth Cave
With over 400 miles of surveyed passageways, and encompassing Edmonson, Barren, and Hart counties in Kentucky, Mammoth Cave National Park is the longest known cave system in the world. This UNESCO World Heritage Site is a geological marvel featuring intricate formations like stalactites and stalagmites, while also harboring a unique underground ecosystem.
Apart from its natural splendor, Mammoth Cave boasts a rich history, having served Native American tribes and having played a crucial role in 19th-century industry. Guided tours offer diverse experiences, from delving into the cave's depths to admiring formations like the Frozen Niagara. Interestingly, while there have been mammoth fossils found in parts of Kentucky, none have been found in Mammoth Cave to date, and the cave system is simply named Mammoth because of its sheer size.
Grayson Lake State Park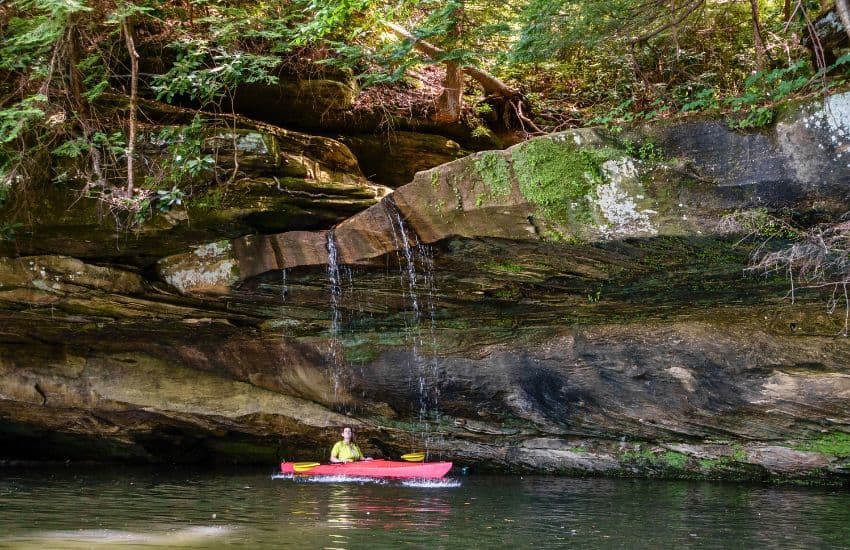 Located in Carter and Elliot counties, the scenic Grayson Lake State Park spans a total of 1,512 acres. The park offers a wealth of opportunities for outdoor enthusiasts, including hiking trails that wind through picturesque woodlands, inviting camping sites, and serene fishing spots. Centred around the expansive Grayson Lake, guests can also go boating, kayaking and swimming here. The park's unique blend of recreational offerings, combined with its scenic charm, makes Grayson Lake State Park a special destination for those seeking both adventure and tranquility in the heart of Kentucky.
Daniel Boone National Forest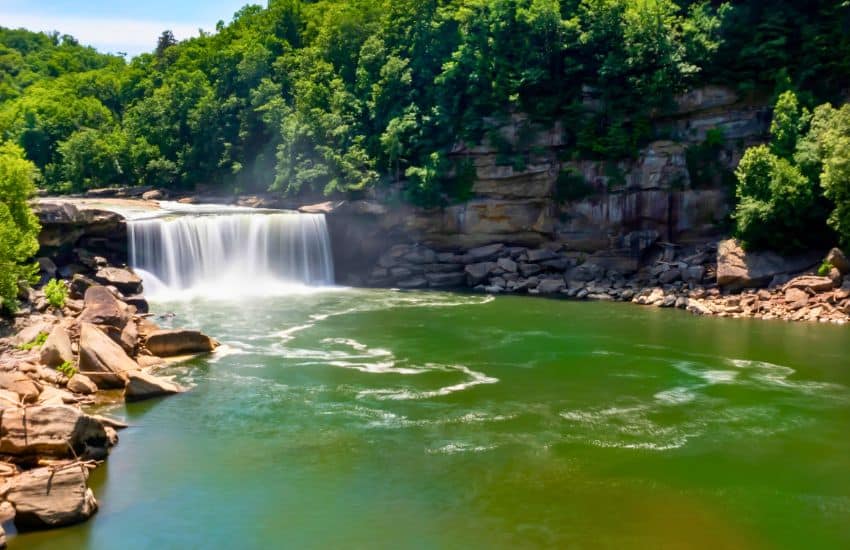 Spanning over 700,000 acres and spread across 21 counties in eastern Kentucky, Daniel Boone National Forest is a vast and enchanting expanse of natural beauty that encapsulates the spirit of the Bluegrass State. 
Named after the legendary frontiersman Daniel Boone, this forest is a haven for outdoor enthusiasts, offering a diverse range of ecosystems, including rugged mountains, lush valleys, and meandering streams. With over 600 miles of trails, hikers and backpackers can explore the forest's varied landscapes, while camping sites provide opportunities to immerse oneself in the tranquility of nature. Moreover, this national forest is abundant with wildlife, including deer, black bears, and a myriad of bird species, making it a natural refuge for those seeking adventure, serenity, and a genuine connection with the untamed beauty of Kentucky's wilderness.
Creelsboro Natural Bridge
The Creelsboro Natural Bridge, or the Rockhouse, is a National Natural Landmark located in Kentucky's southwestern Russell County. First discovered in 1770, this natural bridge is over 60 feet high and spans 104 feet; it is the seventh largest natural bridge in the country. 
This natural landmark is over 300 million years old, and while it's on private property, it is accessible (albeit not very easily) to tourists at no charge.
Saunders Springs Nature Preserve
Noted for its tranquility and biodiversity, this scenic gem is located in Radcliff, Kentucky. Spanning 26 lush, heavily wooded acres, Saunders Springs Nature Preserve is situated at the edge of the Karst Plateau, and features a diverse range of ecosystems, including woodlands, wetlands, and a vibrant spring-fed lake.
The preserve boasts more than two miles of trails, and features four vintage cabins, two pavilions with picnic tables and BBQ grills, and a scout camping area. 
Cumberland Gap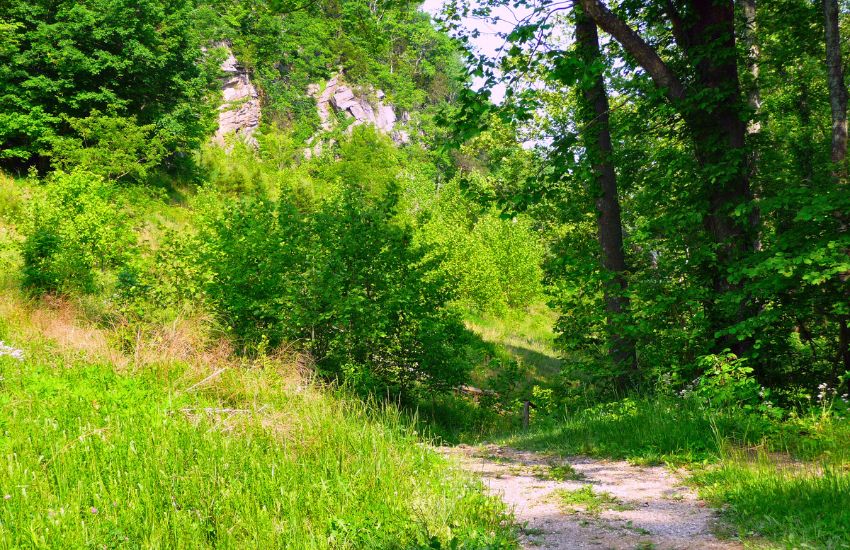 The Cumberland Gap, a historic and geographically significant passageway, holds a prominent place in the annals of American history and stands as a natural wonder in the Appalachian region, traversing the borders of Kentucky, Virginia, and Tennessee. This iconic gap in the Cumberland Mountains served as a vital gateway for early pioneers, Native American tribes, and wildlife, playing a crucial role in the westward expansion of the United States.
The Cumberland Gap is part of the Cumberland Gap National Historical Park, which covers over 24,000 acres–one of the largest national parks in the eastern United States. The park encompasses various ecosystems, including dense forests, meadows, and rocky outcrops. Visitors can explore numerous hiking trails that showcase the region's flora and fauna, providing a glimpse into the unspoiled landscapes that captivated early explorers.
You might also like
What is Wisconsin known for?
What is New Orleans known for?
Top Historical Sites and Attractions in Kentucky
Kentucky boasts a vibrant and multifaceted history that has left an indelible mark on the cultural tapestry of the nation. From the pioneers who carved paths through the Cumberland Gap to the rich traditions of bluegrass music and horse racing, Kentucky's history is a captivating narrative of resilience, innovation, and cultural heritage.
Churchill Downs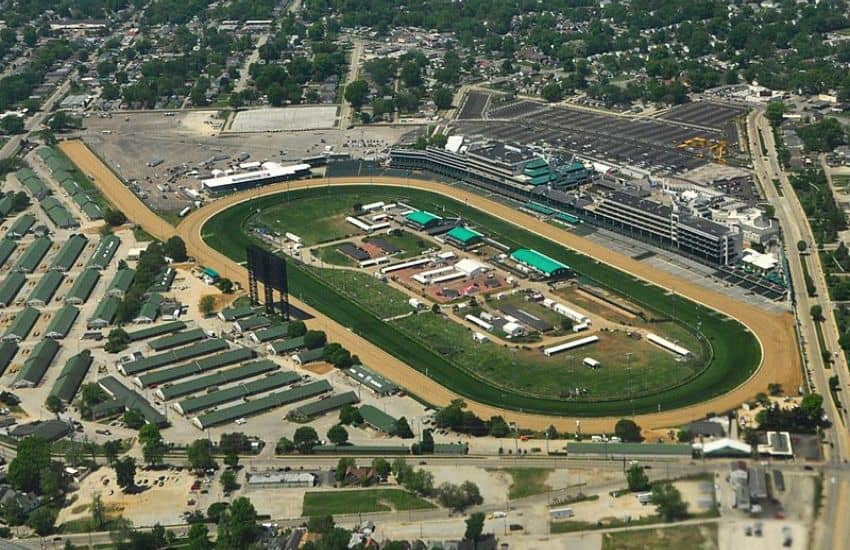 Located in Louisville, Churchill Downs is a historic racetrack that stands as the hallowed ground of thoroughbred horse racing in the United States. Established in 1875 by Colonel Meriwether Lewis Clark Jr., the grandson of explorer William Clark of the Lewis and Clark Expedition, Churchill Downs has become synonymous with the most prestigious event in American horse racing—the Kentucky Derby.
Covering a total of 147 acres, the architecture of Churchill Downs reflects its storied past. The Twin Spires, an iconic feature of the racetrack, were built in 1895 and have since become a symbol of the Kentucky Derby and a recognizable emblem in the world of horse racing. The grandstands and paddock area exude a timeless charm, preserving the historic atmosphere that has witnessed the triumphs and heartbreaks of countless racehorses and jockeys. Beyond the Kentucky Derby, Churchill Downs hosts a thoroughbred racing season each year, attracting horse racing enthusiasts from across the country. 
Kentucky Old State Capitol Building
The Kentucky Old State Capitol in Frankfort is a Greek Revival masterpiece, designed by Gideon Shryock and completed in 1830. Serving as the state capitol until 1910, this architectural gem witnessed pivotal moments in Kentucky's history. 
Its imposing façade, adorned with Corinthian columns and detailed plasterwork, as well as its ornate interiors, reflect the sophistication of the era. Now a museum listed on the National Register of Historic Places, the Old State Capitol preserves and showcases artifacts, documents, and the very rooms where Kentucky's political trajectory unfolded, providing a captivating window into the state's rich heritage.
Louisville Slugger Museum & Factory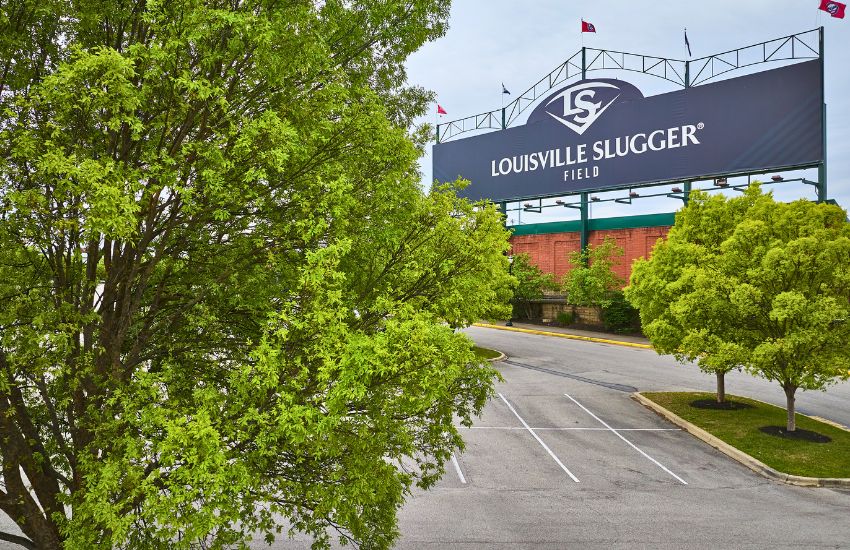 The Louisville Slugger Museum & Factory in Louisville, Kentucky, is a hallowed destination for baseball enthusiasts and a celebration of America's favorite pastime. Founded in 1996, this iconic museum is closely tied to the history of the Louisville Slugger baseball bat, a legendary and widely-used piece of sporting equipment. The museum offers an immersive experience, allowing visitors to witness the bat-making process firsthand and explore the fascinating story behind the iconic Louisville Slugger brand.
Among the museum's highlights is the Bat Vault, a vast collection of baseball bats used by legendary players throughout history. Here, visitors can marvel at bats wielded by greats such as Babe Ruth and Hank Aaron. The museum also features interactive exhibits, including the opportunity for visitors to hold game-used bats and experience the thrill of a simulated home run. The museum's commitment to engaging displays and educational experiences has made it a beloved destination for families, baseball fans, and anyone intrigued by the intersection of sports and craftsmanship.
Mary Todd Lincoln House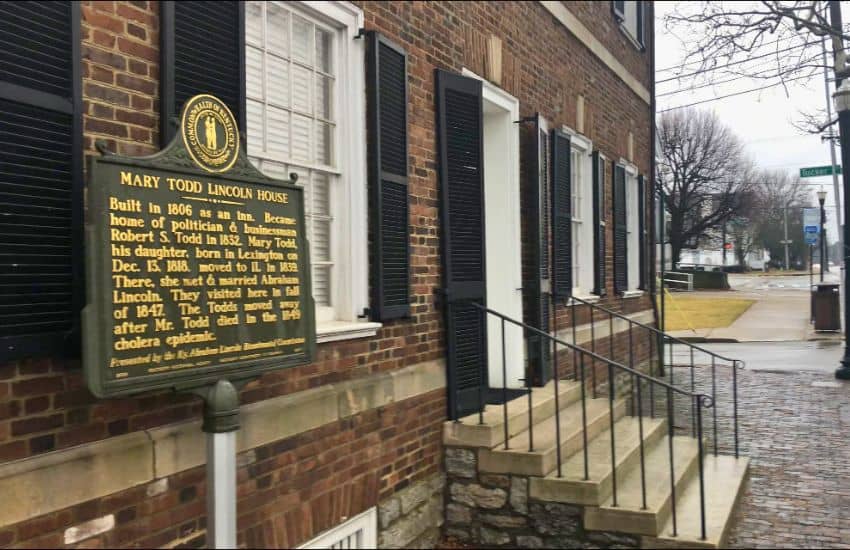 The Mary Todd Lincoln House, located in Lexington, Kentucky, holds profound historical significance as the childhood home of Mary Todd Lincoln, the wife of the 16th President of the United States, Abraham Lincoln. Constructed in the early 19th century, the house stands as an exemplary showcase of Federal-style architecture, characterized by its symmetrical facade, delicate ornamentation, and classic proportions.
Preserved and operated as a museum, the Mary Todd Lincoln House showcases period-appropriate furnishings and artifacts, offering an authentic experience of the Todd family's lifestyle and the cultural milieu of the early 19th century. Guided tours provide insight into Mary Todd Lincoln's upbringing, her later life in the White House, and the broader historical context in which she lived.
Conrad's Castle
The Conrad-Caldwell House Museum (otherwise known as Conrad's Castle) in Old Louisville, Kentucky, is a Richardsonian Romanesque mansion constructed in 1895 for Theophile Conrad, a prominent businessman. Designed by architect Arthur Loomis, the mansion's opulent architecture showcases Gilded Age extravagance with its grand turret, intricate detailing, and lavish interiors. Saved from potential demolition in 1987, the house now serves as a museum, offering guided tours that provide insights into its historical significance and the lives of its former residents. As a cultural hub, the Conrad-Caldwell House Museum stands as a testament to the architectural and social history of late 19th-century Louisville, inviting visitors to explore the opulence and stories encapsulated within its walls.
Kentucky Bourbon Trail
The Kentucky Bourbon Trail is a captivating journey through the heart of the Bluegrass State, encompassing a collection of iconic bourbon distilleries that showcase a spectrum of architectural styles. From rustic barrel houses to modern facilities with traditional elements, each distillery contributes to the visual tapestry of the trail. Beyond aesthetics, the trail holds profound historical significance, tracing bourbon production back to the late 18th century and narrating the industry's resilience during Prohibition and its global resurgence. The trail is a sensory exploration of craftsmanship, traditions, and stories that define Kentucky's bourbon culture, offering enthusiasts a rich and varied experience within the world of America's native spirit.
Learn all about the Kentucky Bourbon Trail here.
Famous People from Kentucky
Kentucky's legacy is shaped by trailblazers, artists, and athletes, each contributing to the diverse fabric of American history.
Abraham Lincoln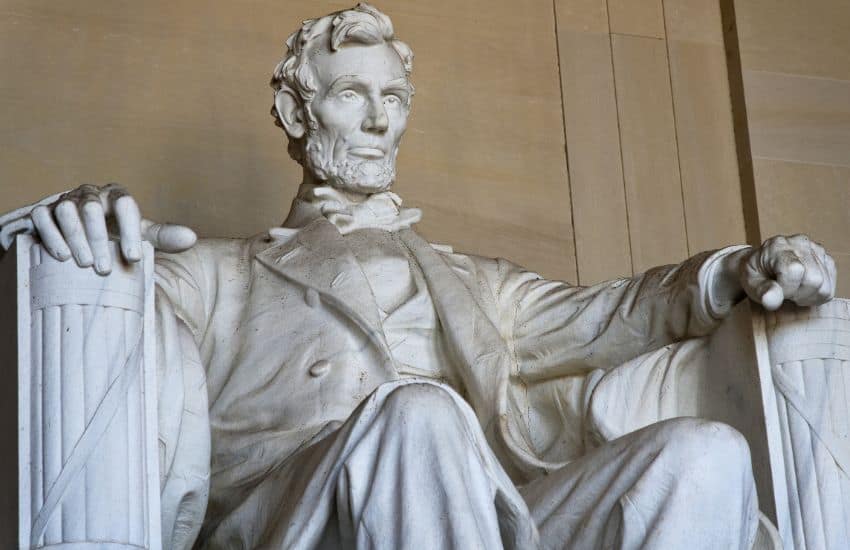 We can't make a list of famous people from Kentucky without including Old Abe. The 16th President of the United States spent his formative years in Kentucky. Born in a log cabin near Hodgenville in 1809, Lincoln's early childhood was deeply rooted in the rugged landscapes of the Bluegrass State. Although his family later moved to Indiana, Lincoln's years in Kentucky left an indelible impact on his character and worldview. The state is proud to be the birthplace of this towering figure, and the Abraham Lincoln Birthplace National Historical Park in Hodgenville preserves the symbolic cabin where he was born.
Kentucky, despite being a slave state, saw the emergence of Lincoln as a champion for equality and justice. His legacy resonates not only as a national leader but also as a product of the frontier spirit and values embodied by the people of Kentucky, underscoring the state's enduring imprint on the course of American history.
Jefferson Davis
Jefferson Davis, the first and only President of the Confederate States of America, was born in Fairview, Kentucky in 1808. Like Lincoln, Davis spent his early years in Kentucky, and just like Lincoln, his family later moved elsewhere (in Davis' case, to Mississippi). Unlike Lincoln, however, Davis sided with the Confederacy during the war, leading the Southern states through a tumultuous period in American history. The Kentucky State Capitol in Frankfort includes a statue of Jefferson Davis, recognizing his birth in the state. The historical significance of Davis in Kentucky is a reflection of the diverse perspectives and allegiances that shaped the region during one of the most tumultuous chapters in American history.
D.W. Griffith
D.W. Griffith, born David Wark Griffith in La Grange, Kentucky, in 1875, holds historical significance as a pioneering filmmaker whose contributions shaped the early years of cinema. Griffith is renowned for his groundbreaking work in the silent film era, particularly for directing "The Birth of a Nation" (1915), a film often celebrated for its technical innovations but criticized for its controversial portrayal of race.
While Griffith's association with Kentucky may not be as prominently featured in his legacy as his cinematic achievements, his birthplace in the state is acknowledged. La Grange commemorates Griffith with a historical marker, recognizing him as a native son who played a pivotal role in the evolution of filmmaking.
Muhammad Ali
The great state of Kentucky also holds the distinction of being the birthplace of the Muhammad Ali, one of the most iconic and revered figures in both the world of sports and global culture. His significance to the state of Kentucky is profound and multifaceted. Rising from the vibrant streets of Louisville, Ali not only became a three-time world heavyweight boxing champion but also emerged as a symbol of resilience, courage, and social justice.
Ali's journey from a young boxer in Louisville to a global sports icon began in the local boxing gyms of his hometown. His charisma, unmatched skill in the ring, and unapologetic personality captivated the world. That said, his contributions went beyond the sport, as Ali became a powerful voice for civil rights, religious freedom, and anti-war activism during a turbulent period in American history.
Thomas H. Morgan
Thomas Hunt Morgan, born in Lexington, Kentucky, in 1866, was a distinguished American biologist whose groundbreaking contributions to the field of genetics earned him the Nobel Prize in Physiology or Medicine in 1933. Morgan's pioneering work focused on the fruit fly Drosophila melanogaster, and he is credited with establishing the chromosome theory of heredity.
Morgan's experiments with fruit flies provided crucial insights into the mechanisms of inheritance and the role of chromosomes in transmitting genetic traits. His work demonstrated the linkage of specific traits to particular chromosomes, fundamentally shaping the understanding of genetics and laying the groundwork for modern molecular biology.
Johnny Depp
Born in Owensboro, Kentucky, in 1963, Johnny Depp is a versatile actor and cultural icon. While Depp's career and significance span far beyond his birthplace, his Kentucky roots remain a point of pride for the state. Depp's journey from a small town in Kentucky to Hollywood stardom exemplifies the potential for greatness that can emerge from any corner of the country.
Depp's eclectic and acclaimed performances in films ranging from "Edward Scissorhands" to "Pirates of the Caribbean" have solidified his status as one of the most talented actors of his generation. Beyond his cinematic achievements, Depp's persona, characterized by a unique blend of charisma and enigma, has captivated audiences worldwide.
Intriguing Kentuckian Facts, Mysteries and Urban Legends
Kentucky, with its picturesque landscapes and storied history, is also home to a number of strange tales, urban legends, and unexplainable events.
The Kentucky Meat Shower
The Kentucky Meat Shower remains one of the most peculiar and mysterious events in the annals of unexplained phenomena. This bizarre incident occurred on March 3, 1876, near the town of Olympia Springs. According to reports, a shower of meat fell from the sky, covering an area of several acres. Witnesses described the meat as irregularly shaped, ranging from small, marble-sized bits to larger chunks. The meat also apparently appeared to be "perfectly fresh."
Intriguingly, the origin of the meat has never been definitively determined. Various hypotheses have been proposed, including the possibility that the meat was disgorged by a passing flock of vultures or tornadic activity lifting animal carcasses into the atmosphere. Another theory suggested that the meat was of extraterrestrial origin, although scientific analysis has dismissed this notion.
Cocaine Bear
The infamous "Cocaine Bear" story is a peculiar and captivating (and rather tragic) episode in Kentucky's history, adding an unexpected twist to the state's lore. In 1985, a black bear in the Chattahoochee National Forest of Georgia stumbled upon a stash of cocaine dropped from an airplane. The bear, unwittingly becoming a participant in the illicit drug trade, ingested a large quantity of the substance.
Subsequently, the bear's life took a tragic turn as it succumbed to the effects of the ingested drugs. Its lifeless body was discovered in eastern Kentucky, near the town of Manchester. The tale of the "Cocaine Bear" became an urban legend, highlighting the intersection of wildlife and the consequences of the drug trade.
The Legend of Octavia Hatcher
The legend of Octavia Hatcher in Kentucky is a haunting tale that has lingered in the historical narrative of the Bluegrass State. Octavia Hatcher was the wife of a prominent businessman in Pikeville, Kentucky, during the late 19th century. Tragically, Octavia fell into a deep depression after the death of her newborn son.
In the midst of her grief, Octavia herself fell fatally ill and, in 1891, she passed away. The circumstances surrounding her death, however, would become the stuff of local legend. Rumors began to circulate that Octavia had not succumbed to illness but had been buried alive. Supposedly, her husband, in his haste to inter her quickly (as embalming at the time was not common practice, and it was a particularly hot spring), had overlooked signs of life.
To dispel the growing rumors, Octavia's husband ordered Octavia's exhumation. Shockingly, upon opening the casket, signs of a struggle were allegedly found. Scratches were said to have been found in the interior of the coffin, and Octavia's face was contorted in terror, suggesting she had indeed been buried alive. The tale of Octavia Hatcher fueled fears and ghost stories, perpetuating the idea of her restless spirit seeking justice for her premature burial.
Little Green Men in Hopkinsville
In 1955, two families, the Suttons and the Taylors, claimed to have encountered extraterrestrial beings at a farmhouse just outside of Hopkinsville. The incident occurred on the night of August 21, when the families reported seeing strange lights in the sky.
According to their accounts, small, silver beings (it appears the beings being green was a detail added in later articles) with large heads and glowing eyes emerged from the woods and surrounded the farmhouse. The families, frightened and desperate, engaged in an hours-long shootout with these purported extraterrestrial entities.
Local law enforcement investigated the scene but found no evidence of the claimed encounter. Despite the lack of physical proof, the story of the Little Green Men became a national sensation, captivating the public's imagination and sparking discussions about UFOs and alien life. The incident has become a hallmark in UFO lore, contributing to the broader mythology surrounding unidentified flying objects and extraterrestrial visitations.
Daniel Boone's Bigfoot Encounter
While there's no official account of Daniel Boone ever encountering "Bigfoot," it is said that he once told the son of a tavern keeper a story about killing a ten-foot, hairy giant. He called the creature a "Yahoo." While many have argued that this was a tall tale Daniel Boone told to entertain himself, many cryptozoolgists have theorized that the legendary frontiersman had encountered Bigfoot in one of his adventures.
La Grange's Bird Problem
If you've ever subscribed to the idea that 2012 was the end of the world, you would have been in for a treat if you lived in La Grange around that time. Apparently, during the early months of 2012, thousands of black birds swarmed the skies of La Grange. While some of the residents used a noise cannon in an attempt to scare the birds away, the birds just kept coming back. Of course, the problem eventually just went away, but the incident has remained a head-scratcher even among experts.
What Food Is Kentucky Known For?
Kentucky boasts a distinctive and flavorful food culture that reflects its rich history, agricultural abundance, and cultural diversity.
Fried Chicken
Kentucky's love affair with fried chicken is evident in its many diners, restaurants, and family gatherings. Crispy on the outside and juicy on the inside, Kentucky fried chicken often carries a unique blend of herbs and spices, creating a flavor profile that distinguishes it from other Southern variations.
Hot Brown
The Hot Brown, originating from Louisville's historic Brown Hotel, is a quintessential Kentucky dish. This open-faced sandwich features layers of turkey, bacon, and tomatoes, all smothered in a rich Mornay sauce and baked until golden brown. It's a comforting and indulgent creation that has become a local favorite.
Burgoo
Burgoo is a hearty stew deeply rooted in Kentucky's culinary history. Traditionally made with a mix of meats, including game such as rabbit and venison, along with vegetables and spices, burgoo is a communal dish often associated with social gatherings, particularly the annual Kentucky Derby.
Beer Cheese
Beer cheese is a savory spread made from sharp cheddar cheese, beer, garlic, and various seasonings. The specific ingredients and proportions can vary, allowing for a range of flavor profiles. Common additions include Worcestershire sauce, hot sauce, mustard, and spices, creating a zesty and robust concoction.
Derby Pie
A staple at Derby Day celebrations, Derby Pie is a sweet and indulgent dessert that typically features a mix of chocolate, nuts (often pecans), and a bourbon-infused filling. Served with a dollop of whipped cream, Derby Pie is a delectable way to cap off the festivities.
Benedictine Spread
Benedictine spread, or simply, Benedictine, is a spread made with cucumber and cream cheese, seasoned with onion juice and various seasonings. It's often used in tea sandwiches and is a popular choice in Kentucky.
What Is Paducah Kentucky Known For?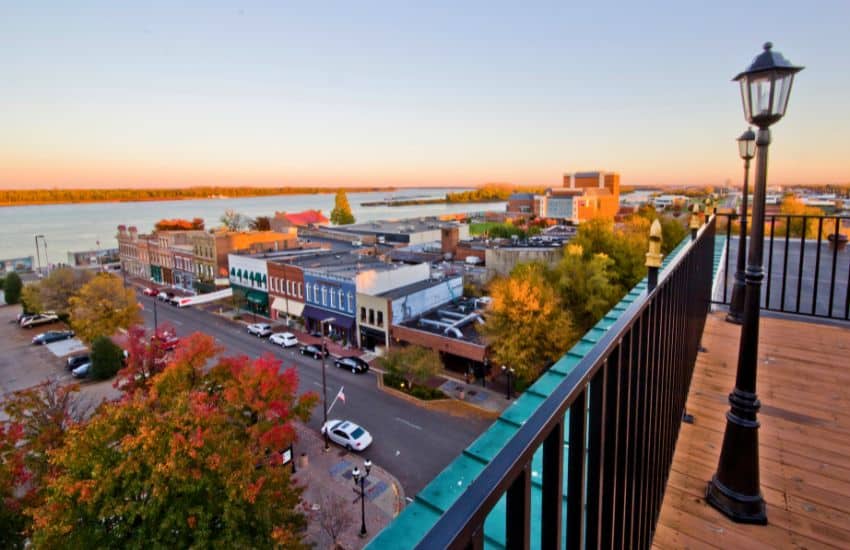 Paducah is a quaint little town (even for Kentuckian standards) known for its annual quilt show. While it is slowly becoming a thriving food and arts hub, the same can be said for the rest of the Bluegrass State.
What Is Lexington Kentucky Known For?
While Lexington is mainly known for being the "Horse Capital of the World," as most of the Kentucky Derby winners born in Kentucky were foaled at one of the farms surrounding Lexington, it is also known for its arts and culinary scene. 
What Is Louisville Kentucky Known For?
Louisville is generally known for being the birthplace of Muhammad Ali, and the home of the Kentucky Derby and the Louisville Slugger. The city is also known for its diverse culinary scene, and incredible arts and music scene.
You might also like
What is Amsterdam known for?
What is Ohio known for?
What is Colorado known for?
Beyond the famed Kentucky Derby and distillery tours, Kentucky boasts rolling landscapes, historic landmarks, and a welcoming spirit. Whether exploring the scenic beauty of the Appalachian Mountains, immersing in the vibrant cultural scenes of cities like Louisville, or savoring the flavors of its distinguished bourbons, Kentucky offers a diverse and compelling experience that makes it a destination well worth discovering.
FAQs
1. What is Kentucky known for?
Kentucky is usually summed up to three things: bourbon, horse racing, and basketball. That said, the state is full of hidden gems, and each of its cities is unique.
2. What food is Kentucky known for?
Kentucky is mostly known for its Burgoo, Hot Brown, and Kentucky Fried Chicken.