Even if your trip begins in an airplane, you still need your Road Trip Planner to hold your car and hotel reservation information as well as having a handy place for listing restaurants, things to do, and places to explore once you land at your vacation destination.
International Travel
If you plan on traveling with your baby to an international destination, you will need to get passports and visas for you and your baby, including neighboring Canada or Mexico.  In some cases getting passports and visas for you and your baby can take quite a long time.  In Canada, for example, getting a birth certificate often takes 8 months!  Add to that the process of getting a passport, and your baby will be a toddler by the time you get all your paperwork ready! If you need to travel abroad with your baby, research your destination in advance and find out what documents you will be required to have. Also important, it be difficult sometimes to get your baby posing for the camera. Here are a few ideas on how to take the perfect baby passport photo at home.
Domestic Travel
For domestic travel with a baby, there are plenty of wonderful locations in the United States where you and your family can have a great vacation. If all-inclusive family resorts are not your thing, consider condo rentals in coastal communities somewhere in Florida or California. If Florida or California is too expensive, oceanfront condos along the Northern length of the Oregon coast, including the towns of Astoria, Cannon Beach, Oceanside, Lincoln City, Depoe Bay can all offer a beautiful compromise.  Although pricey, condo rentals are still more affordable than hotels. Condo rentals are also more convenient for family travelers with babies, as bathroom and laundry facilities, as well as food preparation, can be done the same way you have been doing them at home.
Tickets
If you are planning to travel with your baby by air, check with your airline for their regulations regarding infant airfare. Delta sells seats to children under 2 for 10% of the full fare. If you carry your child on domestic flights, there usually is no charge. For all International flights, there is a charge regardless of whether or not you carry your infant or buy them a seat.
Baby Car Seats
Bring your baby car seat with you, but check to see if it is safe for air travel.  Note that cabs don't carry baby car seats, so if you bring your own car seat, it will be handy both on land and in the air.  Bring your car seat even if you are not planning on buying an extra seat for your baby. In a lot of cases, there will be spare seats, so don't be shy, take it. Do not hesitate to ask passengers to change seats if this will give you a spare seat for your baby.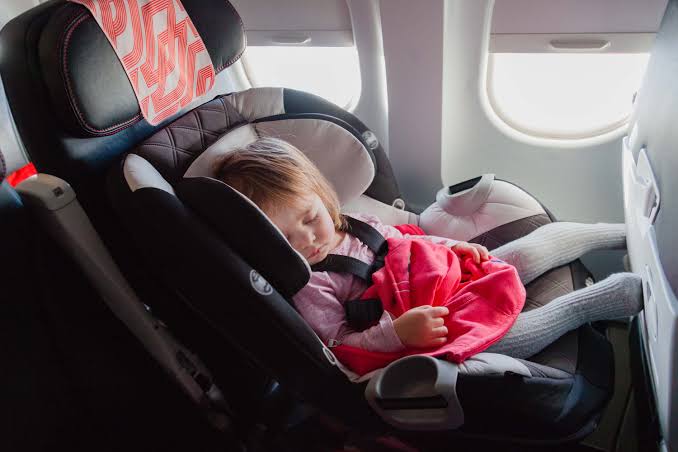 At the beginning of the flight, listen for flight attendants to make an announcement about spare seats in the business class cabin. If the seats in the business class are not taken, passengers from the economy class are offered an upgrade, so if there is such an opportunity, jump at it immediately.  It will make your flight with a baby much more enjoyable.
If you opt to take a bassinet make sure you know all about airplane bassinets when flying with a baby. 
Baby Stroller
One of the most important things to do when traveling with a baby by air is to bring a stroller.  It's nice to have one with a storage bin underneath to free your hands.  Almost all airlines will allow your stroller as a courtesy item. You keep your baby in it all the way up the ramp, right before you get on the plane you leave it with an attendant. When you get off, the stroller is right there for you.
Family Rooms in Airports
Most airports have family or play areas that offer facilities suitable for travel with babies and toddlers.  So if you have a few stopovers with some layover time to kill, find out where family room is and go there.  There, you can change your baby with ease, find some new toys to play with and generally be more comfortable, as these areas are less crowded.
Bathrooms on Domestic and International Flights
When traveling with a baby by air, keep in mind that the bathrooms on both international and domestic flights are very tiny.  Domestic flights usually do not have changing tables in the bathrooms.  Only international flights usually have changing tables, but it is very cramped inside. Check with the airline regarding a changing table. Try to clean your baby before getting on the plane and try to hold off if you can until you get off to change her again if it won't be too long.  The flight attendants are prohibited by law from handling a dirty diaper even if it is in a bag, if they are serving a meal.  Our suggestion is to get a window seat and request a blanket for privacy. Pack diapers in a backpack and bring a few plastic bags to arrange for a smooth diaper disposal.
Packing Carry-ons
Pack a carry-on backpack and take it with you on the plane.  Pack at least two changes of clothes for your baby and an extra top for yourself, diapers, wipes, baby food, snacks and toys.  Make sure to wear very comfortable clothes.  Ask a flight attendant for an extra blanket as soon as you board. An extra blanket will be very handy if you need to change your baby or if you are nursing. When traveling with your baby by air, do not bring many toys. The seating is very cramped and there is no room for much of anything.  Do not bring any musical or noise-making toys; pack a couple of small soft toys instead. Pack your own snacks.
Nursing or Feeding
Check the individual airlines regarding bringing breast milk or baby formula aboard.  Watch for your baby's hungry signals and try feeding them before they get too hungry and start crying. Wrap a blanket around yourself and your baby to create a cozy safe environment; this will help your baby relax.
Water
During the flight, make sure to keep your baby and yourself well hydrated, but do not use aircraft water.  As of 2006, passengers are no longer allowed to bring their own bottled water inside aircrafts.  Ask your flight attendant to bring you bottled water and check to make sure that the cap has not been broken (listen for the bubbly noise). If the cap has been broken, do not drink this water, return the bottle and ask for another one.  In many cases, when there are not enough bottles of water for all passengers, flight attendants routinely use tap water to re-fill empty bottles. Tap water on aircrafts is highly contaminated. Make sure you and your baby don't drink any of it (for yourself, avoid having tea and coffee, as these drinks are dehydrating).
There you have it!  A safe and comfortable airplane trip.  Now you're ready to grab that road trip planner…and hit the road!
____________________________________________________________
Looking for Travel Tips?
Read our Guides
Can you use Bluetooth Headphones on a Plane?
What is Resort Casual Attire?
Tips on Spring Cleaning Your Travel Gear
Google Maps Tips and Tricks for Travel
How to Avoid Scams as a Traveler
Travel Tips for Booking on Airbnb
How much to tip in the USA
____________________________________________________________